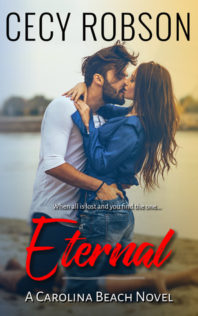 Eternal (Carolina Beach, #2)
by
Cecy Robson

Series:
Carolina Beach #2
Published by
Cecy Robson, LLC
on October 24th 2017
Genres:
Contemporary
Pages:
367
Format:
eBook



I received this book for free from in exchange for an honest review. This does not affect my opinion of the book or the content of my review.
This post contains affiliate links you can use to purchase the book. If you buy the book using that link, I will receive a small commission from the sale.
After months of bad luck and even worse men, Luciana Diaz just wants to crawl under the covers and forget the year ever happened. Her friend has other plans, convincing Luci to attend a New Year's Eve party on the affluent shores of Kiawah Island.

Luci never expected to have fun. She also never expected to wake up with a man she just met, or for this man to be the new attorney at her firm.

Landon Summers is done with drama. After an ugly separation and even worse divorce, he has no desire to jump into another relationship.

When his sister Trinity drags him to a New Year's Eve party, he doesn't plan to stay long. One drink, a few hellos, and he's out. Until he meets Luci, the first person in months to draw his smile and incite his passion.

Neither Luci nor Landon planned on each other, and they definitely didn't plan on love. But the New Year means a fresh start, and eternal possibilities neither could deny .
---




Cecy Robson once again takes you through a rollercoaster of emotions in this sweet, sexy story of two lonely people taking a chance on love.
Sometimes loneliness creeps up on you and you don't even realize how deeply it effects you until you find someone you truly want to be with.   In Eternal, we meet Trinity Summer's brother, Landon.  Landon never imagined that he would find himself divorced.  Everything in Landon's life has come easy to him.   He's always excelled in everything he tried so why would it be so unexpected to presume he would have as incredible a marriage as his parents.  But he was so busy trying to "save" his wife from her sad upbringing, that he couldn't see that the marriage was doomed  from the start.  It has been over a year since the divorce was finalized, but he still has no interest in meeting someone new.
He is only dropping by on New Year's Eve to make his sister happy.  He knows that Trinity and her friend Becca are simply trying to help when they keep introducing him to the women at the party, but he is surprised to find his attention focused on the attractive, unassuming Luci Diaz.
Luci and Landon spend a passion-filled weekend together and neither can believe how quickly a bond grows between them which is ridiculous for just a one-night…okay, two-night stand.  While they try to put those feelings aside, both can't help but want more once their weekend is over.   They are both  quite surpised when Landon shows up as the new associate in Luci's office.
At first, they try to keep it all business, but they can't help but gravitate towards each other.   Working lunches turn into dates, and dating leads to sex, but Luci is still hiding something from Landon.  Just like his ex-wife, Luci's childhood wasn't all rainbows and puppies either, but unlike his ex-wife, Luci doesn't want to be rescued.  Luci fears that if she finally bears all to Landon, his growing feelings toward her will be twisted by his need to be the hero.
This was a wonderful story of two people quite surprised by the strength of their feelings and how quickly they grow.  Neither would have considered themselves as "lonely" until after spending the weekend together, they are then forced to return to their normal lives.
I usually hate stories which include insta-love because it is usually being forced on us simply because we are reading a book classified as romance so let's just say they are deeply in love and move on with the plot.  How about this, sometimes the plot should simply be falling in love!   Cecy Robson has such a way with writing emotions that makes you empathize with the character.    You aren't bogged down with thoughts of "it's too soon" or "it feels too rushed" because she accomplishes that writer's nirvana of bringing you fully into the story so you feel their dread at the thought of parting.   Everyone knows that it is too soon and crazy but can't help themselves.
Cecy is topping my list of must read authors.  She makes me cry.  She makes me laugh.  But she always makes me love the characters and the story that is unfolding.
---
Favorite Scene:
Luci's hand falls to my lap, stroking me lightly. "What are you thinking about?"
"Crabs." And the evil redhead demon. But she doesn't need to know the latter.
"Excuse me?"
"You like crabs? There's this place called Gilligan's I'd like to take you to. But if you don't like seafood, there's a real nice place that serves steaks."
"We're not going straight to your place?"
I toss her a playful look. "Now, darlin'," I say. "I know you're just dying to take advangage of me and have your way, in all the right ways, but I figured we'd better eat first, or risk dying of starvation."
She turns her attention to the passenger side window, her face flushed red. "I thought you said we didn't have to do anything."
It's only because I catch her smile in the reflection that I say what I do. "We don't. You're the one taking us to Orgasm Mountain and staring out at the peaks and valleys."
"Landon!"
"How's the view from up there? Any sight of Pleasure Hill, Lake Orgy, or Highway 69?" I click my tongue. "And those valleys must be something, huh? Mind if I take a peak in between?"
She covers her face, muffling her laughter. "You really know how to make a woman blush."
I nod, thoughtfully. "I know how to make a woman do a lot of things, if you know that I mean."
"Landon," she warns.
I glance from the road back to her. "I'm sorry. Would you like me to explain?"
"No."
It's what she says, but she can't stop laughing, and all that bashfulness is too cute to abandon this soon. "You see, I'm what some women consider attractive."
"Are you?" she asks, playing right along.
"And sexy," I add.
"Hmmm," she says.
"Also dashing, with the right amount of rugged."
"Rugged?" she questions.
"Just a sprinkle for color and only enough to know it's there." I adjust my hands on the wheel. "There's also what some might describe as hotness."
"Is there?"
"Of course, you can't have attractive, sexy and dashing without hotness."
"What happened to rugged?" she asks.
"Don't worry. That's there, too."
"You forgot modest," she points out.
"No, I left that out on purpose," I tell her. "Don't like to talk about myself much. It's bad for my attractive, sexy, rugged, and dashing persona." It's hard not to laugh when she giggles, but I push on, seeing how I'm on a roll. "Anyway, like I was saying, I know how to make women scream with pleasure, beg for more, and writhe in ecstacy." This time I do laugh. "Sorry, I forgot you've already seen that side."
"I have," she says. She's looking shy, and maybe she is, it doesn't stop her voice from growing husky or her from saying what she does. "It's why I'm surprised we're stopping for dinner."
I ease around a pothole in the road and another one that follows. "Did you think I just brought you out here for a toss and tumble and maybe a few licks?"
I mean it as a joke, but she's no longer laughing. "Didn't you?" she asks, her voice just above a whisper.
Shit, it's hot in here.
"No," I admit. "I want more."
Related Posts