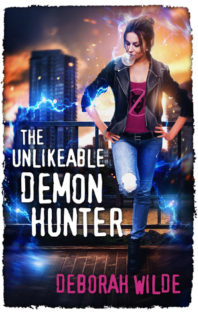 The Unlikeable Demon Hunter (Nava Katz, #1)
by
Deborah Wilde

Series:
Nava Katz #1
Published by
Tantor Audio
on September 10th 2017
Genres:
Paranormal/Urban Fantasy
Pages:
420
Format:
Audiobook
Narrator:
Hollie Jackson
Length:
9 hrs 10 min



I received this book for free from in exchange for an honest review. This does not affect my opinion of the book or the content of my review.
This post contains affiliate links you can use to purchase the book. If you buy the book using that link, I will receive a small commission from the sale.
Bridesmaids meets Buffy with a dash of the seven deadly sins.

The age-old story of what happens when a foul-mouthed, romance impaired heroine with no edit button and a predilection for hot sex is faced with her worst nightmare–a purpose.

Ari Katz is intelligent, driven, and will make an excellent demon hunter once initiated into the Brotherhood of David. However, this book is about his twin Nava: a smart-ass, self-cultivated hot mess, who is thrilled her brother is stuck with all the chosen one crap.

When Nava half-drunkenly interrupts Ari's induction ceremony, she expects to be chastised. What she doesn't expect is to take her brother's place among the–until now–all-male demon hunters. Even worse? Her infuriating leader is former rock star Rohan Mitra.

Too bad Rohan's exactly what Nava's always wanted: the perfect bad boy fling with no strings attached, because he may also be the one to bring down her carefully erected emotional shields. That's as dangerous as all the evil fiends vying for the bragging rights of killing the only female ever chosen for Demon Club.

Odds of survival: eh.

Odds of having a very good time with Rohan before she bites it: much better.
---



I heard a lot of buzz about this story.  I had no time to read it and have been waiting for an audiobook to come out. Yay! Finally!  I found that a lot of the buzz is true.  This series puts it own interesting twist on the demon hunter story which I liked and am willing to check out the next stories to see if they can keep up the novelty.
Nava Katz is a party girl while her twin brother, Ari, has spent his life preparing for his duty as the chosen one. Ari was raised to join the brotherhood of demon hunters known as the Rasha.  At his official induction ceremony, when he is to be given his power which will help him fight demons, the power goes into Nava. This is monumental because there has never been a female Rasha before, but more personal to Nava, she is devastated because she has taken away her beloved twin's fate. This leaves both of them reeling since without a power, Ari is not allowed to fight demons and after spending his life training, he is tossed to the side and Nava is expected to learn everything Ari has spent his lifetime learning in about a week since she unexpectedly crossed a powerful demon when she killed his son while giving him a hand-job.  Yes, I said hand job.  Not the usual way one finds out their demon hunting powers.
She had decided to solve her problems by running away from home and goes home with a hot bartender who turned out to be the son of Azmodeus, the sex demon.  Nava is giving him a handjob when her power literally sparks the first time and she zaps him out of existence.
Nava's leader is a former lead singer for a boyband that she used to write dirty fantasy fan fiction about.  They have sparks but he is offended by Nava's refusal to kiss him, keeping all sexual encounters between them as impersonal.
There is a cliff hanger here in that the Rashas are trying to determine if a Justin Beber type celebrity is just a jerk-off or is he actually a demon in disguise.   Since they are only just coming up with a plan at the end of the story, I am going to presume that this will be the focus of book 2.
While Nava is doing her best to train, she is also doing everything she can to have the Powers-that-be re-evaluate her brother Ari and give him another chance at the ceremony to be a Rasha.
Sadly, we can see that Nava is the all-flash, no substance party girl because to her parents everything was always about Ari and his fate to be a Rasha.  She is constantly disappointed that no one believes in her no matter how hard she tries, and they are just hoping that she doesn't get herself killed since, as the first female Rasha, all the demons want to be the one to take her out.  And Demons aren't the only ones who want to get rid of the only female Rasha.  Nava isn't certain
This was definitely an interest twist to the premise of the demon hunters adding snark and a slightly naughty lead heroine.  Nava is unconventional and the supporting characters are all rather interesting.  It is definitely worth checking out and I look forward to what will come next.
Related Posts