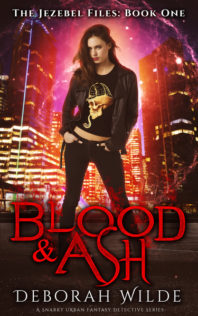 Blood & Ash (The Jezebel Files, #1)
by
Deborah Wilde

Series:
The Jezebel Files #1
Published by
Te Da Media
on January 14, 2020
Genres:
Paranormal/Urban Fantasy
Pages:
316
Format:
eBook


I received this book for free from in exchange for an honest review. This does not affect my opinion of the book or the content of my review.
This post contains affiliate links you can use to purchase the book. If you buy the book using that link, I will receive a small commission from the sale.
Cold-blooded kidnappers. Long-lost magic. When things get serious, she goes full Sherlock.

Ashira Cohen takes pride in being the only female private investigator in Vancouver. With her skills, her missing persons case should be a piece of cake.

She wasn't counting on getting bashed in the skull, revealing a hidden tattoo and supernatural powers she shouldn't possess.

Or the bitter icing on top: a spree of abductions and terrifying ghostly creatures on a deadly bender.

And don't even get her started on the golems.

Reluctantly partnered with her long-time nemesis Levi, the infuriating leader of the magic community, Ash resolves to keep her focus on the clue trail and off their sexual tension because WTF is up with that?

But with a mastermind organization pulling strings from the shadows and Levi's arrogance driving her to pick out his body bag, can Ash rescue the captives and uncover the truth or will the next blood spilled be her own?
---
I loved the blend of investigation and magic in  Blood & Ash.
As a Mundane Private Investigator, Ashira Cohen is forbidden from working a case involving Nefresh (magic users). She has already been warned by House Pacifica as well as pompous Levi Montefiore, who runs her local House. Problem is that no one advised her that her current investigation involved an unregistered Rogue magic user and when she gets knocked down and suffers a concussion, she needs to sweep the whole thing under the rug rather than lodge her own complaint.
But hitting her head has caused more problems for Ash than just a bump and a hospital bill, Ash suddenly has magic of her own — blood magic, something which has considered as much a fairy tale as unicorns and dragons. No one is going to believe that Ash knew nothing about it since most magic makes an appearance in childhood. Someone actively suppressed her magic and she needs to figure out who and why before she is locked up as an unregistered Rogue herself.
Still Ash's investigation into her own issue may have to take a back seat to the fact that someone may be abducting troubled teens — troubled magical teens. Ash has to find out how they are being lured and why. Ash needs to find her missing ex-client before it is too late. If she can solve this, it might go a long way in convincing Levi and the House that Ash hasn't been hiding her abilities and if blood magic actually exist, Ash can't possibly be the only one.
I am certain at this point that an author's chance of writing a purely unique novel is a million to one. For example, any vampire novel after Bram Stroker's Dracula is not unique, whether they sparkle or not. I say this because when a book comes second on someone's reading list to a book that is similar, it is hard if not impossible to ignore the similarities. Before we can talk about this story under it's own merit, you need to know three things that jumped out at me and kept smacking me around throughout the whole novel: #1 – the main character has blood magic which brought of memories of the Ilona Andrews' Kate Daniels series and #2 references Houses which oversaw anything to do with people with magical abilities was reminiscent of the Houses in Ilona Andrews' Hidden Legacy series. #3 is the fact that those without magic were considered "Mundanes." I never read the Harry Potter books but even I know what a Muggle refers to. Mundanes was just a poor choice of word. I just find it pulls me out of a story when I start making comparisons between stories. Additionally, there was some similarities to characters and character arc between this and her Nava Katz series, but that is not wholly unexpected since many authors do this even unintensionally, including Nora Roberts. If you never read those stories, never mind. No problem.
Aside from all that, Blood & Ash is a great Urban Fantasy story with a solid plot and interesting characters.  Ash's obsession with Sherlock Holmes adds an interesting depth to the character.  Ash is snarky and smart as all Urban Fantasy heroines should be and Levi is smart, rich and powerful which makes him a good counterpoint to Ash. I will definitely be reading the rest of the series.
---
Favorite Scene:
Ash is at a party at an aquarium.
It was better than a dead end. I toasted the jellies with my highball.
"A woman with a back that would make a goddess weep and a taste for whiskey untainted by Coke. A rare dichotomy." The low smoky voice curled through me, all illicit decadence.
I grinned evilly, turning to the speaker with my glass extended. "If you start right now, you might be able to blame the fact that you hit on me on you 'drinking your boozy heart out.'"
The gobsmacked look on Levi Montefiore's face was priceless.
"Why are you wearing that dress?" He waved his hand at it.
Even with the shoes that raised me a couple inches above my five-eight height, he towered over me by a good four inches and a skyscraper's worth of arrogance.
"I left my sackcloth and ashes at home. Sorry to disappoint. You drinking yourself out of total humiliation? No?" I shrugged and finished the whiskey before thrusting the glass into his hands. "Do a woman a mitzvah and take this away while you troll for the night's entertainment elsewhere."
***
Pursing those lips that rumor had it were almost as talented as his fingers, Levi regarded me with a suspicion usually reserved for small unattended packages in airports. "Are you undercover?"
"In a floor-length 'come fuck me' red dress with no visible panty line?"
His eyes flicked to my ass, then away dismissively.
I counted to ten in my head, visualizing pushing him into the jellies and watching them sting him to death.
Related Posts