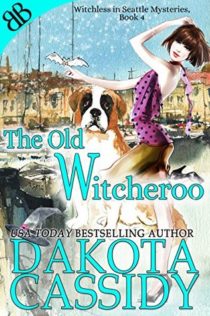 The Old Witcheroo (Witchless In Seattle, #4)
by
Dakota Cassidy
,
Hollie Jackson

Series:
Witchless in Seattle #4
Published by
Tantor Audio
on November 29th 2016
Genres:
Paranormal/Urban Fantasy
Format:
Audiobook
Narrator:
Hollie Jackson
Length:
5 hrs 54 min



I received this book for free from in exchange for an honest review. This does not affect my opinion of the book or the content of my review.
This post contains affiliate links you can use to purchase the book. If you buy the book using that link, I will receive a small commission from the sale.
Just when you think you know your one-time International Man of Mystery turned ghostly confidant . . . When last we met, dear friends, a man had come calling, claiming to be Crispin Alistair Winterbottom, my dead British ex-spy. A notion I'd find ludicrous, if the handsome imposter didn't, in fact, look exactly like my dead British ex-spy. But there's no time for that mystery when a quiet walk on our private stretch of beach turns up something far more pressing-another tragedy in my beloved small Washington town. That's right. I, Stevie Cartwright, ex-witch turned amateur sleuth, have stumbled upon another murder. But this time it's closer to home, more personal, a victim who'd touched the hearts of so many in Ebenezer Falls, young and old. In fact, there's only thing more surprising than the victim . . . The good man who's become the number one suspect. Along with my Spy Guy Win, my bat familiar Belfry, our rescue dog Whiskey, and even an unexpected new friend or two, I'm jumping back into my Sherlock shoes to catch the cleverest killer yet!
---




Stevie is faced with two Spy Guys in this story; one in her living room and one still whispering in her ear but which one is the real Crispin Alistair Winterbottom is the only important question.
In this story, the murder investigation hits very close to home and I don't just mean because the victim is found on Stevie's private strip of beach. For the first time since she returned to Ebenezer Falls and started sticking her nose into police investigations, Stevie is being asked to go behind the scenes and investigate by her favorite by the book police officer, Officer Dana Nelson.
Sweet librarian Sophia Fleming is found murder right after being proposed to by Officer Nelson.  Dana is heartbroken and it appears someone is doing a really great job framing him for the murder.   So it is up to Stevie, Win, Belfrey, and new friends — a Russian Spy-guy and a lost St. Bernard to help find the murder.
But in this story, Stevie has her attention split between the investigation of Sophia's murder and a fake Winterbottom at her doorstep.  Fake Bottom had the near to show up, driving Win's Aston Martin, demanding his house and money back and threatening to have Stevie arrested.
Since her British Spy-Guy was an actual spy, it is hard to get information out of Mi-6 about Win or his death so proving that the real Crispin Alistair Winterbottom is, in fact, deceased isn't as easy as it should be but Stevie needs to shake Fake Bottom off her back so she can concentrate on murder.
This is just an adorably fun, quirky series.  Very lighthearted and entertaining.  Hollie Jackson does a wonderful job on this cast of characters.
---
Favorite Scene:
Stevie gets a spark of power back and ends up shooting a spark of power when she is yelling at the Fake Winterbottom.
"Dove," a groggy voice said.
I looked around the room. Win didn't sound as close to my ear as he normally did. He sounded like he was across the room but my excitement took hold and I had to share it with him.
"Did you see, Win? I nailed him with a protection zap. Just with my index finger and without even thinking about it."
Suddenly Fake Bottom sat up, brushing the stray glass from his shirt, and looking around as if he was just the place for the first time. I decided to take the offensive with him and feigned a superior admonishing attitude.
"Look what you did. You knocked all my snow globes over and ruined them. You're not just going to pay for being a jerk, you're replacing every single one of them. You hear me?"
And that's when he looked right at me and his lips moved. Fake Bottom's lips moved and they said, "Dove."
Like a cat on a hot tin roof, I jumped back so far, I almost tipped backward. My eyes widening in a mixture of horror, confusion and wonder.
"Win?" I croaked.
He smiled at me, just like he had that one time in the car when he first found a way to make himself appear to me.
"It's me, Dove. It's really me." Holding out his hand and he smiled wider.
No. No, this was a trick. It was some cruel joke. Win didn't have the ability to possess a rock, let alone a human body. He could close doors sometimes, make a light flicker, but possess a body? No. But then, how would Fake Bottom know Win called me dove? My mind whirled with a hundred questions.
Wait. Oh, Goddess. Maybe Adam Westfield was messing with my head.
I began to back away in fear, and then he said, "It's really me, Dove. The man who insisted we have that silly wood-fire oven in the kitchen that you use to dry your thrift store Pradas beside, and toast those disgusting marshmallow and chocolate sandwiches."
"S'mores," I muttered faintly. My head spinning. "They're s'mores."
"Mmm, yes." He confirmed on a nod and a smile. "Those."
"Win?" Was this really Win? Fake Bottom didn't know any of those things. My knees wobbled, shook like an earthquake was right beneath my feet, but I managed to stumble toward him anyway, my heart thrumming in my chest. I couldn't help myself. I had to touch him to be sure this was real. I knelt beside him, right on top of the broken glass and water and cupped his face, running my hands over the hard planes of his cheeks, astounded by this turn of events.
"How?" I whispered in squeaky wonder.
He smiled again and leaned in, pressing his nose to mine as water dripped down his face and he chuckled, "I did say I've been practicing, didn't I? I'm rather pleased to find it's not as hard as it sounds." a
He'd done it. He talked about it since I'd met him but I never believed he'd actually do it.
"You took over Fake Bottom's body? That's–that's incredible, Win. It's almost impossible. You know that, right?"
My heart crashed in my ribs when Win reached up and cupped my chin.
"Forget that for now, Dove. I feel like I've waited a lifetime to do this."
"Do what?" I asked as happy tears began to stream down my face while Win caught them with his thumb. Angling his head, he pressed his mouth to mine. Soft and hard, sweet and firm, his mouth covered my lips. My heart raced. My stomach danced with butterflies and everything around me fell away but Win and this moment of pure magic.
He wrapped his arms around me and pulled me close, stroking my cheek with this knuckles until I was dizzy and clinging to him. And then the kiss was over and he was pulling away from me, looking me in the eye and saying, "I have to go now, Dove. You know this is wrong of me."
My shoulders shuddered as I fought the rush of more hot tears, the utter desolation of having him so close only to lose him.
"But–"
Pressing his finger to my lips, he thwarted my words and shook his head.
"No, Dove. This is wrong, but they'll be a time, a body that's right for me and I'll come back to you. I promise. I'll come back," he said with an urgent tone. His words growing further away and becoming a hollowed echo of his promise.
Related Posts