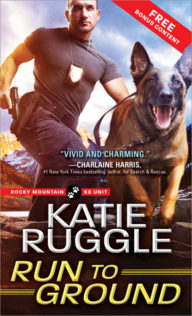 Run to Ground (Rocky Mountain K9 Unit #1)
by
Katie Ruggle

Series:
Rocky Mountain K9 Unit #1
Published by
Sourcebooks Casablanca
on June 6th 2017
Genres:
Crime Drama
Pages:
416
Format:
eBook



I received this book for free from in exchange for an honest review. This does not affect my opinion of the book or the content of my review.
This post contains affiliate links you can use to purchase the book. If you buy the book using that link, I will receive a small commission from the sale.
Theodore Bosco, grieving the death of his partner, is reluctantly fascinated by secretive newcomer Jules. Although his instincts scream that he should avoid her, he can't seem to stay away. It doesn't help that Theo's new K9 companion, Viggy, has fallen head over paws with Jules's rambunctious family.

Or that when he's with Jules, Theo finally knows peace.

When Jules kidnapped her siblings, whisking them away from abuse to the quiet anonymity of the Colorado Rockies, she never expected to catch the eye-or the heart-of a cop. All it would take is one wrong move and she'll lose everything. Yet as Jules attempts to fight her growing attraction to the brooding K9 officer, another deadly threat lurks much closer to home. Someone's gunning for Theo and Viggy, and they're willing to take out anything...or anyone...who gets in the way of revenge.
---



This was an interesting start to a new series but I give it a "cliff-hanger" since I not 100 percent satisfied with the end and I hope we finish the story.
Juliet Young had no option left to her but to grab her abused younger siblings and make a run for it. She is now hiding under the name Julie "Jules" Jackson formerly of Arkansas. Jules thought running to a quiet, small town in the Rocky Mountains would be a safe place to lay low but she didn't realize that small towns like to ask questions and take note of new arrivals.
Jules has also caught the attention of the police officers who frequent the diner where she works. Young and single, they notice the pretty new waitress. They also note how jumpy she is and how practiced her answers are. There is no question that she is running and hiding from something, but they would never guess how bad.
Theo is surly by nature, but he has also had a very bad year losing his partners, both human and K9. He is now supposed to partner with his mentor's dog, Viggy, but Viggy is as much shattered by the death of his human as much as Theo is.
Theo tells himself that he is simply checking up on Jules because of her odd behavior, but soon both Theo and Viggy are enchanted with the whole family.
Falling for and opening her house up to a police officer is a pretty stupid move, and Jules knows it but she also can't help how attached she is becoming to Theo.
This was a great story and it greatly held my attention. I had to know what was going to happen when Theo found out about Jules. There was also an element of something stalking Jules and whether it was someone on behalf of the abusive step-mother or Jules's shady ex-boss, was a mystery. This is the first book of a new series and like the prior series, it appears that it will have a common thread through the series so be prepared that you won't get all your answers right away. It is a good story and great new characters so I am definitely in it 'til the end.
Related Posts