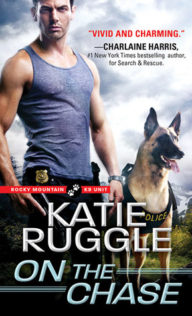 On the Chase (Rocky Mountain K9 Unit, #2)
by
Katie Ruggle

Series:
Rocky Mountain K9 Unit #2
Published by
Sourcebooks Casablanca
on September 5th 2017
Genres:
Blue Collar
,
Crime Drama
Pages:
416
Format:
eBook



I received this book for free from in exchange for an honest review. This does not affect my opinion of the book or the content of my review.
This post contains affiliate links you can use to purchase the book. If you buy the book using that link, I will receive a small commission from the sale.
After witnessing a horrifying crime, Kaylee is forced to flee to a small Colorado mountain town and take on a new identity. There she becomes Grace, a dog kennel worker trying to avoid the dangerously attractive K-9 Officer Hugh Murdoch.

When an accident leaves Hugh and his K-9 partner, Lexi, on desk duty, both are anxious for Hugh to heal. Until then, the highlight of his day is teasing the beautiful but mysterious new kennel employee. Their simmering attraction fuels a passionate kiss—interrupted by a sniper's bullet. With targets on both of their backs, Grace and Hugh will do whatever it takes to stay alive…not realizing the most dangerous threat of all is hiding right in front of their noses.
---
Katie Ruggle has gives us some really interesting characters and she knows how to write suspense which keeps us guessing.
Kaylee thought she met a real live Disney Prince until a dinner party at his uncle's mansion turned out to be less of a palace and more of a house of horrors.  Now Kaylee is on the run and hiding in the small town of Monroe, Colorado under the name of Grace Robinson.
She worked hard to earn her degrees and buy her pretty little condo.   Now she is living in a rundown house with five other people, and one bathroom, and she should count herself lucky to have found a job at the local kennel.   But at least she is still alive to be cranky about how her life has turned out.  Now her biggest problem is the local cop who is certain that Grace is not her real name and he is determined to figure out the puzzle calling herself Grace Robinson.   After the last cop she turned to, planned to kill her to shut her up, Grace isn't rushing to confide in this local police officer, no matter how hot or funny he is.
Hugh is still on medical leave after being shot in the leg and his Captain won't even let him come into the Station.  So when beautiful Grace Robinson shows up in town looking a bit jumping and leaving no question that she is hiding from someone or something, Hugh has nothing but free time to spend with her…delve into his own investigation into the matter.
When they both are shot at, neither is certain who was the target but leaving Grace unprotected isn't something Hugh is going to do.  But is he putting her in danger?
I have enjoyed all the stories so far by Katie Ruggle.  I am still waiting to see what happens with Theo and Jules once he finds out why she is in hiding, but hopefully we will get that answer by the end of the series.   Unless Jules, Grace folds like a cheap Ikea table once she and Hugh are shot at.  She tells him everything, her real name, who she is hiding from, etc.
This one has a few far fetched aspects but was still so enjoyable, we will give her a pass on them and just enjoy the story and series as a whole.
These books, as well as her Search & Rescue series, are definitely worth reading.
---
Favorite Scene:
"Shut it," she growled.
Hugh spread his hands in a gesture of pure innocence. "I haven't said anything yet."
How she wished she held a regular hose spray nozzle, rather than the power washer. After all, she didn't want to damage him; it just would've been nice to wash that annoying grin off his face. "Let's keep it that way."
He laughed. "What fun is that? Talking is one of my favorite things to do."
"Obviously," she muttered. He couldn't have just stayed quiet, swallowed his smirk, and walked away. He was Hugh. Obviously the explosion hadn't damaged him too much if he still felt up to teasing her. Her next words tumbled out of her mouth without her permission. "How's your head?"
His smiled dimmed just slightly before returning to full wattage. "Still where it's supposed to be. I might have lost a few brain cells, but there were plenty to spare."
Grace rolled her eyes. Of course he would joke about almost dying. Forget that she hadn't been able to sleep or think about anything else for the past five days since Jules had told her about the explosion. She didn't know why she cared, why she worried about him, why the idea of him almost dying made her heart hurt. It wasn't like they were friends. Every time they saw each other, they argued. Even now, seeing Hugh all happy and smirky and healthy-looking, she felt her worry turn to annoyance. "Have you found out who planted the bomb yet?"
"Can't talk about an onging investigation," he said lightly. "You know what we can talk about, though?"
"What?" she asked warily. He was just a few steps away, and she realized that she'd been moving closer without even realizing it. Stupid fee. Don't they know he's an ass?
Hugh gestured at her soaked coveralls. "This incredible fashion-forward look you have going here."
Her finger hovered close to the trigger. So maybe he'd lose a litte skin if she gave him a quick spray. Really, it was what he deserved. With a great effort of will, she kept the washer down at her side.
"You like it?" Posing with her free hand on her hip, she gave im her best sultry-model face. If she had to be stuck wearing wet coveralls and too-large rubber boots, then she was going to own the look.
He chuckled, although his gaze heated as he took her in. "Oh yeah. It's kennel chic."
"Right." Dropping the pose, she frowned at him, trying to figure out why he was looking at her like he wanted to eat her. There was nothing appealing about her at the moment. She knew this even before she glanced down again, confirming the horrid state of her appearance. "I miss wearing pretty things."
Immediately, his gaze sharpened. "Pretty things? Like what you use to wear to work? What did you do before in…Bangor?"
That slight pause reminded her that he was a cop–a cop who thought she was a liar. Tipping her head, she gave him a flirty look. "You want to know something?"
"Yeah. What?" He moved a half step closer, his inqusitive expression shifting to something a little…hungrier.
She smiled and leaned toward him. His gaze dropped ot her lips. "I'm beginning to understand why someone would want to blow you up."
To her surprise, he laughed. It made him even more stupidly attractive than usual, and Grace found herself unable to look away. "I'm told that a lot."
Related Posts