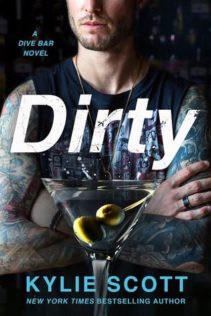 Dirty (Dive Bar, #1)
by
Kylie Scott

Series:
Dive Bar #1
Published by
St. Martin's Griffin
on April 19th 2016
Genres:
Blue Collar
,
Rock & Roll
Pages:
288
Format:
eBook



I received this book for free from in exchange for an honest review. This does not affect my opinion of the book or the content of my review.
This post contains affiliate links you can use to purchase the book. If you buy the book using that link, I will receive a small commission from the sale.
The last thing Vaughan Hewson expects to find when he returns to his childhood home is a broken hearted bride in his shower, let alone the drama and chaos that comes with her.

Lydia Green doesn't know whether to burn down the church or sit and cry in a corner. Discovering the love of your life is having an affair on your wedding day is bad enough. Finding out it's with his best man is another thing all together. She narrowly escapes tying the knot and meets Vaughan only hours later.

Vaughan is the exact opposite of the picture perfect, respected businessman she thought she'd marry. This former musician-turned-bartender is rough around the edges and unsettled. But she already tried Mr. Right and discovered he's all wrong-maybe it's time to give Mr. Right Now a chance.

After all, what's wrong with getting dirty?
---



This was not what I expected and the ending did seem a bit abrupt, but I did enjoy it. There was a lot of secondary character introduction to set up for future stories.
Dirty by Kylie Scott is the March HeroesandHeartbreakers.com Romance Book Club choice. Sign up before the end of the month and get this story free.
Lydia is a curvy bride who finds out that her Prince Charming intended her to be his beard and that their whirlwind romance was intended to keep her from finding out that this Prince really wanted to bat for the other team. But someone sent her a video of her intended with his BFF just before she walks down the aisle. I do wonder that she wasn't a little more busy that morning dressing and prepping for the wedding that she is checking her emails, but maybe she got bored waiting.
Lydia makes a run from her at-home wedding by climbing over the back fence and climbing into a neighbor's open window, which is pretty impressive for a plus-size girl in full wedding gown. The house looks slightly abandoned and she hides out in the neighbor's bathtub hoping no one will find her. That was going well until Vaughan wakes up and decides to take a shower.
So why would a musician get involved with this soggy runaway bride? Vaughan has just returned home after his band broke up. He needs money to return to LA and is going to sell his parents' house. He hasn't been back since his parents died and finds being alone there is depressing. Submerging himself in Lydia's problems keeps him from floundering in his own. So as long as he is in town, Vaughan invites Lydia to stay with him so she get her life back in order and decide what her next step is and this way he isn't alone in the house flooded with painful memories.
Sadly, Vaughan and Lydia mesh nicely although they admit they probably would never have met if Lydia didn't climb in his window. I say sadly since we know from the beginning that Vaughn has every intention of leaving town and returning to LA to try to build a new band.  While at first Lydia wants to get as far away from her ex and this town as possible, as she meets people outside of her ex-fiance's social circle, she finds that she wants to stay and make a life here.
While Lydia and Vaughan's friendship keeps building, it is always intended to be a short-term, two ships passing in the night relationship and you are left with a feeling of that sucks. This is a first person story told by Lydia and we know of her growing feelings toward Vaughan, but Vaughan gets very closed off with any indication of their relationship being anything but temporary since he is determined to go off and make music. Because Vaughan keeps trying to keep in the moment and then move on, the ending solution seemed a little abrupt to me.
Overall I liked the characters introduced here and while not overly exciting, it was a well written story.
---
Favorite Scene:
"You okay?"  a deep familiar voice asked me from behind.
"Yep. Want to go out with me tonight after work, Vaughan?"
First, a gentle tug on my ponytail, then his lips brushed my ear. Christ, I liked that. Goose bumps ran riot down my spine. It was all I could do not to give a happy-girl moan.
"You asking me out on a date, Lydia?"
"Yes," I said. "I am."
"Babe, I'd love it." His hand rose to the back of my neck, stroking, drawing me closer. Hot damn, did he have the moves. The man turned my mind to mush.
"Something you need to know," he said. "Before tonight."
"What's that?"
"I put out on the first date," he told me with a perfectly straight face. "That okay with you?"
"Oh, I'm counting on it." My face might have been aflame, but then so was the rest of my body. "I mean…it would have been so awkward if you expected me to respect you for your mind or something. Yikes, how embarrassing. Between you and me, I'm really only interested in getting into your pants."
The corner of his mouth twitched.
"I'm sure you're a nice guy and all but, priorities, you know?"
"I know." The man's smile would have made a nun think twice. I never stood a chance. The way it lit his eyes seemed more magic than biology.
Related Posts