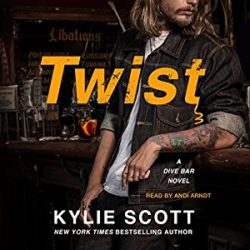 Twist (Dive Bar, #2)
by
Kylie Scott

Series:
Dive Bar #2
Published by
Macmillan Audio
on April 11th 2017
Genres:
Blue Collar
Format:
Audiobook
Narrator:
Andi Arndt
Length:
7 hrs 37 min



I received this book for free from in exchange for an honest review. This does not affect my opinion of the book or the content of my review.
This post contains affiliate links you can use to purchase the book. If you buy the book using that link, I will receive a small commission from the sale.
When his younger brother loses interest in online dating, hot, bearded, bartender extraordinaire, Joe Collins, only intends to log into his account and shut it down. Until he reads about her.

Alex Parks is funny, friendly, and pretty much everything he's been looking for in a woman. And in no time at all they're emailing up a storm, telling each other their deepest darkest secrets... apart from the one that really matters.

And when it comes to love, serving it straight up works better than with a twist.
---



I was looking forward to this story after reading Dirty and getting a preview of the first chapter. I was very disappointed.
This story focuses on mountain man, bartender Joe Collins, older brother to Eric Collins, man-whore about town. It seems that Joe helped Eric set up a page on a dating site (like Eric needed help finding women to sleep with?) and before he shut it down like Eric requested, Joe started conversing with graphic designer/homebody, Alex Parks from Seattle.
Alex arrives in Idaho to meet the man she has been writing to and sharing her soul with these last few months. This is big thing for Alex since she is just short of being agoraphobic. She works from home and her best friend has a hard time getting her to leave her house. She has a hard time trusting men, since her boyfriend cheated on her when she was 12, but she trusts Eric/Joe enough to jump on a plane to a small town to surprise him. At first she is excited as she recognizes everyone from the pictures sent and realizes that Eric is a real person. Unfortunately, he is not the man she has been speaking to. When she realizes that she has been had, she is pissed off and can't stop giving Joe shit about the lies even though you can understand his reluctance to confess since Alex has a hard time getting past his looks which she tells him aren't her taste.
Each chapter starts with a bit of their emailed correspondence which is supposed to show you how they got so close, but honestly, I found no real soul baring in these email and very little humor. I wouldn't have hopped a plane to meet this guy. I have had better conversations with people I email through work and I still won't bother going to the office Christmas party in NYC.
So in these conversations, Eric/Joe sent a picture of Joe to Alex and her comments focused on how he was a big hairy mountain man type and didn't look anything like Eric. Soooo…at what point should he start confessing that he (Eric/Joe) was actually Joe when Alex, who is 100 percent into looks, would have stopped conversing with him?
Joe was not the big problem in this story, although he works too hard as a people-pleaser. Alex is such a mix-mash of a character. She is a homebody, but apparently she has a lot of one-night-stands. Umm…with who? The UPS guy?
Where is she meeting these men? She doesn't note herself as overly attractive and she's an introvert.  Is she the "last call" girl at the bar that someone takes home rather than be alone?   Tell me, where does a not overly attractive introvert find all this hot sex?  I am hanging around in the wrong places.   Alex is offended when she meets Eric, who doesn't know who she is, and he asks if she's the girl he did from behind a few weeks ago and asks to see the back of her head. She is offended?   But we learn that is pretty much her lifestyle and there is at least a dozen men who could honestly ask her the same question. When it comes down to it, Alex is actually a perfect match for Eric, and if she wasn't so plain, he would have jumped her and never stopped to ask who she was.
My biggest problem with Alex is that she is a bitch. I even wrote a note in big letters as I was listening because I didn't want to scream it out.  She is judgy and nasty to Joe because he isn't physically the man of her dreams. She never says to herself that "he's the man who she spilled her soul to" and had a mental connection with.  Never.
Before Alex can get on a plane home, she comes down with the flu and Joe makes sure to take care of her (remember: people-pleaser). She still only gives him the barest of credit against his lying for taking care of her, at least until he bends over and she gets a good look at his ass, which apparently was awesome. Eventually, they hook up and she doesn't like that he stares at her while they have sex, making it too personal.  She tells him that and makes sure next time to be reverse cowgirl so there is no mistaking that this is just a hook-up.
Once they start to come along as a couple, there has to be a new conflict and there is a big twist that messes up Joe's family and his mental state.  Suddenly he can't deal with Alex being there and wants to just lick his wounds in private. Now she wants to be a friend to him. This was a good issue to come up and did interesting and necessary things to the dynamics of the story but the author doesn't leave it to that well-done conflict.   She adds to it with the sudden appearance of an old girlfriend of Joe's who he never mentioned before. He never mentioned how she effected his trust issued, but she suddenly re-appeared at this crucial juncture of their relationship. This re-appearing ex was not necessary at all. There was already enough to deal with and felt very awkward and trite. Her name was Starr and she sounded like a stripper who lost her last meal ticket and decided hooking back up with Joe would do for now. She was very one dimensional as a bimbo who isn't very subtle in trying to worm her way back into his life.  She kept trying to make Alex go away, even though Joe never tells Starr that Alex was his girlfriend. He also lets Starr stay with him at his house, although she had just up and left him years ago, breaking his heart. Really? When would that ever be a good idea?  If she didn't have the money for a hotel room, she didn't need to suddenly head to town when no one, including her best friends, had heard from her in a long time.  Starr was so unnecessary as Alex had enough issues to keep things awkward.
And to keep it going until the very end, I found the ending unsatisfactory and more of an insta-closure to wrap it up. It also had the same — let's get this group together with the Drive Shaft series crew so we can see all my characters again — as we got in Dirty.
I only give it two stars as Joe was a nice character and should have had a better story. I understand the idea of a character not having to change themselves into something else to find love, such as not having an overweight heroine having to lose weight in order to finally find happiness, but if your potential girlfriend isn't hip to your Sasquatch look, maybe try trimming your beard and getting a nice haircut so she can see your face a little. Maybe? You could always grow it back. He is choosing a girl who can't see the man beneath the hair, and only gives him the time of day when she takes a moment to see his hot muscles, so why not try to win her shallowness with a trim?
Related Posts