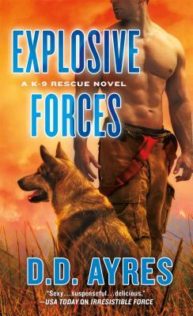 Explosive Forces (K-9 Rescue, #5)
by
D.D. Ayres

Series:
K-9 Rescue #5
Published by
St. Martin's Paperbacks
on November 1st 2016
Genres:
Crime Drama
,
Firefighters
Pages:
320
Format:
Paperback



I received this book for free from in exchange for an honest review. This does not affect my opinion of the book or the content of my review.
This post contains affiliate links you can use to purchase the book. If you buy the book using that link, I will receive a small commission from the sale.
Danger is heating up…

When Carly Reese's beloved fashion boutique catches fire, she sees her dreams go up in smoke. The good news is that Carly was saved from the flames by a barking dog nearby. She soon discovers the heroic pooch is a trained K-9 who's guarding his unconscious partner …a gorgeous firefighter who ends up in Carly's arms.

Noah Glover and his K-9 are a fearless duo, and Noah has clearly met his match with the brave, beautiful Carly. Soon they team up to track down the arsonist behind the blast – a psychotic criminal who's intent on framing Noah. Meanwhile, the sparks between Noah and and Carly could ignite a five-alarm fire. Should they smother their feelings in the name of justice…or fan the flames of passion?
---



[box style="rounded" border="full"]A riveting and exciting story. This is my first D.D. Ayres novel, but I have plans to take a look at the rest of this series.[/box]
I won a pair of giveaway copies of Explosive Forces from the publisher and after reading the book info, decided that I wanted to read it myself first, and I am glad that I did. Don't worry, I was very gentle with it.
Noah is an arson investigator who is being set up to take the fall for a serial arsonist who killed a homeless man in his last fire. Noah has no idea why he is being singled out and why the arsonist was ready to kill him in a fire, making it look like Noah was committing suicide. He must have been getting very close during one of his investigations but he isn't sure which one. Thing is, the arsonist does a pretty good job setting up Noah's fall so much so that even Noah's boss believes in his guilt and is working hard to get Noah in a prison cell.
The only one Noah can get to believe him is the woman who managed to save his life. Somehow the former model dragged his much larger body out of a fire before it consumed them both. The physical attraction between them was immediate. Spending time with the material witness to his "crime" is a problem, but they did spend time together and shared their life stories and feelings with each other so that the romance grew naturally. It bordered on insta-love but while they confessed stronger feelings toward each other than they had for prior partners, I believe we were left with the understanding that their relationship would grow stronger off the pages.
There was definitely page-turning suspense here since you know that Noah wasn't responsible but everyone was so determined to railroad him straight into a prison cell. Why? Even Noah had no idea who was so determined to set him up. While all the evidence was circumstantial, Noah's explanations weren't great defenses and can easily be turned against him. And when the arsonist manages to get his hands on Carly, her future becomes very bleak as she tries to save herself from a brilliant and twisted man.
The last few books I read didn't grab me so this story's gripping drama was a happy change to get me excited about reading again. It is part of a series, but it seemed more of a standalone. I didn't feel like I was one step behind everyone else who had read all of the other books. I checked out the other novels in the series and they all sound pretty exciting.
---
"Look, I don't mean to be insensitive about your suicide attempt. I have a great deal of sympathy for people who are in such deep emotional distress they would even consider giving up their lives to end the pain." She paused again. That time a shadow skirted her expression. "You look like you've got all the resources you need to get help. So do that. Get some help, okay? And please don't ever get a pet again until you've gotten the help you need."
His expression hardened. "How about you mind your own business? I'm fine."
She straightened to her full height, sympathy ebbing from the gaze. "See. That's why I didn't accept your apology. Your dog may be sleeping soundly with no idea what could have happened, but I can't look at him without–"
He perked up. "You have Harley?"
Carly rolled her eyes toward the ceiling. "What?"
"My dog–do you know where he is?"
"I…I'd rather not say. And anybody willing to burn up his dog doesn't deserve one. I think I'll call all the local shelters and have them put you on a watch list. No more dogs for you."
Noah felt his teeth grinding. "I didn't try to burn up anything."
She cocked her head forward, tossing bright gold curls over her brow. "I know about the confession."
She'd hinted at that before. Now it dawned on him the importance of that fact. Durvan said it had been kept out of the paper. Someone was leaking information. "Who told you about that text?"
His question was a snarl, startling her. By the look of fear that entered her gaze she must have remembered too late she was supposed to keep that information to herself. But she rallied quickly, her lids lowering of her fear.
"I just heard. Around."
He bit off a quick string of profanity meant to impress with its viciousness. She just watched, still and alert as a cat confronted by a bulldog. Fear didn't rattle her. He was impressed.
Switching tactics, he tilted his head to the side, much like his dog did when trying to figure out what he was saying. "I'd like you to tell me who gave you that intel."
She shrugged. "Confidential source. But you can trust him."
Him. "Right."
She hung onto the door latch a few seconds longer. "There's more to this, isn't there?" Her voice was quieter, curious.
He held her gaze. "I had no intention of committing suicide last night, or any night. I'd like to tell you more, but it'll just draw you deeper into this mess. I don't think I can ask that of you."
She seemed to consider this, then folded her harms. "I"m already involved." She stood patiently.
He raised a skeptical eyebrow. "Remember. You asked. Someone tried to kill me last night."
He watched half a dozen emotions chase one another across her expression as the fingers of her right hand played with the zipper on her jacket.
"Someone tried to burn you up?"
He nodded. "The confession is a lie. The fire was a trap."
"That somebody must really not like you. Deciding to burn up a person is hate on a very personal level."
"Let's say I agree. Now about my dog."
She shook her head "He's in my custody now, where I know he'll be safe."
"Seriously? You'd take an injured man's dog from him?"
"I saved his life. He belongs to me now."
He smirked. "You saved my life too. You know what that means?"
Her lids lowered again. "I have an underdeveloped sense of self-preservation."
Related Posts