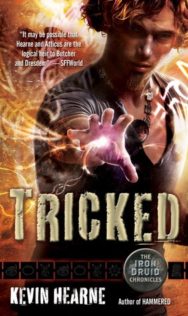 Tricked (The Iron Druid Chronicles, Book #4)
by
Kevin Hearne
,
Luke Daniels
Series:
The Iron Druid Chronicles #4
Published by
Random House Audio
on April 24th 2012
Genres:
Fantasy
Format:
Audiobook
Narrator:
Luke Daniels
Length:
10 hrs 41 min



I received this book for free from in exchange for an honest review. This does not affect my opinion of the book or the content of my review.
This post contains affiliate links you can use to purchase the book. If you buy the book using that link, I will receive a small commission from the sale.
---



[box style="rounded" border="full"]I love the change up of the storylines in this series as well as the proper balance of pantheons. I have forced myself to put this series aside for a few books so I don't catch up too quickly. I still have four more books to enjoy before the next in 2017.[/box]
Druid Atticus O'Sullivan hasn't stayed alive for more than two millennia without a fair bit of Celtic cunning. So when vengeful thunder gods come Norse by Southwest looking for payback, Atticus, with a little help from the Navajo trickster god Coyote, lets them think that they've chopped up his body in the Arizona desert.

But the mischievous Coyote is not above a little sleight of paw, and Atticus soon finds that he's been duped into battling bloodthirsty desert shapeshifters called skinwalkers. Just when the Druid thinks he's got a handle on all the duplicity, betrayal comes from an unlikely source. If Atticus survives this time, he vows he won't be fooled again. Famous last words.
Spoiler alert. Some discussion of prior books is necessary.
When you make a bargain with a trickster god, your chances of negotiating a good deal are pretty slim and even someone with Atticus's two thousand years of experience can't outwit someone like Coyote.
Atticus has become enemy number 1 with every god in every pantheon after what happened is Asgard, and with the help of Coyote, Atticus has managed to fake his death at the hands of several gods of lightning looking for a little payback for what happened to Thor.
Atticus agreed to help Coyote create a road for a construction site but, as always, Coyote has the upper hand and wants the road to lead to a new gold mine so that he can take care of his people in the area. What Coyote fails to mention is that the spot he chooses also happens to be in the territory of a pair of skinwalkers who aren't going to sit back and allow the trespass. Coyote knows that once the skinwalkers attack that will force Atticus to kill the skinwalker for him.
What I like about this series is that not only do we cross between the various myths and legends but that everything is like-to-like. Atticus has limited knowledge of Native American legends and ways to kill things such as skinwalkers. He also doesn't have the ability to create the particular magic needed to counter the skinwalkers that use Native American magic.  This adds to the excitement of the story since it shows that even someone of Atticus's magical strength doesn't have the ability to fight each and every danger and can be caught very vulnerable and not just from someone with gods powers.
Atticus and Granuaile need to work with a shamen.  The skinwalkers have the speed and strength of vampires and it will not be easy.
And speaking of vampires, things are getting out of hand in Arizona after Leif's injury in Asgard. Vampires are moving in and none seem to have any respect for a 2,000 year old Druid in the neighborhood, and the danger doesn't only come from outside Atticus's circle of friends. Coyote isn't the only one who will create his own rules to get what he wants out of Atticus, no matter the cost.
Atticus will also begin to understand that the damage done in Asgard will not avoid Ragnarok but might just bring it sooner, and the gods (yes, plural) are going to be looking at Atticus to clean up the mess he made.
---
Favorite Scene:
This is a warning that you don't want authors choosing your dinner choices.
The place in question was called the Double Dog Dare Gourmet Café. It's the only place I've ever found that provides patrons with a barf bag–and it's not because the food is ill prepared. To the contrary, it's exquisite. They just serve items that most Americans cannot fathom putting down their throats, and the reactions, when they happen, are all psychologically based. That being the case, they have a rather unique ordering system and service style.
Everyone gets a different menu from which to order, and you don't order for yourself–you order for your dinner partner. You pick five items from the menu by silently checking off a list and handing it to the waiter. All five of them are put on a single plate in very small portions, and then you get the plate put in front of you that your partner has dared you to eat–and vice versa. You don't get told what each item is until after you eat it. Hence the barf bags. It's all part of the charm.
The waiters are very careful to inquire about food allergies beforehand, and in some cases you have to sign a waiver before you get served.
When the ordering system was explained to Granuaile, she smiled and then she perused her menu with relish, determined to put me off my dinner. My smiled mirrored hers; ordering was one of the best parts of the process. I toyed with the idea of having mercy on her, but I knew she wasn't going to have any one me, and, besides, I wanted to give Oberon a decent shot at winning his five sausages. Remembering that Granuaile was a bit sensitive to smells, I ordered the most pungent items I could think of, except for one fried item.
It was probably a bit unfair. I've been around and tried some unholy culinary atrocities in my time, so I knew I'd be able to hold down everything. She might surprise me with something, but nothing was going to make me ralph at the thought of it.
We took it easy on the drinks, ordering iced tea. Oberon was outside, camouflaged, sitting down out of the way of the door. I ordered him a full order of yak liver to go and let me know.
***************
Our food arrived, and I grinned mischievously at Granuaile as her plate was settled reverently before her. She gave it right back as mine appeared before me.
"Okay, one thing at a time, right?" she said.
"Right."
"Age before beauty. Start with the stir-fry thing right there." She pointed to some suspicious cauliflower-looking bits mixed in with vegetables and fried brown rice.
"All right," I said, taking a generous forkful. Granuaile watched me put it in my mouth and chew, horrified fascination writ large upon her face.
The cauliflower bits weren't cauliflower. They were mushy, a bit gelatinous. But they had a nice, spicy flavor, if a bit pedestrian. Taste-wise it wasn't terribly unique, just an unusual texture.
Granuaile waited until I'd swallowed and then she said, "Congratulations. That was a bheja fry — goat brains."
"Brains? You made me eat brains like a zombie? Ugh!"
"Braaaaaaains," she moaned, eyes rolling up in her head.
"I bet zombies would like them even more with these spices. All right, take that fried thing there, dip it in the cocktail sauce, and chow down."
Granuaile eyed it cautiously, as if it might suddenly decide to move. It looked like a large chicken nugget, but it wasn't. "What's under all the batter?" she asked.
"You find out after you eat it. Those are the rules."
She did as instructed, taking a tiny bite at first and quirking an eyebrow at me by way of inquiry.
"Eat the whole thing," I said.
She sighed and chomped down the rest of it. "That wasn't so bad," she said, dabbing at her mouth with a napkin. "What was it?"
"That was a Rocky Mountain oyster, also known as a Montana tendergroin."
"No. I just ate a bull's balls?"
"Only one, but yes, you just tore up a tasty testicle. Congratulations!"
Disgust suffused her expression for a moment, but it was quickly replaced by narrowed eyes and a cold promise of grief. She gripped the tablecloth and squeezed it, pretending, perhaps, it was my newly healed neck. "You will never tell anyone about this."
"No," I said. I fully intended to write it down, however.
Related Posts