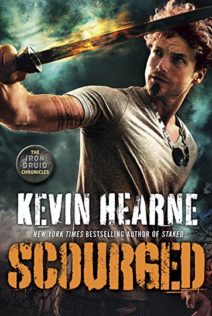 Scourged (The Iron Druid Chronicles, #9)
by
Kevin Hearne

Series:
The Iron Druid Chronicles #9
Published by
Del Rey
on April 3rd 2018
Genres:
Paranormal/Urban Fantasy
Pages:
288
Format:
Audiobook
Narrator:
Luke Daniels
Length:
8 hrs 57 min



This post contains affiliate links you can use to purchase the book. If you buy the book using that link, I will receive a small commission from the sale.
New York Times bestselling author Kevin Hearne returns with the finale to his wildly popular action-adventure series, The Iron Druid Chronicles.

Two-thousand-year-old Druid Atticus O'Sullivan travels to Asgard and faces off against the Norse gods to try and prevent Ragnarok in the final battle for the fate of mankind.

Unchained from fate, the Norse gods Loki and Hel are ready to unleash Ragnarok, a.k.a. the Apocalypse, upon the earth. They've made allies on the darker side of many pantheons, and there's a globe-spanning battle brewing that ancient Druid Atticus O'Sullivan will be hard-pressed to survive, much less win.

Granuaile MacTiernan must join immortals Sun Wukong and Erlang Shen in a fight against the Yama Kings in Taiwan, but she discovers that the stakes are much higher than she thought.

Meanwhile, Archdruid Owen Kennedy must put out both literal and metaphorical fires from Bavaria to Peru to keep the world safe for his apprentices and the future of Druidry.

And Atticus recruits the aid of a tyromancer, an Indian witch, and a trickster god in hopes that they'll give him just enough leverage to both save Gaia and see another sunrise. There is a hound named Oberon who deserves a snack, after all.
---
Ragnarok is here. The battle is on as all the various Gods join forces with our favorite red-headed druid to protect Gaia from the destructive power of Loki and Hel. This is the final chapter of the Iron Druid Chronicles and I loved and hated every moment.  *ugly cry*
When we pick up the first book of a new series, we both long for and dread that final book.   We cannot wait to see how it all turns out.  Yet to get that answer, we know we have to say good-bye to the characters we have grown to love. As a late-comer to the Iron Druid Chronicles, I had the pleasure of binging on this series and immersing myself for quite awhile in the world of the last living druid, Siodhachan "Atticus" O'Sullivan.
This 2,000 year old druid survived the purging of the druids by the Romans with stealth, his own creation of Immortali-Tea and it might have helped to have made a friend of the Morrigan, the Celtic Chooser of the Slain, who helped keep him safe.  Atticus managed to duck the Romans since he was already hiding from the Celtic God of Love, Aenghus Óg.  All for stealing his magical sword called Fragarach.  This series begins when Aenghus Óg finally locates Atticus where he has been hiding in Tempe, Arizona for a decade.    It was after this confrontation that Atticus decides he has had enough of hiding, but it was a decision that changed his life completely and unfortunately, tripped him into the path of many unhappy gods from just about every Pantheon.  It seemed each time he extricated himself from a situation, he pissed off another god.  In the various stories, Atticus has had to confront witch and vampires.  He crosses the God Bacchus, thereby bringing the Olympians into the fracus, and that was just the beginning.
Hammered was a turning point in the series and Atticus's destiny was forever changed when he snuck into Valhalla  with Leif Helgarson and a few others to get vengence on that asshat, Thor.  But when he climbs the world tree into Valhalla, Atticus finds the Norn waiting for him…and he might have had to kill them (accidently?) in order to keep his arrival a secret, except killing the Norn (who predicted Ragnarok), as well as a few other Norse gods who were prophesized to protect the world from Loki, has started the countdown and has also thrown the old prophecy out the window.   The only reason Odin doesn't kill Atticus is because Odin now needs him to fight with the Norse gods against Loki.
Not everyone hates Atticus, just the fae, and the Olymipians, and the Norse, and the vampires and…well, you get it.  Along the way we have met Atticus's trusty Irish wolfhound, Oberon and thanks again to Immortali-Tea, Oberon has been Atticus's trusty companion for over thirty years and they have enjoyed story-telling, pop-culture and various meats and gravies through the years.  They have even had a few mysteries to solve along the way.
Atticus also took on an apprentice after centuries of being the last druid and trained Granuaile McTiernan the way of the druid.  She has become a warrior in her own right and has fought and learned by Atticus's side against the growing dangers.
And as the master was once the student, we eventually see the return of Atticus's Arch Druid, Eoghan O'Cinneide (now Owen Kennedy) who has much to learn about these modern times from his former student, and he too is training a new generation of druid.
Narrator Luke Daniels once again does another amazing job at presenting the story and bringing the characters to life.  I have become as much a fan of his as author Kevin Hearne.
And no, I am not planning to discuss Scourged with you.  This is the last book of the series and the final battle has begun.  Fans of the IDC would not be happy if I gave away any details of this story.  And if you haven't tried The Iron Druid Chronicles, then pick up a copy of Hounded and email me when you catch up if you wish to discuss it.
I will tell you that we will see the return of many favorite characters from prior stories who will come and join the fight, some of whom we will lose and some we will not.  And some who sacrifice themselves for the survival of the world.   I loved it and I hated it.  I laughed and I cried.  And I will very much miss the stories of Atticus O'Sullivan and his faithful hound, Oberon.
---
Favorite Scene:
Just for fun. Owen plays with the Atticus's new doggy friend, Starbuck.
I go sit on the back porch, feet resting on the turf, and let the elemental know I'm available to help should I be needed anywhere. Starbuck, the Boston terrier, comes out and sits next to me, his mouth open and tongue lolling out.
I connect to his mind so I can hear if he answers me and say, "You're a good lad, aren't ye?"
"Yes! Food," he says.
"Ah, still learning your language, then."
"Yes, food.  Play?"
"Maybe." That word can mean different things I've learned. "What do you consider to be play?"
"STAY," he says and disappears through the plastic flap in the side of the house that Siodhachan says is a doggie door. He bursts through it a moment later with a knotted piece of rope. He drops it by my side and looks up at me with his tongue out.
"Throw please. Yes food."
"Throw it, ye say." It seems like a strange request but I don't see the harm in it. Dogs like Starbuck didn't exist in me own time so he's a new creature to me and I'm interested in what he'll do next.
I pick up the rope and chuck it a good distance toward the river, taking care not to actually throw it in there. The wee lad springs off the back porch faster than I expect.
"No, squirrel!" He practially shouts in me head and for a moment I worry he's gone daft but once he reaches the rope he picks it up and shakes it before galloping back to me with it in his mouth and then I understand, he's practicing his squirrel slayin' and that's play for him.
"Good human," he says as he drops it by me side again. "Throw please."
I can't help but chuckle at that. "You know how to train humans already, don't ye?"
"Yes, food. Throw please."
I oblige him and think while he's off to fetch that maybe an animal companion wouldn't be so bad if the werewolves would be okay with it.
Related Posts