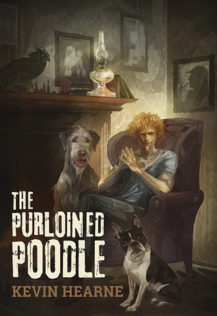 The Purloined Poodle (The Iron Druid Chronicles, #8.5)
by
Kevin Hearne

Published by
Subterranean Press
on September 30th 2016
Genres:
Fantasy
Pages:
112
Format:
Audiobook
Narrator:
Luke Daniels
Length:
2 hrs 57 min



This post contains affiliate links you can use to purchase the book. If you buy the book using that link, I will receive a small commission from the sale.
Thanks to his relationship with the ancient Druid Atticus O'Sullivan, Oberon the Irish wolfhound knows trouble when he smells it—and furthermore, he knows he can handle it.

When he discovers that a prizewinning poodle has been abducted in Eugene, Oregon, he learns that it's part of a rash of hound abductions all over the Pacific Northwest. Since the police aren't too worried about dogs they assume have run away, Oberon knows it's up to him to track down those hounds and reunite them with their humans. For justice! And gravy!
Engaging the services of his faithful Druid, Oberon must travel throughout Oregon and Washington to question a man with a huge salami, thwart the plans of diabolical squirrels, and avoid, at all costs, a fight with a great big bear.

But if he's going to solve the case of the Purloined Poodle, Oberon will have to recruit the help of a Boston terrier named Starbuck, survive the vegetables in a hipster pot pie, and firmly refuse to be distracted by fire hydrants and rabbits hiding in the rose bushes.

At the end of the day, will it be a sad bowl of dry kibble for the world's finest hound detective, or will everything be coming up sirloins?
---



I love this series and Oberon is a big part of that love.  I love having the whole story told from a dog's perspective, including explaining the importance of butt sniffing in solving crimes.
Oberon and Atticus find out about dog-napping of prized champion dogs while visiting a dog park. Oberon is concerned that the dogs are scared, and not receiving proper treats, if they aren't home with their owners. So Oberon, with the help of Atticus, play Sherlock Homes and do their own investigation.
Atticus is putting the pieces together…I mean, Oberon is putting the pieces together with some assistance from Atticus when they come across a body at one of the homes. Atticus needs to call the police but since the timeline of his story doesn't match up, since plane shifting instead of driving is a lot quicker, the police start to look at Atticus as a suspect.
This doesn't deter Oberon from continuing his investigation and come squirrel, bear or delicious salami, Oberon will find those missing dogs.
Once against a perfect narration presented by Luke Daniels.
---
Favorite Scene:
We shifted down to some evergreen trees near Bend, Oregon, which Atticus said was to the southeast and it was just a tiny bit colder somehow.
A squirrel chattered at us, and normally I would have stopped right there and recited Ezekiel 25:17 to him, like Jules did to Brad in Pulp Fiction, but we were on a mission and I didn't have the time to deliver the full Jules.
Related Posts