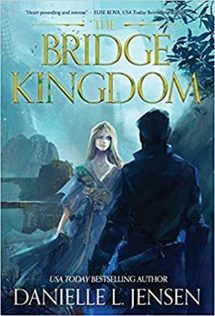 The Bridge Kingdom (The Bridge Kingdom series, #1)
by
Danielle L. Jensen

Published by
Audible Originals
on October 16, 2018
Genres:
Fantasy
Format:
Audiobook
Narrator:
James Patrick Cronin
,
Lauren Fortgang
Length:
11 hrs 53 min



This post contains affiliate links you can use to purchase the book. If you buy the book using that link, I will receive a small commission from the sale.
What if you fell in love with the one person you'd sworn to destroy?

Lara has only one thought for her husband on their wedding day: I will bring your kingdom to its knees. A princess trained from childhood to be a lethal spy, Lara knows that the Bridge Kingdom represents both legendary evil - and legendary promise. The only route through a storm-ravaged world, the Bridge Kingdom controls all trade and travel between lands, allowing its ruler to enrich himself and deprive his enemies, including Lara's homeland. So when she is sent as a bride under the guise of fulfilling a treaty of peace, Lara is prepared to do whatever it takes to fracture the defenses of the impenetrable Bridge Kingdom.

But as she infiltrates her new home - a lush paradise surrounded by tempest seas - and comes to know her new husband, Aren, Lara begins to question where the true evil resides. Around her, she sees a kingdom fighting for survival, and in Aren, a man fiercely protective of his people. As her mission drives her to deeper understanding of the fight to possess the bridge, Lara finds the simmering attraction between her and Aren impossible to ignore.

Her goal nearly within reach, Lara will have to decide her own fate: Will she be the destroyer of a king or the savior of her people?
---
DNF – Why does one adventure work and another doesn't?
Lara and her sisters were taken from their mothers' and the harem where they were raised and taken into the dessert to be trained as to taken down the Bridge Kingdom. They had been taught that the Bridge Kingdom controls what goods travel from the Northlands to the Southlands, taking all the best for themselves. But Lara knew something that her sisters didn't. Their father was going to kill the rest of them once he chose the bride he would send to King Aren, so Lara poisoned her sisters so she would be chosen. Actually she just drugged them with a strong narcotic in hopes that they could run away after they woke and create lives for themselves away from their controlling father. Lara doesn't actually care who controls the bridge, she just wants her own freedom from her father's plot.
Aren wants continue where his other left off. He wants his people to be able to leave their Kingdom but right now anyone who tries to leave is killed because they can't risk someone sharing the secrets of the Bridge with outside kingdoms. Aren's kingdom is surrounded by storms and when the storm season ends, all the other kingdoms try to send their armies and navys to take the Bridge Kingdom. It is all that his people do, protect the bridge at all cost and he is tired of it. He is hoping a marriage will be the first step in uniting the kingdoms.
I listened to six hours of this twelve hour narration and Lara was still looking over this Bridge and trying to learn its secrets so she could get a hidden message to her father. I could only guess that eventually Lara will learn that her father is a greedy bastard who is keeping her people starving and not anything to do with Aren or the Bridge. I kept waiting for her to look around and start seeing the problems that Aren's people face, the marauders killing the civilians when they couldn't get to the bridge. The fact that the Bridge Kingdom has no time to make products or grow food because most of their "land" consists of the bridge and guarding it.
Being sent as a bride to this kingdom should have been a long-game to gain control of the bridge. Lara is there a few days and she's demanding to be shown around and upset that she is being kept watch on. Of course she's being watched, she's an outsider from a neighbor who they were at war with just a decade ago. She should have taken the time to gain trust before demanding to be giving their secrets.
Aren is a bit of a one-dimensional sad sack and understandably, Lara was raised in a secret location only learning facts that her father wanted her to know, but she gobbled up all his truths never taking time to ask Aren about life in the Bridge Kingdom. I knew where the story wanted to go but it wasn't giving me anything interesting to keep me going. Half the story and Lara was still snooping around trying to find a way for her father (who she hated) to take over the Bridge rather than going in and trying to Aren to take care of her people as well.
After six hours and she's still snooping around, I simply got bored with the story. I even tried putting on a faster speed to get through it faster but it was more like trying to force medicine down your throat than enjoying a story so I simply gave up and moved on to something more interesting.
Related Posts