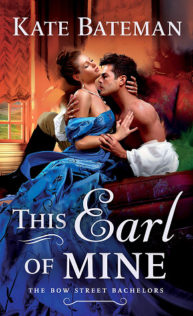 This Earl of Mine (Bow Street Bachelors, #1)
by
Kate Bateman
,
K.C. Bateman

Series:
Bow Street Bachelors #1
Published by
St. Martin's Paperbacks
on October 29, 2019
Genres:
Historical
Pages:
325
Format:
eBook



I received this book for free from in exchange for an honest review. This does not affect my opinion of the book or the content of my review.
This post contains affiliate links you can use to purchase the book. If you buy the book using that link, I will receive a small commission from the sale.
The first book in a new Regency romance series, an heiress and a rogue accidentally end up in a secret marriage of convenience.

In a desperate bid to keep her fortune out of her cousin's hands, shipping heiress Georgiana Caversteed marries a condemned criminal in Newgate prison. The scoundrel's first kiss is shockingly heated, but Georgie never expects to see her husband again. Until she spots him across a crowded ballroom. Notorious rogue Benedict Wylde never expected a wife. He was in Newgate undercover, working for Bow Street. To keep their marriage of convenience a secret, Wylde courts Georgie in public, but the more time they spend together, the more their attraction sparks. Could an heiress with the world at her feet find happiness with a penniless rake? Kate Bateman's This Earl of Mine is a delightful start to the Bow Street Bachelors series, with witty banter, dynamic characters, and swoon-worthy romance.
---
A nice romance.
Georgiana is a woman with a brain and a fortune. Her father left his shipping business to her and she has turned it into an empire. But even a woman with a brain can't escape the laws of her time which say that her fortune would become the property of her husband. Georgie had her lawyers draft an agreement allowing her to keep her business and her fortune but shockingly none of those suitors desperate for her love seem to be willing to sign it.   When Georgie narrowly misses an attempt at a scandal which would have forced her to marry the golddigger to avoid being ostracized and her mother and younger sister with her, Georgie decides to take her future into her own hands. She has decided that she would marry a criminal doomed to the gallows. He would make her a quick widow and she would offer his family compensation for the marriage. Georgie would simply tell everyone that her husband was a sailor on one her ships who was currently out of the country, and Georgiana would be able to go about her life without the rogues trying to steal her fortune.
It was a good plan until the man she was supposed to marry died before he could be executed and with no other  prisoners waiting to be executed, she marries a man doomed to be shipped off to the wilds of Australia. Since many men never even survive the trip over, she might still become a widow but at the very least, she would never see her husband again. That would have been a great alternate plan but as fate would have it, her prisoner was actually undercover in the prison trying to get information from one of the inmates.
Ben Wylde as the second son of an Earl who misspent the family's money and he is trying to help his brother, the new Earl, payoff their father's debt with an actual job. He has taken up with Bow Street as an investigator. He was given no choice in marrying Georgie, not without blowing his cover. He sent the money to his brother to help with the debts but didn't really think too much about what to do about the marriage until he see his wife across the ballroom.
Since neither Ben nor Georgie can think of a valid reason to annul the marriage, they decide that they need to court through the season so they can fall in love and marry (since no one knows about her prison marriage but the man who tried to trap her into marriage). They figure once they fulfill their marriage obligation to each other then they will go their separate ways.
Of course the more they get to know each other, the more they find they like each other, including their decision to have sex since heck, they are actually married and why not have one fling with your spouse before going your separate ways, especially since Georgie was planning to take a lover now that she was a married woman with an absentee husband. Why not make that lover your actual husband?
Georgie and Ben are cute together.  He is very playful with her which is nice for Georgie since she is always so serious.   They made a very complimentary couple and we see them get to know each other and fall in love.   Georgie does help in his investigation since ships and sailing come into play and Ben knows nothing about that but of course, Georgie does. While there was nothing overly exciting about their story, it was enough to keep me reading and mostly it was a nice romance.
Related Posts