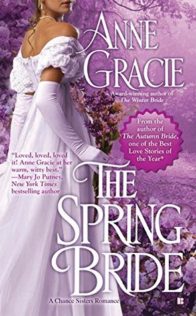 The Spring Bride (Chance Sisters, #3)
by
Anne Gracie

Series:
Chance Sisters #3
Published by
Berkley
on June 2nd 2015
Genres:
Historical
Pages:
320
Format:
Audiobook
Narrator:
Alison Larkin
Length:
11 hrs 25 min


I received this book for free from in exchange for an honest review. This does not affect my opinion of the book or the content of my review.
This post contains affiliate links you can use to purchase the book. If you buy the book using that link, I will receive a small commission from the sale.
---
[box style="rounded" border="full"]I have enjoyed this series, but I found it hard to connect with Jane. She is considered the true beauty of the group but unlike her sister or her parents, she didn't want love. She wanted security. She came off very mercenary and a bit stupid. [/box]
Jane comes off as stupid in this story because she accepted the first proposal she gets. Yes, he was very rich, but he was an ass, selecting Jane because she was outstandingly beautiful. Lord Cambury was a short, fat, balding man who only loves very beautiful things.  He rambled on and on about how he waited to select someone who was extraordinarily beautiful enough for him and only Jane would do.  What happens when Jane begins to age or gets a little heavy after having children?  What will he think of her then?  Also, those children would be half Lord Cambury so there is no guaranty that they would be attractive at all.
Jane hadn't even started the season and could have found a man of good fortune who wasn't such an ass.  She has barely met many eligible men and maybe if she waited to attend at least one big dance she could have found a younger more attractive man who she could talk with and who had a decent inheritance and she wouldn't have to worry about being poor again.
After accepting a proposal from Cambury, Jane meets Zachery Black.  Zachery left England about a decade before to become a spy for the British government.  He only returned to settle up an estate matter since his cousin as trying to have him declared dead and steal his inheritance.  Zach is still wearing his traveling disguise as a gypsy when he meets Jane.  At first he is enjoying having fun with Jane telling her stories about his life as a gypsy while he gives her servant William apoplexy because his Lady keeps talking  to this dirty gypsy.  Zach starts to meet Jane each morning in the park while she walks her ugly dog which she rescued.  A dog which you know Lord Cambury will not allow her to keep since he is so ugly.
When Zach finally realizes he wants a chance to marry Jane, she doesn't believe his story that he was a titled Lord and that he left England to be a spy.  She now just saw him as a liar, as well as a poor gypsy.  Jane had nothing against the fact that he was a gypsy.  She had a problem with his being poor.
When Lord Cambury catches Zach kissing Jane at a party, he decides he needs to rush the wedding.  He feels if she wants to have affairs after she delivered him an heir, all he asked was for her to be discrete, but he wanted to have first crack at her so he knows the kid would be his.  Hey, ugly man, you will know whether or not those kids are yours.
Even hearing Lord Cambury declare how much of a sham their marriage will be and how he'll expect her to jump every time he says so, and knowing a real attraction to Zachery, she agrees to rush the marriage to Cambury.
By this point I am losing all respect for Jane.  She won't give Zach any benefit of the doubt no matter what information he provides to her.  And she is going through with a marriage to Cambury who is just a horrible person.  He's not a villain.  He is just an asshole!   She has also been to a few balls by this point.  There was no one a little more tolerable than Cambury?  Probably not, since Zachery was the one making her heart flutter.
My favorite character is Lady Beatrice and not even Lady Beatrice was sitting Jane down to give her the low down on how long and painful life can be with such an awful husband.   Jane and Abby meet their grandmother at one of the parties.  This is the mother's mother who disowned them and left them impoverished.  We will learn that she was unaware that her daughter wrote her letters, pleading for assistance and begging them to take in Abby and Jane when their parents got sick.  Her awful husband was holding a grudge and hid this from her.  Even she didn't sit Jane down and tell her the facts of what life will be like married to someone like Cambury.
THOUGHTS:
The writing is good and I really like the characters in this series, especially Lady Beatrice.  But I just had such a hard time connecting with Jane.  Zachery was a much better character although there is some question about whether his decision to return to his work or stay in England and marry Jane had more to do with her beauty and less to do with her sparking personality.  What could he think of a woman who wouldn't believe anything important he told her and who was willing to throw away their connection to marry an ugly, blowhard just because he has an actual castle.
I also get cranky when something is focused on in a story to the point you are think it's important and waiting for more and nothing ever comes of it again.   Here Jane goes off telling the story of her childhood, just after her parents died, and Abby had to go off to work.  Jane had to hide in her room since several times people tried to abduct her since she was such a striking child.  She goes on about how the landlord came to her door trying to break it down, and how some man was with him offering him money for Jane and how she barely escaped.  I thought we would see this kidnapper show up again.  Would he be Cambury?  Would he be Zachery's inheritance stealing cousin?  Would the cousin turn out to be Cambury?   None of the above.  Nothing was ever said again about kidnapping.  The cousin barely makes an appearance in the story at all after all the "My cousin in trying to steal my money."  "My cousin is trying to have me declared dead."
Autumn Bride and Winter Bride were much more enjoyable and I am looking forward to seeing Daisy fall in love.  She doesn't believe she deserves a future as good as the other girls and doesn't let herself dream of anything more than her future shop where she will be responsible for herself.  I want to see her finally swept off her feet.
Related Posts