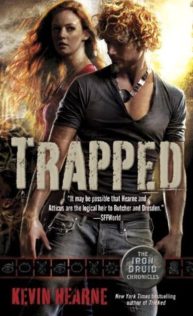 Trapped (The Iron Druid Chronicles, #5)
by
Kevin Hearne

Series:
The Iron Druid Chronicles #5
Published by
Del Rey
on November 27th 2012
Genres:
Fantasy
Pages:
290
Format:
Audiobook
Length:
9 hrs 2 min



This post contains affiliate links you can use to purchase the book. If you buy the book using that link, I will receive a small commission from the sale.
After twelve years of secret training, Atticus O'Sullivan is finally ready to bind his apprentice, Granuaile, to the earth and double the number of Druids in the world. But on the eve of the ritual, the world that thought he was dead abruptly discovers that he's still alive, and they would much rather he return to the grave.

Having no other choice, Atticus, his trusted Irish wolfhound, Oberon, and Granuaile travel to the base of Mount Olympus, where the Roman god Bacchus is anxious to take his sworn revenge—but he'll have to get in line behind an ancient vampire, a band of dark elves, and an old god of mischief, who all seem to have KILL THE DRUID at the top of their to-do lists.
---




It's finally time for a new Druid, and a move forward in the romance department between Atticus and Granuaile, but no one said it was going to be easy especially when 1,500 years of scapegoating comes biting you in the butt.
Some spoilers from prior books.
I really love this series. While I felt Hammered was a little slow, this story makes up for that.
We skip forward twelve years after Tricked and it is finally time for Granuaile to be tattooed and bound to the earth as the first Druid in centuries. But this is not something the Atticus and Granuaile can do just anywhere. There are certain requirements which must be met and the tattooing will take several months.
Atticus and Granuaile are about to travel to Tír na nÓg when they are waylaid by Loki.  He is not happy that he cannot get revenge on his brother Thor which he has been dreaming about during his centuries of imprisonment and torture.  He wants to take it out on the druid that killed his brother.  Quick thinking Atticus diverts Loki's attention to the Dwarves  and off Loki goes to confront them.
But nothing else goes well for Atticus and Granuile from here on out.  Once they travel to Tír na nÓg, Brighid wants an audience with Atticus, mostly to explain how come he is actually alive and not dead, as it was reported, and if he was never dead, why didn't he let her know this.
Atticus also finds out that all doors back to earth are closed except for the one at the foot of Mt. Olympus where Bacchus is waiting to get his hands on Atticus for killing his Bacchans twelve years prior.
While the Elemental near Olympus squeals with joy over helping to bind Graniule, they may not be left in peace to do the bindings.  Now that word is spreading that the druid is not dead, everyone with a grudge against Atticus is coming out of the woodwork.  The vampires are looking for Atticus, including his former friend Leif Helgerson but is he there to help or kill Atticus?  We need to wait and see.
Now that Loki has escaped, Oden wants Atticus to help fighting in Ragnarok since Atticus is responsible for the loss of all the Norse Gods who were supposed to prevent it.  Oops.
Atticus also finds out what happens when you have used other beings such as the Dark Elves and the Dwarves as your scapegoat for centuries.   After being needlessly attacked for wrongdoings they never actually did, they are looking for a little payback from Atticus in the form of his head on a pike.  Another big oops.
Atticus and Granuile fight never ending battles just to have a moment to get Granuile bound to the earth.  Atticus's last apprentice was killed just before he was bound.  Will history repeat itself?
---
Favorite Scene:
I removed this audiobook from my phone before I typed the favorite scene.  Now it is no longer marked.  Sorry.  



Related Posts