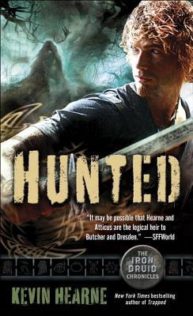 Hunted (The Iron Druid Chronicles, #6)
by
Kevin Hearne
,
Luke Daniels

Series:
The Iron Druid Chronicles #6
Published by
Random House Audio
on June 25th 2013
Genres:
Fantasy
Format:
Audiobook
Narrator:
Luke Daniels
Length:
9 hrs 52 min



This post contains affiliate links you can use to purchase the book. If you buy the book using that link, I will receive a small commission from the sale.
For a 2,000-year-old Druid, Atticus O'Sullivan is a pretty fast runner. Good thing, because he's being chased by not one but two goddesses of the hunt - Artemis and Diana - for messing with one of their own. Dodging their slings and arrows, Atticus, Granuaile, and his wolfhound Oberon are making a mad dash across modern-day Europe to seek help from a friend of the Tuatha Dé Danann. His usual magical option of shifting planes is blocked, so instead of playing hide-and-seek, the game plan is...run like hell.

Crashing the pantheon marathon is the Norse god Loki. Killing Atticus is the only loose end he needs to tie up before unleashing Ragnarok - AKA the Apocalypse. Atticus and Granuaile have to outfox the Olympians and contain the god of mischief if they want to go on living - and still have a world to live in.

Don't miss Kevin Hearne's novella "Two Ravens and One Crow" at the end of the audiobook.
---




Hunted was a non-stop chase. Trying to find places to stop was painful. Atticus and Granuaile were on the run from the Goddesses of the Hunt, Diana and Artemis, and they can't shake them, especially when they find vampires, dark elves and assassins in their path. Tensions stay high and also be read for a period of mourning.
Some spoilers if you are not caught up on the series.
In her promise to protect Atticus, the Morrigan comes to warn Atticus that the Olympian Goddesses of the hunt are coming. She warns that Atticus needs to run to England (no planes, trains or automobiles) and try and gain assistance from Herne in Windsor Forest. The Morrigan takes on the Olympians to give Atticus and Granuaile a head start. Unlike some Gods, such as Thor or Aenghus Óg, the Olympians can't be killed so Atticus and Granuaile have no choice but to try to outrun them until they can get some help.
All routes to Tír na nÓg have been cut off and the Morrigan has warned that the old ways are guarded. Since they can't shift to someplace safe, they take off running boosting their strength and speed with the help of Gaia and sometimes shifting to their animal forms.
But it won't be as easy as simply outrunning the Olympian's magic chariots, along their route Atticus and Granuaile keep coming across vampires, witches, dark elves and Odin's ravens. It seems that the various pantheons are very excited about this race for survival. It is giving them something to bet on and rout for.
It doesn't take Atticus and Granuaile long to realize that they are not as safe as they thought. While Atticus's iron aura protects him from divination, Granuaile is not so protected and no one says the Gods play fair.
I know that it took decades for Atticus to combine his aura with the iron in his necklace, ummm…why haven't they at least started that with Granuaile now that she is a full druid. She still only has the iron amulet. She hasn't even created the silver charms that Atticus has such as his bear charm which hold a boost of magic. They had twelve years to get those ready for when she was bound to the earth and became a full druid. And since Atticus should have had the process of binding his aura down by the time he finished the process, maybe they could have sped up how long it takes Granuaile to do it.  Work with us here. They got her a magic weapon right away. No one thought to jump on the necklace thing which works so well for Atticus. Come on!
There is plenty of excitement, some shocking moments and an interesting ending which will bring some changes to the series.
This a great series.  But even if you have read it, I can't recommend the audiobooks enough for this series.  Luke Daniels is fabulous.  He brings this series to life with his narrative and he has so many characters to draw from which helps with this giant cast.   Definitely give this series, and especially these audiobooks, a try.
---
Favorite Scene:
Odin seems to be enjoying the excitement of Atticus's run for survival and sends warnings from time to time.
Although I already determined it would be unwise, I asked anyway to see what Odin would say. "Can we just take the Eurostar train underneath the channel and avoid all that?"
"You can try if you think you can sneak past the sentries they have at the station and wish to trap yourself in a metal container with plenty of innocent people. And if you wish to break the rules of engagement that prevent them from flying down in front of your current location. By all means, go right ahead."
He knew very well I wouldn't do that. "What about Artemis and Diana? Any word on them?"
"They are back in Olympus breaking in their new bodies, awaiting yet another set of chariots to be made. They will not be on the trail again for some time."
I breathed a private sigh of relief and not just for the extra time. I was glad Diana hadn't died a true death for if she had there would have been no possibility of a negotiated peace between us.
Odin added, "I found your treatment of their heads to be amusing."
"Yes, well, I'm sure they found it less so. Listen, Odin, I need a favor if you can manage it. Get word to Manannan Mac Lir of the Tuatha Di Danann what's been happening. And Flidais too, I guess. We need some Irish help to get across the channel because we don't have anything that can skate us past Poseidon and Neptune. And, we'll probably need Flidais to help us in the UK after that."
The raven squawked at me and Odin's voice said, "I am not your errand boy."
"I know.  And I said 'it's a favor.'" I sensed that Odin wasn't opposed to helping me but I'd failed to throw a sufficient sop to his ego first. Thanks to meal I once shared with Odin and Frick, I remembered that the Norse diet in Valhalla was quite restricted and unvarying and Odin might be tempted with gustatory delights. "In thanks for which I'll send you some Irish whiskey, too. Plus, some Girl Scout cookies."
He could no doubt secure such items on his own, if he truly wanted them, but things always taste better when they have the added flavor of contraband.
"Oh, well, if we are exchanging services. That's entirely different. I want a gross of those Samoas I overhead you mentioning to the witches in Poland. And a case of Redbreast, and I mean the fifteen-year-old stuff, not negotiable."
"Done. As long as Manannan shows up and we survive."
"I will do my utmost to ensure he appears."
Related Posts