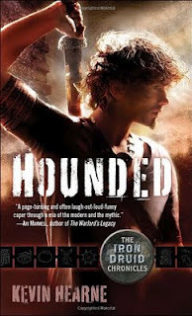 Hounded (Iron Druid Chronicles, #1)
by
Kevin Hearne
,
Luke Daniels

Series:
The Iron Druid Chronicles #1
Published by
Brilliance Audio
on April 19th 2011
Genres:
Paranormal/Urban Fantasy
Format:
Audiobook
Narrator:
Luke Daniels
Length:
8 hrs 11 min



This post contains affiliate links you can use to purchase the book. If you buy the book using that link, I will receive a small commission from the sale.
---




[box style="rounded" border="full"]This is an enjoyable and unique Fantasy series full of wonderful characters. I have been racing through it and can't wait for more. [/box]
Atticus O'Sullivan, last of the Druids, lives peacefully in Arizona, running an occult bookshop and shape-shifting in his spare time to hunt with his Irish wolfhound. His neighbors and customers think that this handsome, tattooed Irish dude is about twenty-one years old—when in actuality, he's twenty-one centuries old. Not to mention: He draws his power from the earth, possesses a sharp wit, and wields an even sharper magical sword known as Fragarach, the Answerer.

Unfortunately, a very angry Celtic god wants that sword, and he's hounded Atticus for centuries. Now the determined deity has tracked him down, and Atticus will need all his power—plus the help of a seductive goddess of death, his vampire and werewolf team of attorneys, a bartender possessed by a Hindu witch, and some good old-fashioned luck of the Irish—to kick some Celtic arse and deliver himself from evil.
I received a free copy of Hounded at NOLA Storycon in my bag of goodies. Author Kevin Hearne was one of the speakers and I had my book signed and intended to give it a try. After I got home, this novel (as well as Book 2) just happened to go on sale on Audible so I jumped on them. I just wish I had read it before meeting Kevin Hearne so I could have talked to him about it. 🙁
This series introduces us to Atticus O'Sullivan (the current alias of Siodhachan O'Suileabháin which is pronounced Shehan O'Sullivan).  While he looks 21 and fits in quite well with the college crowd in Tempe, AZ, Atticus is the last of the Druids and is actually twenty-one centuries old.   He lives with his Irish Wolfhound Oberon and spends his time at his bookstore/apothecary shop or helping out the Widow MacDonagh.  He has lawyers on retainer: Hallbjörn (Hal) Hauk, a werewolf, who he meets with during the day, and Leif Helgarson, a vampire who keep more to the night hours.
Usually I am not a fan of stories which involve characters fighting Gods since Gods are almighty and powerful and any character fighting them doesn't normally stand any chance of surviving, let alone winning. But as a Druid with powers and two thousand years to perfect those powers, Atticus can more than hold his own in a fight. So these stories are interesting, the delve into the various pantheons of Gods, and there is plenty of excitement as Atticus takes on fae, witches and even Gods and, most times, comes out a winner.
Atticus has managed to stay alive a lot longer then his brethren because he is always on the move and he stays away from areas that it is easier for the fae to get around. Centuries ago, Atticus was fighting on the battlefield alongside Aenghus Óg, the Celtic God of Love, who was given a magical sword, Fragarach, which can cleave through any metal.  Aenghus lost hold of his sword during battle which ended up at the feet on our favorite Druid.   Being no dummy, Atticus cloaked himself and his prize and took off with it.  He has been hiding from Aenghus Óg ever since but  Aenghus has been sending out flunkies in the hopes of one of them retrieving the sword for him.  Although he has been unsuccessful for decades upon decades it is only now that Atticus has settled in one place long enough that Aenghus is going to personally come take back his sword.
Centuries ago, Atticus received a promise from the Morrigan (Celtic Goddess of Death) that she would not come for Atticus.  As Aenghus Óg gets closer, Atticus gets visits from several of the Tuatha Dé Danann from Tír na nÓg, including the Morrigan, Flidais and Brighid, all warning of Aenghus's upcoming attack but as with all Gods their actions are not easily trusted as there is a lot of posturing and back-stabbing between them.
As you can see, this is definitely a story you want narrated to you rather than trying to trip through all these different names of Gods, Goddesses and pantheons, and Luke Daniels does a wonderful job.
Although Atticus gives proper  worship to the Tuatha Dé Danann, he can and has interacted with all the various pantheons which opens us up to various storylines.  And it is not just Gods and Goddesses who will cause Atticus problems.  Mortals can be a pain in the butt as well.  Running around town with a sword strapped to your back brings you to the attention of local police as do fights with the fae on your front lawn when you have a nosy neighbor who doesn't like you.
I enjoyed this so much I immediately jumped on Book 2  and 3 as soon as I finished.
---
Favorite Scene:
Kevin Hearne commented that many people tell him he really nails Irish Wolfhounds with is presentation of Oberon.  I think he just gets dogs in general.
Atticus has a binding with his dog so they can speak mind to mind.  Oberon also becomes very obsessed with whatever stories Atticus tells him.  In Hounded, Atticus told Oberon all about Genghis Khan.
Oberon picked up his head as I got to my feet, and he took that as his cue to stand and stretch.
<Morning, Atticus>
"Morning.  You want a belly rub?  Better take it while I'm offering."
<Okay!>  He promptly flopped down next to me, lifting his front paw to give me better access.  I squatted down and rubbed him vigorously for a few minutes while his tail thumped happily against my leg.
"So what would you like for breakfast today?"
<Sausage.>
"You always say that."
<That's because it's always tasty.>
"I'm out of sausage.  How about some pork chops?"
<I don't know.  Did Genghis Khan eat pork chops?>
"Well, I doubt he ate chops, because that's a fairly modern way to cut it.  He probably ate slices off a whole ham or something that they had roasted in the ground all day."
<Can I have some of that, then?>
"I don't have a whole pig to roast, nor do I have the time to do it properly.  Can't you settle for some chops and just pretend?"
<All right.  But after that can we conquer Siberia or something?>
"Not today, Oberon,"  I chuckled.  "I have a contract to fulfill with the witches.  And someone is bound to come by and threaten me today, or try to kill me.  And we have to make sure the widow is okay.  We left her house rather abruptly last night."  I rose from my haunches and brushed the grass off my shorts.  "Come on, let's go inside and make breakfast."
<All right, but I think we should start recruiting a horde now and have them muster on the Mongolian Steppes. We can join them in the spring and then ride to glory.>
"Where are we going to recruit a horde?" I asked him as we stepped inside.  Fragarach was lying where I left it on the kitchen table.
<I don't know.  You're the bloody Druid here, not me.  But I think you should start with getting me a sufficient number of French Poodles, and you can find those in the classified section of the newspaper.  Hold on, I'll go get it.>
Related Posts