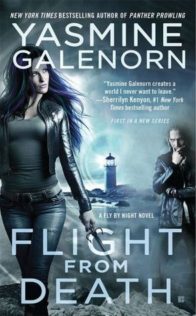 Flight from Death (Fly by Night, #1)
by
Yasmine Galenorn

Series:
Fly by Night #1
Published by
Berkley
on July 7th 2015
Genres:
Paranormal/Urban Fantasy
Pages:
300
Format:
eBook


I received this book for free from in exchange for an honest review. This does not affect my opinion of the book or the content of my review.
This post contains affiliate links you can use to purchase the book. If you buy the book using that link, I will receive a small commission from the sale.
---
[box style="rounded" border="full"]This was an easy-read and more lighthearted Urban Fantasy. Although I wouldn't say that you need to drop everything and grab a copy, it was an interesting story and it kept my attention. It is the first of a new series, but I found the spin-off story which is referenced in this book. I hope to get more indepth with the characters as the series continues. [/box]
After beginning this story, I picked up an audiobook copy of Witchling which is the first of author Yasmine Galenorn's Otherworld/Sisters of the Moon series. Flight from Death is a spin-off of her Otherworld series. Flight from Hell
is the prequel book which blends both storylines. I have picked up a copy but I haven't started it yet.
In Flight from Death, Dragon-shifter Shimmer is an orphaned dragon. The dragons still work on a class system and with no family name, Shimmer is considered the lowest of the low with no social standing and pretty much no rights. Shimmer has was caught stealing from one of her betters and one of the leaders chose to ban her Earthside rather than kill her. She has had most of her magic bound, which leaves her at a significant disadvantage, and as a water dragon, she can only shape change in the ocean.
Shimmer was sent to work for a vampire named Alex Radcliffe and his Fly By Night Magical Investigation for her five year banishment.
On her first official assignment, Shimmer goes with Alex and techno-geek, werewolf Ralph to investigate a rather nasty poltergeist at the Bed and Breakfast owned an old friend of Alex.
With the help of Shimmer's Djinn friend, Chai, and local witch, Tonya, they find out that there is more than just angry poltergeists causing havoc. A lot of malicious entities are lurking in the dark forest surrounding the town and there is something else entirely trapping the spirits to the house.   Something doesn't want the B&B to open its doors ever.
When things start to get deadly, Shimmer and Alex may need to decide whether saving the B&B is worth risking their lives.
THOUGHTS:
This was an interesting new Urban Fantasy series. It could use more character development, but I didn't yet read the spin-off story from the Otherworld series.  We might have learned more about Alex and Ralph and the Fly By Night Investigation in Flight from Hell. Overall, it was an easy read and kept me entertained.
One issue I had is that there was not only a malicious entity in the house, there was some history about a gypsy curse on the prior owner which was also tainting the house.  The gypsy curse seemed to be overkill and unnecessary and should have been taken out.
As far as characters, Shimmer has her powers bound and although she is stronger than a human, her lack of powers makes her a little less interesting. It is possible that her dragon powers would have made her too powerful a character, thereby making the dangers they face in their investigation less exciting overall because who can mess with a powerful dragon.
Her life in the dragon lands in Otherworld was pretty messed up and orphaned dragons are treated like crap. I can't imagine why she would want to ever go back after her five years in exile. I don't understand how you get an orphan dragon baby with no knowledge of their parents. It seems to be a small enough population that everyone should know each other and who is pregnant, etc. Orphaned is understandable, but no knowledge of her parents seems a little odd.  I am certain there will be some big scandal/cover up in some later book about Shimmer's family.
I will definitely give this series another story to see if the author builds on the character development. I am currently listening to her Otherworld series, and I am enjoying that one as well.
Received an ARC from the publisher in exchange for an honest review.
---
Favorite Scene:
All my furniture was in shades of gray, white, and periwinkle, and a painting of a storm crashing against the backdrop of ocean waves hung over my desk. My sanctuary was serene, and secure…and lonely.
With a sigh, I dropped to the sofa. "I never needed anybody before. I don't know why I should feel lonely here." Talking to the fish wasn't all that productive, but on the plus side, they never argued back and all they asked for was a clean tank and food. Setting the bowl aside, I leaned forward and rested my elbows on my knees. I glanced at the tank. The jellyfish was giving an accusatory look. "I don't know how to make friends, okay? I've never had a friend–well, other than Chai, but I haven't seen him for a long time. I can talk to Bette because she's a great broad and she doesn't judge me, but I've never done the gal-pal thing. And until now, men have just been something to toy with. And you and I both saw just how well Carter worked out." For a little while, after I arrived, I'd dated Carter–a half-Demon, half-Titan who ran the Demonica Vacana Society. His job was to chat the levels of demonic activity over Earthside. I knew enough about him to know that I wasn't cut out for his level of play. We stayed friends, but only because we had nixed the relationship.
Coolray wiggled a tentacle. I waved back. Even when I was in human form, sea creatures and fish recognized me as part of their world. They may not always have much in the way of the brains department going on, but the familiarity was there. "As for Alex…I have no idea what to do about Alex. Should I give it a try? What if it goes bad? I'll have to spend five years coping with the result of a mistake. What then?" The jellyfish paused, then, apparently bored with the conversation burbled away. "Not much help are you, you little goober?"
Related Posts