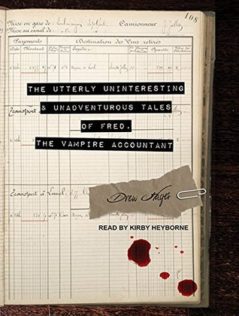 The Utterly Uninteresting and Unadventurous Tales of Fred, the Vampire Accountant
by
Drew Hayes
,
Kirby Heyborne

Series:
Fred the Vampire Accountant #1
Published by
Tantor Audio
on February 24th 2015
Genres:
Paranormal/Urban Fantasy
Format:
Audiobook
Narrator:
Kirby Heyborne
Length:
7 hrs 2 min



I received this book for free from in exchange for an honest review. This does not affect my opinion of the book or the content of my review.
This post contains affiliate links you can use to purchase the book. If you buy the book using that link, I will receive a small commission from the sale.
---
[box style="rounded" border="full"]I found boring Fred and his misfit friends to be delightful. This book is a set of five short stories and in each, Fred stands up for those he cares about but stays true to his modest and former life as a nerdy accountant. Like Dorothy on her way to Oz, Fred picks up new friends as he goes through each story and he evolves from a loner to a leader of misfits.[/box]
This is one of those books that calls to you and you don't know why. When Tantor offered me a review copy of Fred, I went back to it three times before I finally confessed that I was so intrigued that I had to have a copy. I am glad that I did. It wasn't the most nail-biting exciting book (hence the name), but it was great storytelling.
We start out meeting Fred. Fred has been a vampire for about a year and he explains that being a vampire is nothing like it is depicted in the movies. He hasn't suddenly become better looking or more charming. His life hasn't suddenly become more glamorous. Fred is still a boring introvert who hangs out in his apartment watching his vast movie collection and doing what he does best — accounting. He stays in during the day due to his new allergy to sunlight and his new liquid diet has helped slim him down.  Since the "hunting" of his own dinner is an unmitigated failure which he doesn't want to discuss, he has made a deal with a local hospital that needed help juggling their books for a ready blood supply.
In the first story, Fred decides to be bold and travel to attend his ten-year high school reunion, buying a non-refundable ticket so he doesn't back out and then remembers that he cannot fly during the day. The only person who comes up to him at the reunion is his old friend, Krystal. He doesn't recognize her at first since she lost a lot of weight, gained a lot of muscle and had puberty bless her after high school. When the reunion goes awry by the attendance by a pack of werewolves, Fred's inclination is to do like he would normally do in the face of a bully — run. But even a coward can't let all those not-really-friends get slaughtered and he tries really hard to stand up to the pack.  Um…thankfully, he gets help.
That's how most of the stories go, Fred who is non-violent and non-confrontational is forced time and again to go against his nature to help those around him using his brains and some of his new enhanced vampire strengths and gaining new friends with each story.
THOUGHTS:
This was great storytelling. I loved boring Fred and how he stayed true to himself throughout all the stories using his boring strengths and not becoming a sudden super-spy.  Krystal is snarky and funny. There is one chapter read from Krystal's point of view since Fred was not in the scene and let's just say I was happy I wasn't trying to eat or drink while listening because there would have been serious choking involved.
Never having met another supernatural nor any other vampires, Fred presumes that, like him, they are all still the same as before they were transformed. Krystal becomes Fred's first real girlfriend and she knows a lot more about supernaturals than Fred and becomes an instructor of sorts to help Fred navigate this new world and try to convince him to leave his apartment once in a while.
You have to download this book in audiobook form.  Narrator Kirby Heyborne is FABULOUS! Not only are his voices spot on perfect and brought these characters to life for me, but he adds so much extra to them. For example, Fred gets dragged to a LARP (live action role playing) and one of the people is pretending to be a vampire, complete with the plastic teeth. In his narration, Kirby includes the lisping and slurping that would be noted with someone wearing fake vampire teeth. Hysterical!
I have already purchased another Drew Hayes book, NPCs, and look forward to listening to that one. Unfortunately, that one is not narrated by Kirby Heyborne, but I am checking out some of the other novels which he did narrate to see if I can find one of interest.
I would definitely read more stories of Fred, Krystal and their Scooby-Doo gang.
Received a review copy from Tantor Audio in exchange for an honest review.
---
Favorite Scene:
Most of the story is told by Fred, but Krystal is as lively as Fred is nerdy and I have to go with some of Crystal's chapter.
Anyway, while the ghouls milling about weren't attacking anything, the sound of their clacking jaws was still annoying as hell, hence my request for music. Plus, I was bored. So sue me.
"Such a brave damsel." Quinn said perched a few feet away on a decaying pulpit. I'll give him this, the man picked a theme and stuck with it. "There's no need for such demonstrations of bravery. It will not change your fate."
"Uh, huh. That's great and all, but I was serious. You guys have obviously been hold up here awhile. You've got to have a television or something. I'll take a boombox. The clacking is starting to give me a headache."
Quinn threw back his head and laughed. A rich and elegant tone that had clearly been worked on until it was perfect. Great. This was a motherfucker who actually practiced his evil laugh.
"I do love the bravado you agents show in the face of certain death," he said. I think intending it as a compliment. "Sadly, we have no such entertainment devices. Our kind is beyond the need for such petty distractions."
"Buddy, there's an all-vampire group in my department that goes and sings karaoke every Wednesday night. They also took three days off when the last Call of Duty game came out. I happen to know for a fact that Freddy still has an active World of Warcraft account and a giant movie collection. Save the Anne Rice shtick for someone who doesn't work with and freaking date 'your kind'."
Quinn had me by the throat in less than a second. Whatever he'd been drinking imparted a lot of speed. His face had contorted into a wild snarl, fangs bared as room temperature breath swept over me. I could feel the tension in his fingers. The concentrated effort not to crush my throat. He had so much strength it was hard not to, especially since it was obvious how much he would enjoy it.  A smart hostage would start playing nice very quickly.
"Well, I know you haven't been drinking the blood of the mouthwash monster. That's for damn sure."
A bulge of the eyes, a tremor of the fingers, and then I was hurled back to the ground. Damn.
Related Posts