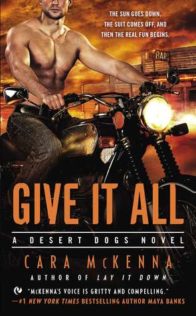 Give It All (Desert Dogs, #2)
by
Cara McKenna

Series:
Dessert Dogs #2
Published by
Signet
on February 3rd 2015
Genres:
Blue Collar
,
Motorcycle Club
Pages:
352
Format:
eBook



I received this book for free from in exchange for an honest review. This does not affect my opinion of the book or the content of my review.
This post contains affiliate links you can use to purchase the book. If you buy the book using that link, I will receive a small commission from the sale.
---
[box style="rounded" border="full"]I was pleasantly surprised to find myself enjoying this story. After Book #1, I thought Raina would end up back together with Miah, but the polished and snobby Duncan hid a damaged psyche and his underlying insecurities made him more human and I enjoyed his damaged character a great deal.[/box]
Bar owner, Raina Harper, is down to earth, sexually liberated and says what she feels. Former UK resident and the casino's corporate lawyer, Duncan Welsh, was polished and uptight. Dolled up in his three-piece suits, dirt and sweat feared to go near him. These two were so opposite that they shouldn't have been able to mesh together — yet in the end they do.
In Book #1, Duncan works with Raina, Vince and the other "Desert Dogs" to uncover the mystery behind their friend Alex's death. In Book #2, the conspirators behind what we know so far have pointed a finger toward Duncan, accusing him of taking bribes to cover up what was happening. FBI agents come to town to investigate and have told Duncan he can't leave Fortuity. Large corporations, so well known for their generosity, promptly let Duncan go. He is now jobless, and will possibly be disbarred if the accusations go any further, and he can't even leave the dust-filled town he despises.
Raina knows her local brethren and is afraid once gossip starts that Duncan might be involved, he will be subject to attacks. She blackmails him into moving into her apartment over the bar to keep him safe.
While we learn lots of facts about Raina, her past with Miah and her father, this is more of a devolution of Duncan story. We learn why he needs the persona of the fancy car and the expensive suits; and we learn that hidden beneath the polish is a man with low self-esteem who is an orphan who never had anyone want him. As his polish starts to dull a bit with the loss of his job and the desert dirt, he becomes more human and down to earth and his self-esteem issues draw us to him. His OCD is insane but as he devolves his OCD starts to disappear. His need to be something he really wasn't created most of his issues.
His need for love and acceptance is an uphill battle as he becomes more and more attached to Raina who is a woman who doesn't want to be anyone's wife. She has commitment issues and showing affection does not come naturally to her, while Duncan is greedy for any sign of her desire to keep him.
I like that this series isn't a true motorcycle club book and I enjoyed watching Duncan become a real boy as his facade life falls apart. I almost found myself wanting to shout "Give the poor guy a hug for God's Sake."
Received an ARC from the publisher in exchange for an honest review.
---
Favorite Scene:
Leaving Duncan to pack his perfect designer clothes into his perfect designer suitcase, she headed to the bathroom to gather his fancy toiletries, putting them in the leather shaving bag she found on the counter. She was probably organizing them all wrong. Maybe he'd have to take everything out and do it over. No matter. Just like Duncan, she only wanted to be doing, just now.
She stole a sniff of his cologne, wishing she could dab it between her breasts and smell him there all day. Silly impulse. Anyway, she'd have the real thing sleeping in the next room, soon enough. And if there was one tried-and-true antidote to attraction, it was cohabitation. She'd get this man back in perspective in no time. She had zero doubt that he'd make an infuriating houseguest.
"Why did you want to hang with them so badly?" Duncan asked when she left the bathroom. "The Desert Dogs or whatever you called yourselves."
She shrugged. "They were always covered in dirt, and shouting. And laughing. Always getting in trouble and going on adventures. It looked like way more fun than Barbies to me. You'd have hated it. We broke a lot of laws and got our clothes all ripped and filthy."
He smiled, she thought, though it was hard to tell with his face cast down, attention on the task of arranging his bag.
"Here's your toiletries," she said. "I probably packed them all wrong. I won't be offended if you redo it."
He tossed the shaving bag into his suitcase without inspection.
"Give me something to do," she said.
"Astrid's bowls are in the corner."
"Astrid? Who calls their cat Astrid?"
"I do. She's named for Astrid Varnay."
"I have no idea who that is."
"I didn't expect you would. She was a singer."
Raina gathered the cat's brushed steel water and food bowls. "Wish my dishes were half this posh. She probably gets Fancy Feast, huh?"
Duncan's nostrils flared with a little laugh. He nodded to the dresser. "Bottom drawer."
Raina stopped and pulled it open, finding cat food cans. "'One hundred percent certified organic minced chicken liver.'" she read. "'Immune support. Grain-free. Cage-free. Gluten-free'? Oh my God, you're obnoxious."
He chuckled at that, stacking folded shirts on the bed. It was perhaps the first true laugh she'd heard from him. She wanted to make him do that again. And again, and again.
"How much do you pay for this crap, per can?"
"I'd rather not say."
"I wouldn't mind being your cat, Duncan," she said as she carried the bowls to the bathroom. "Sounds like a good gig. Unless you bleach the poor thing, that is."
"Perish the thought."
He probably protected the animal from all the fumes, probably had a special feline respirator for it. Meanwhile he was poisoning himself with that stuff, to say nothing of the pills and liquor he downed in the name of mental health.
"You're a weird, weird man," she said under the breath, rising the dishes.
Half an hour later, they pulled up behind Benji's. Raina took Duncan's many suit bags and the bucket and cleaning supplies, while he hefted his luggage and the cat in its carrier. The Merc's trunk shut neatly with a tap of his foot beneath the bumper.
"I bit Vince could help you with the paint," she said. "Not a perfect job, but better than nothing."
"I'll look into that."
Duncan had changed and smoothed his hair, looking a bit more like his public self, in jeans that fit too well to cost less than two hundred bucks. He looked like…well, like weekend Duncan. Not broken Duncan. She imagined telling the other Desert Dogs everything she now knew about him, and felt an immediate wave of revulsion. Guilt. Maybe that threat had been a bluff, all along. She wanted everyone to keep believing in the costume, as he'd called it–keep believing that he was two-dimensional, cold, and unhurtable. Perfect. Not human, not cracked and threatening to break wide-open.
Related Posts