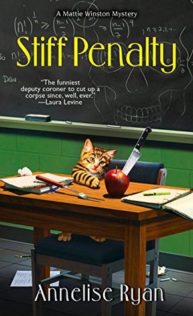 Stiff Penalty
by
Annelise Ryan

Series:
Mattie Winston Mysteries #6
Published by
Kensington
on February 24th 2015
Genres:
Crime Drama
Pages:
368
Format:
eBook



I received this book for free from in exchange for an honest review. This does not affect my opinion of the book or the content of my review.
This post contains affiliate links you can use to purchase the book. If you buy the book using that link, I will receive a small commission from the sale.
---
[box style="rounded" border="full"]Utterly disappointed. All the things I started out liking the most about this series started becoming annoying as there was no character growth. Each story works to keep Mattie and Hurley apart and each time it seems more contrived. This is definitely my last Mattie Winston mystery.[/box]
I forced myself to keep turning the pages on this story simply to get to find out if Mattie has the baby and whether or not Mattie would agree to marry Hurley.  Also, once again, someone was out to get Mattie and I held out to see who was the culprit.
Over the course of the series the author has contrived one reason or another to keep Hurley and Mattie from being together.  It was several books while Mattie moaned like a  teenager whether Hurley returned her feelings.  Once they both acknowledge their attraction, their jobs kept them apart since it was a conflict of interest.  Just as Mattie quits her job to be with Hurley and they finally "do the deed," and then his ex-wife comes to town with a teenage daughter he never met.   Mattie then returns to work and they once can't have a relationship.  Hurley leaves town to find his missing ex-wife who left his daughter on his doorstep and Mattie finds out she is pregnant.   Now that Mattie is pregnant,  Hurley's teenage daughter, who in the prior book loved Mattie and was happy she made Hurley happy, is now faking emergencies and suicide attempts to keep Mattie away from Hurley, and accuses Mattie of getting herself pregnant to force Hurley to marry her.   Back and forth, back and forth.  As if Mattie's own neurosis isn't enough to come between her and Hurley.
Again, there are scenes that are contrived to create angst.  For example, Mattie hasn't told Hurley about the baby yet since he is already stressed trying to locate his missing ex-wife and she wants to tell him face to face.  Hurley will be returning tomorrow, but Mattie feels the need to finally go out to buy maternity clothes today…in her tiny town…from the only maternity story…which is owned by the town gossip. Mattie then gets into a car accident and Hurley shows up at the same time as the police since he got into town early, and Hurley and the cops all learn about her pregnancy at the same time, when they take the bags of maternity clothes out of the car.   She couldn't have waited one more day before going shopping or take the time to go to the next town where her OB/GYN was located? Especially since she doesn't wear these new maternity clothes right away.  There were comments after this point that she was still wearing too tight regular clothes.  More contrived plot twists to create nonsensical drama.
Mattie also determines that each pretty girl who is within spitting distance of Hurley will steal him away.  Yes, they are interested in Hurley, but Hurley doesn't seem to be encouraging anyone else's affections but Mattie's.  She is so obsessed about it but she won't agree to marry Hurley, too afraid his is marrying her for the baby only.   Mattie won't make a commitment to Hurley but is obsessed by the other women who would be happy to snatch up the eligible bachelor.
These are the same issues we have dealt with so far through the series.  Besides growing large with a baby, Mattie has not achieved any personal growth or development and Hurley is kept as a very one dimensional characters.  He showed no reaction in the last story where Mattie stole a letter that his ex-wife left on his dresser, she opened it, read it and kept it from him for weeks until she determined he was ready to know about it.   We understand why she waited, but there was no knee jerk anger from him that she took his letter, that she read it, or that she interfered. Nothing.  He took the news in stride.   In this story, Mattie waits until she is five months pregnant when Hurley returns to town to let him know he would be a father.  Again, we understand why, but there was no initial anger that in all their phone conversations, she didn't give him a heads up.   That he has to learn about it in front of everyone else.  Hurley takes everything in stride.  He is unhappy that Mattie won't marry him, but he isn't particularly angry and he doesn't get overly anger when his daughter starts to interfere and almost keeps him from the birth of his child.  Hurley isn't given enough human emotions to make him more than a paper character.
This is definitely my last Mattie Winston mystery since the murder investigations aren't that exciting and the personal interactions between the characters is starting to fall flat and become rote.
Received an ARC from the publisher in exchange for an honest review.
Related Posts