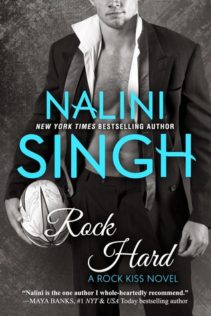 Rock Hard (Rock Kiss, #2)
by
Nalini Singh

Series:
Rock Kiss #2
Published by
Self-Published
on March 10th 2015
Genres:
Rock & Roll
,
Sports
Pages:
351
Format:
eBook



I received this book for free from in exchange for an honest review. This does not affect my opinion of the book or the content of my review.
This post contains affiliate links you can use to purchase the book. If you buy the book using that link, I will receive a small commission from the sale.
---
[box style="rounded" border="full"]I have been looking forward to this book since the teasers about Charlie and T-Rex in Rock Addiction. Although the story was good and Gabriel Bishop was patient and sweet, Charlotte's PTSD is so strong that the heat index on this story flatlined. Nalini Singh tried to make up for it with daydreams and dirty talk, but panic attacks stilted almost all of the love scenes. [/box]
I am always drawn to the passion that Nalini Singh gives to her characters. When I read Rock Addiction, we not only meet Molly and Fox, but we got to talk to Molly's BFF Charlie and see how she is getting along with her new boss who she dubbed "T-Rex." As soon as I finished Rock Addiction, I was ticking off the days until we finally got the story of Charlotte and Gabriel. I loved them but after waiting all this time, I was also disappointed that the passion hinted at was so stymied by Charlotte's panic attacks.
At the beginning of the story, both Charlotte and Gabriel refer to her a mouse.  She is very competent and is actually doing the job of the CEO's personal assistant before Gabriel arrived at the company.  Charlie likes to stay in the background unnoticed.   Gabriel comes in as the new CEO of the floundering company and starts cleaning out the dead weight starting with the PA and offering Charlotte the job she has actually been doing behind the scenes.  At this point, she can barely get out the "yes" necessary to keep her employment.
As they work together, Charlie builds her confidence, even throwing her muffin at his head one particular morning. By this point, Gabriel has stopped dating other women.  He has set his sights on Charlotte now that the mouse has turned into a tiger.
The romance between the two was wonderful.  He brings her to a rugby match with his family and they all seem to understand that Charlotte is special from the other women Gabriel has dated.  Things are going very well between them.  Problem was when they started getting physical,Charlie starts to show signs of panic attacks. Charlotte lets Gabriel know about the assault on her by her ex-boyfriend, an assault bad enough to have sent him to prison for the last five years.  Although he did not sexual assault her and therefore, she doesn't have issues with sex, Gabriel has a hard time getting close enough to Charlie to find out.  If he moves to quickly, she panics.  If he touches her nape, she panics.  If he comes up behind her, she freezes.  If he boxes her in, she freaks.
These panic attacks truly flatline all the passion stirring between the two of these characters.  It was absolutely romantic that Gabriel pushes aside his alpha-male tendencies to take it slowly with Charlotte and help her adjust and before the end of the story, she wants him to push her boundaries, but it is still a stymied attempt at hot sex.  These were passionate characters who were never allowed to fulfill our desires for them to really come together and burn up the pages.
It was a good story with wonderful characters but I was so looking forward to these passionate characters coming together in a sonic explosion and I was denied.  Maybe if I hadn't been so anticipating their story, I would enjoyed it more. Because I was so excited to finally get this story, there were some tears of disappointment.
Received an ARC from the author in exchange for an honest review.
---
Favorite Scene:
He wanted her.
Petite, intelligent, with a hidden fire in her eyes when he pushed too hard, and a smart mouth he wanted to taste, Charlotte Baird was Gabriel's version of perfect. "Thank you, but no," he said to her retreating form. "I prefer not to die from food poisoning."
Nearly three frustrating months on from their first meeting, and Charlotte was at last no longer so skittish around him. Her quips today cemented his conclusion that she was ready for the next step in this game they were playing, a game of which she was currently unaware. The fact she remained his subordinate at work meant he'd have to take care when it came to how he went about this, but he was going to have Charlotte Baird.
No one and nothing had ever stood in his way when he set his mind on something, and his mind was set on Charlotte, had been for a long time. The patience he'd displayed these past months…she had no idea.
Once he had her, he was going to take her. Over and over and over.
"Ms. Baird, I'm growing a beard while waiting for the file," he called out, well aware she was printing the latest dispatches on the situation so he could get a full picture.
She strode inside a minute later and placed the file very carefully on his desk, thought he could tell she wanted to slam hard, maybe kick him while she was at it. He wouldn't mind if she tried–he really liked her legs.
Scowling at the professional but bland three-quarter-length black skirt that hid most of the view, he grabbed the file and flipped it open. "This is missing the second half. The entire section to do with the tactless incident that landed his branch on the six-o'clock news." He'd thought he'd weeded the idiots out of Saxon & Archer, but clearly not.
"I didn't print out all the documentation, since it'll be easier for you to click through the related files using the link I've just e-mailed you." She gave him a smile so sweet he was quite certain his PA wanted to strangle him. "I basically set up a private internal wiki for you."
He was impressed, but he was also having fun riling her up. "Fuck that," he said and watched her cheeks go bright red, her eyes fiery. "I want a printout of everything and I want it now. I have to read the entire lot before I go screw his head on straight."
"Here." Striding around his desk as if she'd lost patience with him–and he'd been trying for a hell of a long time to get Charlotte to lose patience–she picked up the tablet computer he used mostly to watch rugby games when he needed to clear the cobwebs, and switched it on.
Tapping on it, she said, "Input your password."
He raised an eyebrow. "I am your boss, Ms. Baird," he said, just to see if she'd give in and kick him at last.
Because that would be first contact, and then he could go after her no holds barred.
Instead, she said, "Please, sir," in such a sincere voice that he narrowed his eyes.
Tapping in the code, he watched here download his e-mail, frown, then lean forward to access his computer. He didn't like anyone in his personal space that he hadn't invited in, but he liked Charlotte there just fine. Leaning back in his chair, he enjoyed the shape of her ass as she worked.
The skirt was tight enough at least to stretch nicely over the curve of her butt.
The urge to stroke his hand over those luscious curves was seriously tempting, but he wasn't stupid. After all these weeks of very careful strategy to get her to stop seeing him as her boss and start seeing him as a man, no way would he give Charlotte any excuse to pull away. Not only did he have no intent of losing the best damn PA he'd ever had, how the hell was he supposed to get her permanently into his bed if he didn't have access to her twenty-four seven?
No, he'd wait. And he'd do his stroking in private, after he had her bent naked in front of him, that pretty butt tilted up for his pleasure and hers. He wanted to hear Charlotte moan his name and then ask him to do dirty things to her, her prim little spectacles fogging up with heat.
"There!" Getting up, that stupid skirt sliding over the heart-shaped beauty of her ass to hover around her calves–what woman-hating designer had created that abomination?–she grabbed his tablet and tap-tapped once more. "All the files at your fingertips."
Gabriel took the tablet, swiped through. "It'll do," he said, though he was seriously impressed at how she'd put everything together in a way that made it effortless for him to access what he needed.
He saw her hands curl into fights, but once again, she restrained her violent impulses. A pity. He'd have liked the excuse to tumble her into his lap when she took a swing at his jaw, that sweet ass coming down over his thighs.
Related Posts