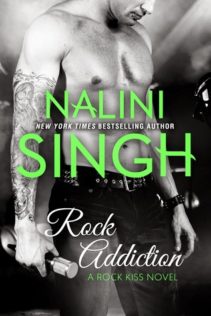 Rock Addiction
by
Nalini Singh
,
Justine O Keef

Series:
Rock Kiss #1
Published by
Self-Published
on May 5th 2015
Genres:
Rock & Roll
Pages:
406
Format:
eBook



I received this book for free from in exchange for an honest review. This does not affect my opinion of the book or the content of my review.
This post contains affiliate links you can use to purchase the book. If you buy the book using that link, I will receive a small commission from the sale.
---
A bad boy wrapped in a sexy, muscled, grown-up package might be worth a little risk…

Molly Webster has always followed the rules. After an ugly scandal tore apart her childhood and made her the focus of the media's harsh spotlight, she vowed to live an ordinary life. No fame. No impropriety. No pain. Then she meets Zachary Fox, a tattooed bad boy rocker with a voice like whiskey and sin, and a touch that could become an addiction.

A one-night stand with the hottest rock star on the planet, that's all it was meant to be…

Fox promises scorching heat and dangerous pleasure, coaxing Molly to extend their one-night stand into a one-month fling. After that, he'll be gone forever, his life never again intersecting with her own. Sex and sin and sensual indulgence, all with an expiration date. No ties, no regrets. Too late, Molly realizes it isn't only her body that's become addicted to Fox, but her heart…
---
Zachery Fox knows he isn't leaving the party without Molly Webster. Watching her smile at her sister with such open pleasure is stirring something in Fox. He has never met anyone as real and as beautiful as Molly and he wants her in his life. He'll even pretend to agree to a one month affair to spend time with this very private and skittish woman, but he has no intention of walking away from her. He has a month to convince Molly that what they have together is too important to walk away from and it is certainly worth the inconvenience of living with him in the spotlight.
Fox just doesn't know that Molly has already been forced into the spotlight and will do anything to avoid ever catching the media's attention again. When she was 15, her politician father was caught with a 15 year old classmate of Molly's. The media and their mudslinging wasn't the only evil that Molly faced. She was tormented ruthlessly by her classmates and only her friend Charlotte stood by her side. Now Molly only wants to live quietly and have an ordinary life.  As the month progresses, her feelings for Fox only grow stronger and her pain increases. She doesn't want to lose him and the idea of him with another woman is breaking her heart.   She is unaware that Fox has no intention of walking away from her.
When the times arrives for Schoolboy Choir to hit the road, will Molly have the strength needed to hold onto Fox and live in the limelight or will she allow the man who holds her heart to walk away so she can live a quiet, ordinary life?
THOUGHTS:
I really loved these characters!   Nalini Singh writes such passionate characters and now I can finally share her writing with my non-paranormal loving friends.  There is a lot of sex in this story especially since they leave a party together in Chapter 1 and are having what is supposed to be a one-night stand before the end of Chapter 2. Yet it isn't graphical described sex. I didn't feel it was really New Adult but I didn't think it makes it all the way to erotic romance. There was no bondage, no spankings, etc. It was just a rock star stripping down his lover/girlfriend as often as he could.
This story focused most on the two them and their budding relationship, sharing stories of their past and hopes for the future.   Fox is a well-known star and every time they tried to go out on a date, they risked being seen by paparazzi and that was exactly what Molly wanted to avoid. You feel bad for Molly since she was so traumatized by the media, but some of her pain is that she is falling for Fox and she thinks their affair will be ending, while we know that Fox plans to keep her with him.
These characters blend well together and heal each other.  Molly was a broken child from her father's neglect and her mother's alcoholism, both due to her father's obsession with young women.  Fox was a broken child because he was abandoned by his mother to the care of his grandparents after she got pregnant by a one-night stand when she was a teen.  Molly fears the media attention and as well as the constant attention Fox receives from female fans and Fox fears her abandoning him.   We see their bond strengthen over the length of the story until they become a strong couple.
The story is broken up into two parts. The first being their month long affair, and the second part where Molly agrees to give their relationship a chance to survive in the spotlight.
The only thing I don't feel was adequately explained is why Fox was so focused on her from the start.   We know that Molly's half-sister Thea is the promoter for the band, and we know that Fox saw a picture of Molly on Thea's desk, but I was waiting for some statement about how Thea would tell them stories of Molly or about how sweet and loving she was, but there was no revelation. I could understand how Fox could fall for Molly while they were together for the month, but he was determined to keep her from the first night even while watching her across the room. I never felt satisfied why he was so insistent.
One big ding to the story, which I just ranted about, was the virgin on the pill story line.  I really want to take a survey of how many women are taking a daily birth control pill who are not sexually active so they can avoid a couple days of cramps.
I have been dancing with anticipation for the next stories almost from the first few chapters.    I am almost disappointed that the next story is Molly's sister Thea and drummer, David.   David  is mooning over Molly's sister Thea who won't date a client.   It's not that I don't want to see how that goes, but I really, really, really want to know what happens with Molly's BFF, Charlotte, and her new boss who she refers to as "T-Rex." Charlotte also has deep dark secret which we haven't found out about yet that effects how she interacts with men. In fact, it seems all the characters have some kind of deep dark secret which has molded their character.  I also anticipate a story between band member, Noah, and Kathleen, Fox's actress friend.
Nalini Singh knows how to write great secondary characters in such a way to get you as excited for the next story as you are for the one you are currently reading.
According to Nalini Singh's website, Rock Courtship (Thea and David's story) is slated for release September 30th.
Received an ARC from the publisher in exchange for an honest review.
---
Favorite Scene:
Patience wasn't Fox's strong suit and he'd almost killed himself with it tonight. Then he'd just about killed David for getting close to her while he kept his distance. Now, finally, he was alone with Molly and all he wanted to do was mess up her hair, kiss her until her lips were swollen and wet.
Then he wanted to do it again. And again.
Fighting the gut-wrenching need that threatened to turn him inside out, he forced himself to lean back lazily against the elevator wall. "You're Molly." It came out a rough purr.
Her eyes widened, fingers curling into her palm. "Yes."
He wanted those fingers on him—any part of him. "Would you mind giving me a ride?"
A large percentage of the women at the party would've taken that as the invitation it was and been all over him in one second flat. Molly, however, took a tiny step back. "Don't you have a driver?"
Abdomen tight, he continued to keep his tone playful, easy, though he was feeling close to feral. "I gave him the night off."
"A taxi?"
If she took another step back, Fox wasn't sure he'd be able to restrain his need to put his hands all over her sweetly feminine flesh, taste her with his mouth. "I don't know the address I'm going to."
The elevator dinged at that moment, and he waited as Molly stepped out into the parking garage before following. The skin at her nape looked like cream; he wanted to lick it up, close his hands over her breasts from behind as he did so, press his rigid cock up against her. Yeah, he wasn't in a patient mood.
"Oh?" It was a husky question. "If you don't know the address, how do you plan on getting there?"
Unable to resist any longer, he bent to the soft, subtle, maddening scent of her and whispered, "That's why I need a ride, Molly," his lip ring brushing the shell of her ear. "I don't know where you live."
She dropped her keys.
Related Posts