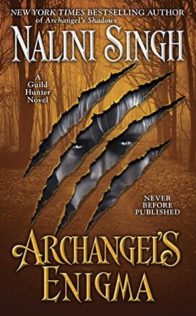 Archangel's Enigma (Guild Hunter, #8)
by
Nalini Singh

Series:
Guild Hunter #8
Published by
Berkley Sensation
on September 1st 2015
Genres:
Paranormal/Urban Fantasy
Pages:
357
Format:
eBook


I received this book for free from in exchange for an honest review. This does not affect my opinion of the book or the content of my review.
This post contains affiliate links you can use to purchase the book. If you buy the book using that link, I will receive a small commission from the sale.
---
[box style="rounded" border="full"]The Guild Hunter series is another of my favorite series. Naasir is one of those special characters that make you cheer when he shows up.   His behavior is odd but always interesting and so far, keeps you guessing why he is so different.  This story was very exciting and I'm happy that he was given a HEA, but he is not your typical romance hero. [/box]
In Archangel's Legion, the Archangel of China, Lijuan, attempted to attack New York and destroy the Archangel Raphael. Lijuan was defeated by the Raphael and his forces. But an archangel is nearly impossible to kill and Lijuan has slunk back to her stronghold to recover and heal. Lijuan has also come up with a new plan. Her scribes have found an old prophesy which indicated that a sleeping archangel will awaken and be part of her destruction.
When an archangel becomes a true ancient they sometimes go to sleep for centuries so they don't succumb to the madness which overwhelms many from living century after century. The biggest taboo among these ancients is to harm an archangel who is sleeping and powerless. Lijuan sees herself as Goddess, above such petty rules, and sends out her forces to find the sleeping place of the Archangel Alexander, and kill him before he wakes.
Both Raphael and Lijuan believe the one person who might just know where to find the sleeping ancient is the scholar, Andromeda. While Raphael sends Naasir to protect her and to help protect the sleeping Alexander, Lijuan sends her most powerful general to kidnap Andromeda and force her to tell them where to find Alexander.
Naasir has started looking for his mate.  From the moment they meet, Naasir believes Andromeda smells like his mate.  Andromeda believes she is safe from Naasir's sensual nature since she took a vow of celibacy until she can locate a lost Star Grimoire, one of the seven lost angelic treasures.  Andromeda took the vow to protect herself from the sexual excess of her grandfather's court. She doesn't want to end of like her parents where their sexual escapades knows no bounds and contains no emotions.
Vowing to remain celibate until she locates a book that has been lost for centuries might be a deterrent for most men, but Naasir likes a challenge and he has set his sights on Andromeda as his mate.  Once they have located and saved Alexander, he will put all his energy into finding that Grimoire
THOUGHTS
Even in a series which featured angels, archangels and vampires, you knew something was off about Naasir from the moment we first met him.  The question simply was what is Naasir?   Nalini will eventually get to that but every day I would go into work and tell them "I still don't know."  It was making me crazy since I had limited reading time that week and it was taking too long (by my standards) to get to the ending.
Because of his odd nature, Naasir isn't your typical romance hero.  As the book progressed, Naasir and Andromeda blended into a wonderful team and you enjoyed their mutual attraction.  Not only was there an interesting, if not odd, romance, but an exciting adventure.  Naasir and Andromeda first need to outwit Lijuan's forces and find Alexander first, but sleeping archangel's have guards and traps in place to protect them from just such acts and attempting to attack them while they are sleeping.  It might be taboo to attack a sleeping archangel, but they are not stupid enough to simply trust that everyone will act with honor.  Once they find Alexander and get past his guards, they have to get through a maze of traps to get close enough to Alexander to wake him before Lijuan's forces arrive.
When Nalini Singh first announced that Naasir would be the the subject of the next story, I wasn't so sure how I felt about a just Naasir story.  Archangel's Enigma was an exciting adventure mixed with the unconventional romance which blended into a enthralling story.
This series is a must read for Urban Fantasy/Paranormal Romance lovers.
Received an ARC from the publisher in exchange for an honest review.
---
Favorite Scene:
(Skipping around a little to remove some of the giveaway info.)
Walking over to where she was sitting on the edge of her bed making notes on a small pad, he sat down beside her and nuzzled at her. She should've stopped him but she didn't. His warm breath, his warmer skin, his quintessentially masculine scent, the dampness of his freshly washed hair, it all felt too good, felt like the best thing she would ever feel.
"Did you feed?" she asked in a husky tone, having noticed the fine lines of strain on his face when he first arrived.
"Yes." He sprawled on the bed behind her–as if he had every right to just take over her space. "Have you seen the angel we rescued?"
Andromeda turned to sit with one leg bent and on the bed, curling her fingers into her palm to keep from reaching out and stroking the hard muscle of his thigh. "No, she's in anshara."
"She was brave," Naasir said, his tone matter-of-fact. "She'll survive."
"The body, yes, but I worry about her mind and her heart."
"When she wakes, she'll make a choice to live or to die while living." Starkly solemn words. "No one can make it for her."
That metal hand, it was back, crushing her chest. "Did you ever have to do that?" she whispered.
"Yes, when I was created. I decided to live and to be me."
It should've been a nonsensical statement, for what child remembered its birth? Yet she knew it for pure truth–Naasir didn't lie. "I'm glad," she said. "I like you."
A glint of silver under the curl of his lashes. "Lie down beside me."
Heart aching, she didn't fight her need or his. going down on her side beside him, she propped her head on one hand…and spread a wing over his chest.
His smile held her captive, the hands with which he petted her feathers unexpectedly gentle. Though he stayed away from the highly sensitive areas, the caresses made her toes curl.
"Pretty feathers," he murmured, lashes lowered as he indulged himself. "Do you know you have bronze filaments that catch the sunlight?"
"No, I don't," Andromeda knew her wings weren't striking, but they were strong and they took her to the freedom of the sky. It was more than enough.
Naasir smoothed out a feather. "Look."
When she did, she caught the faint glimmer of a bronze filament hidden among all the others on a middle primary covert. Wonder unfurled in her. "How did you notice that?"
"Because I notice you." With that comment that stole her breath, he began to stroke her wing again.
———
Silver eyes gleamed at her. Moving without warning, Naasir grabbed one of her arms and hauled her across his chest.
"Naasir!"
Propping up her chin on her hands, the feel of his heart beating under her a deep pleasure, she surrendered to the indulgence of being so close to him. "You can sneak in anywhere. I'm the problem." She made a face.
"I need you." Blunt words that fell like a gift over her. "You carry knowledge about Alexander that could cause us to change our path midway."
"Yes." Her theory was based on historical records and instinct. There was no predicting the actuality. "I wouldn't let you go alone anyway. It's dangerous."
A slow smile that turned into a growl that made her breath catch and her blood turn to honey. "That stupid Grimoire book." Gripping her chin, he bared his teeth at her. "I haven't forgotten your promise. I get to do anything I want to you after I find it."
Andromeda couldn't breathe. "Anything you want," she whispered, her voice husky and her breasts so swollen they ached. "Touching, licking, biting…anything."
The smile returned and this time it was so primal she knew that should he ever take her, he'd own her. Every inch, every drop, everything.
Related Posts