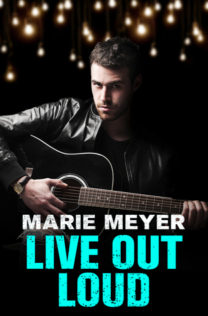 Live Out Loud
by
Marie Meyer

Published by
Forever
on April 30th 2017
Genres:
Rock & Roll
Pages:
320
Format:
eBook



I received this book for free from in exchange for an honest review. This does not affect my opinion of the book or the content of my review.
This post contains affiliate links you can use to purchase the book. If you buy the book using that link, I will receive a small commission from the sale.
I thought I'd live in silence forever . . . and then I met him.

I'll never be able to hear, but music has always been a source of comfort for me. Rather than listen to the rhythm, I can actually feel the beat pulsing through me. It's pure bliss. So the moment I saw Thorin playing his guitar, I was mesmerized. I'd never seen anything more beautiful . . . or intimate. I couldn't tell where his body ended and the song began. He's everything I need in my life . . . I'm falling fast, hard, and deep.

I want him more than anything. But while I live in silence, Thor lives in secrets. He's holding something back-something that's keeping this intensity, this longing from being real. And the silence may be too loud to bear . . .
---
I started out really liking the characters but the story sort of petered out. The real drama faded away and the author threw one in that felt made up. Since there was no real substance to the story, the characters didn't flesh out.
In my continuing obsession with reading about imperfect characters and how authors address those issues, I had to grab a copy of Live Out Loud which featured a musician and a heroine who was deaf. How will she handle a relationship where his life revolves around music when she can't hear it?
It started off sweet. Harper became deaf after an illness which she was about three years old. Her parents refused to learn ASL and Harper didn't do well with a speech therapist so she never wanted to speak. This made Harper's childhood hard since her mother wanted her seen but not heard. She didn't like her waving her hands about when people where visiting since no one understood her anyway and it just drew attention to her. After Thor learns that Harper is deaf, he asks her to show him how to sign, and every time he does this and takes the time to learn how to speak her language, she is so happy since no one but her friend has ever made the attempt. Seeing her light up every time he tried to sign to her, made Thor happy as well. That part was very sweet so I will give the author an A-plus for those scenes.
Both Harper and Thor have issue with their parents. Harper's mother is controlling of Harper like her deafness makes her incompetent, although she is finishing school to become a pharmacist. Thor's mother has just recently left her abusive husband who beat her and Thor for years. Because his father was a physically abusive drunk full of rage, Thor presumes he could eventually become like him even though Thor does everything to protect and take care his mother. Because of this fear, Thor keeps his relationships to one night stands until he sees Harper at a show and has an instant connection. He wants to get to know her.
On their first date, Thor takes Harper to his special secret place where he would go to get away from his father (even though Thor won't tell her why he has a super secret place). This is an abandoned and fenced off public pool where he climbs into the empty pool and hangs out under the diving board. I don't know about Harper, but I would be afraid if a guy I didn't know decided to take me to an abandoned pool and at least text my friend where she might start looking for my corpse. You know, a "just in case." It also seemed a little quick to take the first girl you actually take on a date to your special secret place, which is slightly creepy, especially since you have a communication barrier.
Thor doesn't want to tell Harper anything about his father or his childhood. He feels she is too good for him and that she would want nothing to do with him if she knew he was abused as a kid. Really, Thor, you think your dream girl is that shallow? He clearly is holding back information which makes Harper unhappy that he won't share with her. You can understand that he doesn't want to discuss all his deepest darkest secrets. The simple fact is they weren't dating all that long and obviously he has some bad stuff he doesn't want to share yet until you get to know each other better.
While Harper had issues with her parents going back all her life, Harper visits home and has a heart-to-heart with her parents, leaving us with an everything is going to be alright now feeling, but then chapters later Harper's mother finds out about Harper dating and jumps all over her telling Harper that she needs to concentrate on school, blah, blah, blah. So what was the point of settling all their issues in the middle of the book if nothing changed about their relationship?
There are some spoilery issues to talk about if you care to delve more…
With all the build of Thor's abusive father, who suddenly comes back to harass his mother after a year's absence, and the fact that Thor wouldn't tell Harper about him or the fact that he was back, I thought that the story plot was going to develop into the father coming after Harper to get back at Thor. Being the type of person to get angry for being ignored, he might misinterpret Harper not hearing him. And since Harper wouldn't be able to hear him coming, he could have done some serious damage to her. Maybe he will attack, Thor and Harper will finally speak.  Will she call his name or will she call for help?  But, in the end, the father issue is set aside quickly and he disappears as a threat from the storyline. The big drama which causes strife between Harper and Thor is his request to hear Harper speak. He noticed during sex that it look like she was going to say something (she hesitates because she thought it might be a turn-off to Thor) and he asked her about it. Suddenly she is screaming at him that he can't accept who she is and she can't be with him and it's an end of the world, we can't see each other anymore breakup. WTF? She just had a heartfelt conversation with her parents about accepting her as she is, and she can't take the time to say the same to Thor, the man who has been learning ASL for her, because he wants to hear her say his name during sex.  It felt so over-the-top fabricated excuse and the break up went on longer then their relationship. Thor's attempt to win her back was good but making her come to him at the creepy pool was definitely awkward.
This story had a lot of potential and started out well. I just think it petered out before it really developed the characters more than superficially and the ending was rushed or the author ran out of ideas and needed to finish up. In the end, I was just disappointed.
Related Posts