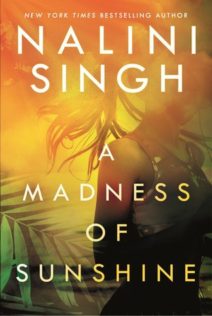 A Madness of Sunshine
by
Nalini Singh

Published by
Berkley
on December 3, 2019
Genres:
Crime Drama
Pages:
342
Format:
eBook



I received this book for free from in exchange for an honest review. This does not affect my opinion of the book or the content of my review.
This post contains affiliate links you can use to purchase the book. If you buy the book using that link, I will receive a small commission from the sale.
New York Times bestselling author Nalini Singh welcomes you to a remote town on the edge of the world where even the blinding brightness of the sun can't mask the darkness that lies deep within a killer… On the rugged West Coast of New Zealand, Golden Cove is more than just a town where people live. The adults are more than neighbors; the children, more than schoolmates. That is until one fateful summer—and several vanished bodies—shatters the trust holding Golden Cove together. All that's left are whispers behind closed doors, broken friendships, and a silent agreement not to look back. But they can't run from the past forever. Eight years later, a beautiful young woman disappears without a trace, and the residents of Golden Cove wonder if their home shelters something far more dangerous than an unforgiving landscape. It's not long before the dark past collides with the haunting present and deadly secrets come to light.
---
I was disappointed with Nalini Singh's first official foray into suspense. The pacing started out so slow and never picked up.
I love anything written by Nalini Singh. I would read her grocery list if I could. When she first announced that she was writing a non-romance, non-paranormal suspense novel, I though I will finally be able to introduce my non-paranormal reading friends to the brilliance of Nalini Singh. I couldn't decide who I was going to share the book with first, but in the end I didn't share it with anyone since it really a great example of what I know is a wonderful author.
My biggest problem with the story is that the pacing was so slow and never really built up even as the investigation continued. At first, I thought the slow pacing really gave a feeling of the desolation of this tiny, tiny town on the edge of the world. It was four hours to the nearest city. It was on the edge of a cliff over the ocean with dangerous waves. People lived in houses that were no better than shacks. I am certain there are many small town people in the U.S. who can't even grasp how small and desolate this town really is. And I did take the time to try to set the scene in my mind. Whenever Nalini mentioned a specific tree or the call of a bird, I stopped to look it up because I was unfamiliar with these New Zealand natives and at first, I thought this was the reason I felt it was slow paced. I really could barely grasp how anyone could still be living so far out of the way with on about 100 other people that they have known all their lives.
The problem is that once the scene was set and the beginning introductions were made to the two main characters of the story: Will, the City Police officer sent to the middle of no where as punishment and Anahera, who has returned to this isolated part of the world after living in London; and then we got a look at town and most of the major players that have ties to the missing girl, the story never got past cruising along.
Now let me backtrack a little, I never said it was a bad story. I like a good suspense/crime novel just as much as I like a romance or a paranormal story. But for a suspense, it never got really suspenseful. The inference in the book description is there is a serial killer amongst the very few citizens of this town but the majority of the story focuses on one missing girl and we then learn that many, many years ago several tourist/hikers went missing. No one really wondered if there was any connection between those missing hikers until someone notices they are all young pretty women who look very similar. And does those hikers have anything to do with today's missing girl since that was so long ago? Usually in a serial killer story, we get the occasional POV from the killer as he stalks his victims which add to the suspense, and we didn't get it here.
And while Nalini stated several times that it wasn't a romance, we did have the standard two person POV what we would get in a romance and Will and Anahera did build a working rapport which lead to sex and a growing connection between them.
I guess my biggest problem with the story is simply that really enjoy Nalini Singh's books. Some of them are at the top of my Must Read list and are simply books that I pick up and re-read over and over again. Nalini Singh is a talented writer so I was absolute disappointed that A Madness of Sunshine wasn't as exciting as I anticipated.
Related Posts