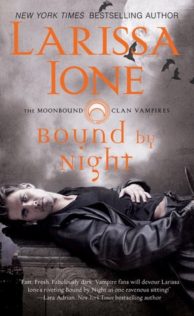 Bound by Night (MoonBound Clan Vampire, #1)
by
Larissa Ione

Series:
Moonbound Clan Vampires #1
Published by
Pocket Books
on September 24th 2013
Genres:
Paranormal/Urban Fantasy
Pages:
400
Format:
eBook



I received this book for free from in exchange for an honest review. This does not affect my opinion of the book or the content of my review.
This post contains affiliate links you can use to purchase the book. If you buy the book using that link, I will receive a small commission from the sale.
---
A WOMAN OUT FOR BLOOD

Nicole Martin was only eight years old when the vampire slaves rose up in rebellion and killed her family. Now she devotes her life to finding a vaccine against vampirism, hoping to wipe out her memories—along with every bloodsucker on the planet. But there's one thing she cannot destroy: her searing, undeniable attraction for the one man she should hate and fear the most . . .

A VAMPIRE OUT FOR REVENGE

A member of the renegade vampire MoonBound Clan, Riker is haunted by demons of his own. When he recognizes Nicole and remembers how her family enslaved his loved ones, his heart burns for vengeance. But when he kidnaps Nicole and holds her in a secret lair, his mortal enemy becomes his soul obsession, his greatest temptation, and, perhaps, his only salvation—a hot-blooded lover who could heal him with her touch . . . or bury him forever.
---
Once Nicole Martin believed in a fantasy world where the family's vampire servants enjoyed serving her family. She once believed that her family took care of these vampires who would have lived like animals without her family's care. She also believed that these vampires would never, ever hurt them. At least she did until the day the vampire slaves at her family's home rebelled and murdered her parents, and tried to drain her of her blood.
Twenty year later, Nicole has been told she must step into her father's role and become the new CEO of Daedalus, the largest researcher and supplier of vampire slaves. She has spent her time learning vampire physiology and helping to create cures for human health issues based upon what she learns from her research. She doesn't wish to become CEO, she would rather remain in her lab and leave the running of the company to her half brother, Charles, but her father's Will decrees that his legitimate daughter step up and take the reins of the company.
After the night of her attack, Nicole holds no love for the vampires but she would never intentionally harm a living creature. When the vampires in her lab were executed, on a directive signed by Nicole, she knows that someone is setting her up to take a fall, but she doesn't know who. Before she is able to figure out who is behind the executions, one of her worst nightmares shows up at her front door. Twenty years prior Nicole watched the vampire Riker kill his mate and their unborn child and there was nothing Nicole could do to stop him.
Now Riker has kidnapped Nicole to use as leverage to get Daedalus to return to them a female vampire taken by poachers. This female is a midwife and she belongs to the rival clan, ShadowSpawn. Vampires have a very low birth rate and high mortality rate for their women and children and the MoonBound clan borrowed Neriya's services. A midwife of Neriya's talent is very valuable and ShadowSpawn is blaming her loss on MoonBound. If they don't return her by the full moon there will be a war between the clans.
While under the "care" of MoonBound, Nicole is learning first hand that everything she has ever been told about the vampires is wrong. It is hard to swallow that the vampires that humans have been enslaving all this time aren't the beasts she was led to believe and knowing that her family and their company has done these people the most wrong is weighing heavily on her soul.   Can she now work against her family's company to help MoonBound retrieve Neriya before ShadowSpan declares war, and if she does, will anyone trust the help coming from their former enemy?
THOUGHTS:
It took me awhile to get into this story because of the world building. I misinterpreted some of the information on the book jacket. I thought the uprising of the vampires slaves caused the vampires to now be in charge of the world. That is not correct. As a leg up, here is some information: (1) the vampire uprising was not universal. It was only at Nicole's house and the vampires only killed her parents and their party guests. (2) We never really find out how Nicole survives the attack. (3) Vampires are still used as slaves.  (4) Wild Vampires still survive in clans are in hiding from the human hunters and poachers. (5) Daedalus sells vampire slaves but also buys wild vampires for experimenting on as well as black market purchases for unauthorized experiments.
Once my brain caught up with all of the nuances of this world building, I really got into the story and I liked all the characters introduced along with the main characters of Nicole and Riker.   I liked that Nicole accepted and acknowledged that her family has done wrong  by the vampires and she immediately steps up to do what she can to make things right.  She doesn't try to defend their actions.  She's all "what can I do now to make things right."
I will say that after 20 years of each blaming the other for Riker's mate's death, they seem to have had a reasonable discussion about the day of her death and got over their hatred of each other kind of quickly.   This isn't like the day my husband and I were arguing and the call dropped and we each thought the other was an ass for hanging up.   This was 20 years of "you killed her" and it ends quietly with a "sorry I misunderstood."  Terese's ghost does play into the story as a wedge between Nicole and Riker since Nicole's family holding her as a slave was one of the reasons for her death and Riker feeling guilty for having feelings for Nicole after everything that happened to Terese. (BTW – That is a figurative ghost, but a literal ghost although this is a paranormal.)
You do need have suspend your disbelief a bit to enjoy the series since there are a few issues that at least didn't make sense to me.  First of all, the vampires clans are threatening war with each other.  Since they are in hiding from humans and the poachers and hunters are always stalking them, it seems stupid to have an all out war–literally outside where all the humans will see them and hear them fighting.  If anyone is left alive after the fight, the humans will have followed all the noise and be standing by ready to grab survivors.   Secondly, each group seems to have created their own underground catacomb system.  While ShadowSpan sleeps on furs on dirty floors and somehow manages to create cells for prisoners, MoonBound has embraced a more modern lifestyle including hardwood flooring, comfy furniture, big screen TVs and laptops??  I don't get great WiFi out on my back deck, vampires in hiding in caves have cable?   Hunter paused a news conference so unless vampires are stuck with VHS, that means they have DVRs too?  Couldn't the human just follow the cable connection to their lair  or notice a satellite dish out in the middle of the woods?    Hey, sometimes you just have to roll with it.
I am happy that I have a copy of Chained by Night, which is Book 2, or I would hate the cliffhangerish ending especially since it appears Larissa Ione will only be writing one of these a year.  (UPDATE:  Finished Chained by Night and it's awesome!)
I felt really bad for Riker's friend Myne. He's a huge, tough natural-born vampire. He had been captured and kept as a slave at some point in his life and luckily for him, he was not among the male slaves who are normally castrated, but unluckily for him he was defanged. He now had titanium fangs which is great for warfare, but not so much on the monthly feeding from the females. Understandably his dance card is not full since his bite will hurt–badly.  (I do have a problem with the male/female feeding issue, if you had a chance to read my Black Dagger Brotherhood post.) But at least in this case, the females need to feed on the new moon and the males need to feed on the full moon. Since there isn't exactly an even ratio of males to females, no one dies if they don't feed and get their sexual needs met, but it does make for some post-moon cranky vampires. So back to Myne, at one point he is left to look after Nicole for awhile when Riker needs to leave the compound, and poor, lonely Myne realizes how perfect Nicole would be for him as a mate because she is brave, smart, beautiful and caring of others but since its "Bros over Hoes" in vampireworld, he would never make a move on Riker's woman. It made me sad that this big guy is so lonely and that even if Riker doesn't claim her as a mate, Myne would never pursue her himself, no matter how much he likes her, out of respect for his friend. 🙁
I hope Myne gets a book next, but that will be at least a year away. 🙁 🙁
It was a slow start but overall a good story and very interesting secondary characters who are introduced and I am looking forward to starting Book 2.
This was my first Larissa Ione story.  I know — WTF? right.   I guess I will have to look into an audiobook catchup of her Demonica series.
Received a copy from the publisher in exchange for an honest review.
---
Favorite Scene:
This was an interesting scene between Nicole and one of the vampire women after she is taken to the compound and allowed to help out in the lab.
"Whatcha doing'?"
Nicole jumped at the sound of the scary Katina chick's voice right behind her. "It would be helpful if you guys would stomp your feet when you walk," Nicole muttered.
"But then we couldn't scare you." Katina eased next to her. "What's in that vial?"
Nicole followed Katina's gaze. "The green one? That's Kool-Aid. Lime, I think."
"Why?"
"You'll have to ask Dr. Frankenstein."
Katina laughed, a deep melodic sound that was as beautiful as she herself was. "I dare you to call Grant that to his face."
"I already did." She sighed.
"What did he do?"
"He called me dinner a la O-Positive."
Katina laughed again. "Pretty cool how he can determine your blood type by smell, huh? Most of us can't do that."
"Cool is not the word I'd use," Nicole said as she pulled a tray of vials close, "but we'll go with it."
Katina flipped her thick black braid over her shoulder. The vampire had fabulous hair. "did you know each type tastes different?"
"No, I didn't." Nicole squeezed a dropper full of liquid from one of the vials onto a microscope slide.
"It's true. You Os are lame. Too metallic-tasting. My favorite is B-positive. There's a spicy aftertaste I love." She frowned. "It's so rare, though."
"You need to be eating Asian people." Nicole checked on Grant's whereabouts—far across the room, thank God. "Asians have the highest percentage of B-positive blood."
"Really?"
Nicole's stomach turned when she realized she had just offered an entire ethnic group of people on a platter. She might as well draw up a menu for all the blood types and people who shared them and distribute menus to vampires who wanted to know how to find their favorite flavors.
"Um…can you pretend I didn't say that?"
"Nope. I'm so taking a trip to Chinatown tomorrow." Katina playfully slugged Nicole in the shoulder, and it was all Nicole could do to keep from rubbing her arm and crying like a baby. "You know, I'm glad we didn't eat you that first day. I think I'll ask Hunter if we can keep you."
Keep her. Like a stray dog or a captured wild bird…or a vampire slave. With every passing hour, Nicole became more and more ashamed of her race.
"How do you know so much about blood, anyway?" Katina asked.
"My specialty is vampire physiology," she said, happy to talk about something she actually enjoyed. "To know how vampires work, I need to know how humans work. Vampires are dependent on humans to live, which means I need to know everything I can about blood and how it affects vampires. Blood type can play a huge role in everything from the vampire origins to how vampires breed, mature, get diseases…The possibilities are endless, especially when we apply what we've learned about vampires to human medicine. It's fascinating. I even discovered a way to use the vampire rac1b2 protein to cure ovarian cancer in humans."
Silence.
Nicole took a deep breath. "Aaaand…I've just reminded you why I'm here and why you hate me, haven't I?"
"Yup."
Related Posts