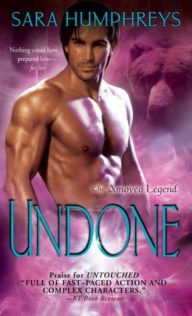 Undone (The Amoveo Legend, #4)
by
Sara Humphreys

Series:
The Amoveo Legend #4
Published by
Sourcebooks Casablanca
on May 7th 2013
Genres:
Paranormal/Urban Fantasy
Pages:
265
Format:
eBook



I received this book for free from in exchange for an honest review. This does not affect my opinion of the book or the content of my review.
This post contains affiliate links you can use to purchase the book. If you buy the book using that link, I will receive a small commission from the sale.
---
Party girl Marianna Coltari is an unmated pureblood Amoveo who wants nothing to do with the ongoing war that took her father's life and continues to consume her brother, Dante's. But when she is targeted by one of the clans, she has little choice but to run and hide in a cabin with Pete Castro, a retired cop from her brother's security firm. There, Pete and Marianna explore an intensifying attraction between them until danger is at the door and there's no escape.
---
Pete Castro has been assigned by his boss and his friend, Dante Coltari, to act as chauffer and more importantly as bodyguard, to his twin sister, Marianna. As an Amoveo shifter of the bear clan, Marianna should be more then able to protect herself, but many unmated females have been disappearing lately, and Dante wants to be sure that his sister doesn't wind up among the missing women.
Pete hasn't told Marianna that he knows what she is. As far as he is concerned, she can go on thinking him an ignorant human. With her unpredictable bear temperament, if she didn't fear discovery by him, he is afraid she'll do a disappearing act on him next time she is in a snit. As far as Pete is aware, Marianna doesn't think of him at all. If only he could say the same thing. All Pete can think about are those long legs and how he wants to grab a fist full of those gorgeous brown curls and kiss her until they're both breathless. But Marianna is looking for her mate—her Amoveo mate, not a plain old human like Pete.
Human or not, Pete will take care of that sleezyball Hayden. Hayden might be full-blooded bear clan, but there is no way that pompous ass is her mate, so why is he after Marianna so desperately? Pete isn't planning on sitting around waiting to find out. Dante hired him to protect Marianna, and that is what he is going to do even if he has to fight her to succeed.
Now, they are hiding out together from the kidnappers. Pete couldn't stop thinking about her…dreaming about her while he guarded her in the City. Now all alone, Pete's desire for Marianna is only exceeded by his need for her to see him as more than just a human.
THOUGHTS:
Loved it! I love when a story leaves our hero and heroine stranded together for a chance to really get to know each other, and yet there was still plenty of time for an exciting rescue, a set up for the next book in the series as well as a set up for her next series focusing on vampires.
It was a well written story with great characters which blended the love story and the excitement so we have plenty of both to enjoy.
We got to see William again who loosened up in his and Layla's story, but he comes off cold and distant again. I loved him in his book Untamed, but he quickly returned to his unsympathetic self. I guess he will remain a character that unless you are in his head, he will always come off as unfeeling and hardhearted.
These stories have gotten better each time and I am sorry that we are nearing the end of the series.
Received an ARC from netgalley.com, courtesy of the publisher. Thank you.
---
Favorite Scene:
He tried to keep his mind on the job—and that she's his buddy's sister.
You don't nail your buddy's sister. It's unbreakable guy code.
Her hip bumped enticingly into his as they climbed the last couple of steps at the top. Peter used every ounce of willpower to keep from looking at her legs or her spectacular cleavage. Sweat broke out on his forehead, and he tried to think of something else—anything else—except the woman on his arm.
"You know." She sighed as she slid the key into the lock of her apartment door. "You've been driving me around town for the past two months, but I don't think you've ever been inside my apartment."
"Nope." Pete stepped back, kept his hands in his pockets and both eyes on her. What was she up to? First she pretends to be wasted and bails out on that Hayden guy, and now, she's hitting on him. What is her endgame with this?
Marianna flipped the lock and arched one eyebrow. "Care to break that streak tonight?"
He swallowed the urge to scream hell yes, and instead bit out, "I don't think so." Pete shook his head even though his body was screaming yes.
"Are you sure?" she asked as she grabbed his tie and twirled it playfully around one finger. Her large dark eyes clapped onto his. She tugged the annoying garment and pulled him closer.
"Yes," he whispered. Pete willed his body not to move, to be strong and hold his ground, but it was no use.
The enticing scent of peaches wafted over Pete as she held him captive. His hands curled into fists in his pockets as he struggled to keep from touching her and resisted the urge to lace his fingers through that silky looking hair. His entire body hummed with arousal and awareness as the heat from her body radiated along his.
Her mouth hovered dangerously close, and her eyes glinted back with the unmistakable glaze of desire. It would be easy to dip lower and take just one taste. "Come inside." She whispered.
Everything seemed to move in slow motion, and somewhere in that odd displacement of time and space, his mouth settled over hers. A rush of sweetness flooded him as her lush, gorgeous lips fused with his.
She tasted like peaches too…and champagne.
Marianna ran her tongue along his. He yanked his hands from his pockets and slipped his fingers into that long wavy hair that did indeed feel like silk. He moaned as she linked her arms around his neck and pulled him closer. Devouring her lips, Pete pinned her against the door and drank greedily from her soft, pliant mouth. Her full breast crushed against his chest, and all he could think about was getting closer.
His body, taut with desire, sensed every single spot where her heated skin touched his. However, amid the haze of lust he heard the voice of reason screaming at him to stop, listing all the reasons why he definitely shouldn't be doing this.
She's your friend's sister.
She's Amoveo and you're human.
She's got some predestined shapeshifter mate out there, and you're not it.
She can't ever be yours.
"I can't to this," he murmured against her lips.
Related Posts