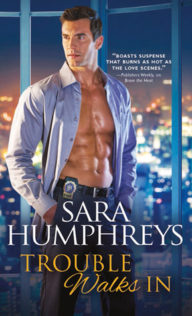 Trouble Walks In (The McGuire Brothers, #2)
by
Sara Humphreys

Series:
The McGuire Brothers #2
Published by
Sourcebooks Casablanca
on August 2nd 2016
Genres:
Blue Collar
,
Contemporary
Pages:
320
Format:
eBook



I received this book for free from in exchange for an honest review. This does not affect my opinion of the book or the content of my review.
This post contains affiliate links you can use to purchase the book. If you buy the book using that link, I will receive a small commission from the sale.
---



[box style="rounded" border="full"]Sara Humphreys succeeds in writing romantic suspense where others have failed.  She strikes a perfect balance of suspense, excitement and romance and kept me guessing until the final reveal.[/box]
New York City and murder become the backdrop for Sara Humphrey's latest novel in the McGuire Brothers series featuring NYC Police Officer Ronan McGuire and his K-9 partner.
Maddy Morgan ran away from her hometown of Old Brookfield after her love, Rick, was killed fighting a fire. After a decade long relationship, their lives were so intertwined in the small town, she escaped to the animosity of the big city. New York City is the only place where you can be alone surrounded by millions of people. Maddy wanted to be alone with her grief, but she never expected Ronan to take it upon himself to make sure Maddy was never truly alone. After several months, their Sunday runs started turning into something more.
But taking a chance on dating again is not the same as giving your heart to another man who lives and breathes his job, and a very dangerous one at that. Rick loved Maddy, but his passion was being a firefighter. After all this time with Ronan, Maddy has realized that Ronan is no less dedicated a police officer.
Does she have the strength to risk her heart again for a man who puts his life on the line every day?
THOUGHTS:
The biggest problem with romantic suspense books is with balancing the romance and the intrigue. If too much focus is on the drama, then the romance feels forced and if we focus too much on the romance, we end up with only one or two suspects being introduced and there is no excitement to the investigation.
Here we start with Maddy and Ronan, who have known each other for years, and who have been spending time together since Maddy arrived in NYC, so that this is a friends to lovers story which always gives us a jump on the romance and we easily feel the connection between the characters.
And as far as intrigue, Sara Humphreys gives us several possible suspects for our murderer. I was giving everyone the stink eye in this story. That guy's a jerk. I don't like him. That sound suspicious. Maybe it's you. There were plenty of secondary characters introduced that kept you guessing.
We do get to watch Ronan and his K-9 partner in action several times which added to the interest of the story. If I had to point out any problems, I would have to say that I thought it ended too quickly.
If you like contemporary and suspense, this definitely needs to be on your TBR list.
---
Favorite Scene:
"What are you thankful for, Mads?"
"You first," she said quietly.
"My family, that's always on the top of the list, and our good health. I'm thankful Gavin and Jordan found their way back to each other." Ronan's gaze flicked from his wineglass to her mouth before traveling up to look her in the eyes. His voice was quiet and steady and sent a shiver over her flesh. "I'm also thankful that I've gotten to know you better, Maddy Morgan. Your turn."
She debated how honest she should be, but staring into his earnest, handsome face, she knew he deserved nothing less. A man like Ronan—one driven by duty, honor, and loyalty—earned far more than some prepackaged response from her. "To be honest," Maddy began slowly, "if you had asked me this question a few months ago, I don't think I would have had an answer. Losing Rick and the grief that came with it almost swallowed me up. Hell, I had to move everything to try to get away from it, to shake it off. But you know, leaving Old Brookfield last year wasn't what helped me start to move on."
"What is it, then?"
"You," she said softly. Her fingers shook around the stem of her glass, and her heart raced as she admitted the truth to him and to herself at the same time. "You've been an incredible friend, Ronan. I don't know if I can ever repay you for that."
Her throat thickened with emotion and tears stung her eyes, but Maddy willed them away. She took another healthy sip of wine. All the while, Ronan's eyes stayed fixed on her. Oh jeez. Maybe she'd said too much. Her face heated and a hint of embarrassment crept in, but in true Ronan fashion, he diffused the situation with humor.
"Well, you have been politely laughing at my stories all night, and you haven't even mentioned how badly I've been hogging the conversation." He winked. "Consider us even."
"No, " she said, laughing. "I'm serious."
"So am I. My brothers did call me Motormouth when I was a kid. In fact, Gavin said he thinks the reason I became a K-9 officer was so I could monopolize the conversations with my partner."
"I remember that nickname," Maddy said with a smile. She let out a contented sigh and ran her finger along the base of her glass. "But it wasn't your only nickname."
"Is that so?" His lips curved into a cocky smirk.
"Mmm-hmm." Maddy nodded. She leaned back in her chair and crossed her legs. "If memory serves, the girls in school also referred to you as 'Make-Out McGuire.'"
Her body warmed, recalling the two kisses they had shared. The man had definitely earned that nickname, and she'd be lying if she said she hadn't replayed those moments over and over in her head. If Maddy was brutally honest with herself, she would admit she was hoping for more than a kiss tonight. She hadn't realized how starved she was for physical affection until she got a taste of Ronan.
Related Posts