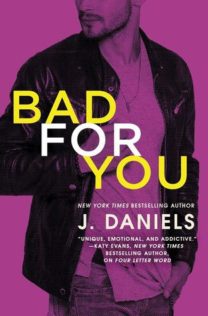 Bad for You
by
J. Daniels

Series:
Dirty Deeds #3
Published by
Forever
on July 17th 2018
Genres:
Blue Collar
,
Small Town
Pages:
400
Format:
Paperback



I received this book for free from in exchange for an honest review. This does not affect my opinion of the book or the content of my review.
This post contains affiliate links you can use to purchase the book. If you buy the book using that link, I will receive a small commission from the sale.
Shayla Perkins isn't the kind of girl who makes the same mistake twice, especially when it comes to Sean "Stitch" Molina. So when he gives her the world's biggest rejection, that's it—she's done. Until the sexy, silent, unavailable Sean makes Shay a very personal offer. Of course, it still doesn't mean he's interested in her. Or does it?

Sean has done things in life. Bad things. And he's paid the price. All he wants now is to make up for his past by doing good in the present. And no one deserves more good than Shay. Beautiful on the inside and out, Shay is the kind of woman who should be cared for and protected—especially from a man like Sean. He's tried to keep his feelings for her in check, but a single, reckless impulse pulls them closer than ever before.

Soon the two are sharing their biggest dreams and satisfying their deepest desires. But what will happen if the only way to truly give one another want they want most . . . is to let each other go?
---
J. Daniels' Bad for You is actually really, really good for you.
Sean Molina had a hard childhood with a junkie mother who couldn't care about him and a father who took off to start another family. He started stealing at a young age. It started when he needed new sneakers that actually fit for school and a child's realization that if he needed something, and there were no adults to provide it to him, he would simply have to take it. As he got older, the things he needed or wanted got bigger and more expensive until we get to the night he was arrested for stealing a car and was arrested in front of his little girls.
After getting out of prison, Sean knew he was lucky to land a job as a cook at Whitecaps. The only thing that isn't perfect about his job is Shayla Perkins. Sean has way too much interest in seeing Shayla every day. She is everything that is light and beautiful and he can't get enough of listening to her or looking at her smile, which is why it isn't a good thing for Sean. Someone as broken and worthless as he is doesn't deserve the attention or the looks that Shayla throws his way.
A few months ago, he shut down her attempt to ask him out and while he hates the cold shoulder she now gives him, he knows that is all someone like him deserves from someone like her.
After a year of working as many shifts as he could, he had enough to buy a little house, rundown and needing just about everything, but it was a house he could make a home for his girls.  That is, if he ex-wife ever let him see them again. What Sean doesn't know is that it is Shayla who convinces his ex-wife to give him an opportunity to try to be a father again to his girls.
Shayla, with her bright smile and infectious laugh, teaches Sean that he is a man of worth, and one worthy enough to open his heart to her.
It was hard to see how years of neglect made it so easy for Sean to see himself as not worthy of the good things that have come his way but Shayla has the tenacity to stand strong against Sean's inner demons and teach him to see himself as they all do.
This was a sweet and enjoyable romance.
---
Favorite Scene:
"Stop it. I need focus," I scolded, feeling his body quake beneath me with a soundless chuckle. Looking at his chest, I uncapped the marker.
"What are you doin'?" he asked.
I didn't speak yet.
I leaned in and carefully pressed the blunt tip to his skin where there wasn't any ink, and wrote my first word in a slant up his right pec.
Beautiful.
"I have to apologize for something," I said as I contined writing words on Sean's skin. I dragged the top up the side of his neck and in scripted print wrote Deserving. "I lied to you the other night when I slept over. I wasn't crying because I'd been throwing up. I wasn't even throwing up at all."
"What?"
I met his eyes and nodded, then I wrote the word Important curling over his left shoulder. "I was looking at your tattoos while you slept because I hadn't really gotten a chance to study them yet and I saw those words, Sean. This one," I stopped writing, and with my other hand I rubbed my thumb over the word Nothing.
His grip on my body changed. It became severe. It nearly hurt.
"And this one," I touched the word Loser, then our gazes met.
There was fear in his eyes. And they were suddenly wet with tears. My heart sank.
I sat the marker down and cupped his face. "Sean, why? Why do you have those words on you? Did she put them there?"
He tried looking down and away, he tried to hide his tears from me, but I wouldn't let him.
"Sweetie, it's okay," I said. I could feel my own eyes watering now. "You can tell me anything. It won't change how I feel. I promise." I kept my one hand on his cheek and touched his chest with the other. "You are not these words, Sean. You aren't, and not just to me. You matter to so many."
"What are you writing on me?" he whispered. His eyes jumped between mine in panic.
"I'm writing what's true."
His chest shuddered, and he subtly shook his head.
I let go of him to pick up the marker again, and when I did, Sean wiped his forearm across his eyes and cursed.
I wanted to find that woman and slowly kill her. I'd drag it out for days. She would have an entirely new definition of pain when I was finished.
Just as I was lowering the marker to his skin again, Sean caught my wrist and stopped me.
We looked at each other. He was breathing raggedly out of his mouth, and his eyes were red.
I almost tugged my arm back to toss the marker. I almost began to sob–I shouldn't have done it. Sean crying was the saddest thing I'd ever seen and probably would ever see, and I was to blame for it. His grief was unbearable.
But then I felt my arm moving closer to his body as he slowly pulled, and when the marker touched his skin, he trembled.
"I don't have to," I whispered. "I'll stop."
"No," he rasped. He dropped his head back and squeezed his eyes shut. His hands were no longer on my body. They were curled into fists on the bed. "Fuck, just do it…hurry," he begged. "Hurry before I can't."
My breath caught.
Not days.  Years–I'd make sure she suffered forever.
I blinked tears from my eyes and carefully wrote Worthy on his rib. I moved to his bicep and penned his value there, the other side of his neck, on his hand where Space was inked. I wrote the word Loved over top of it in heavy outline so it covered.
I had to be slow because Sean trembled, and I worried my hand would slip and the words would be too messy to read, and I couldn't have that. Even though I wanted to rush and finish so he'd relax and let me hold him, I couldn't.
I took my time, and it killed me.
Related Posts