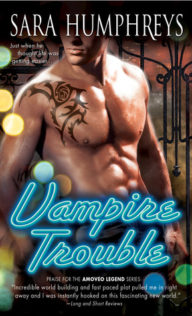 Vampire Trouble (Dead in the City, #2)
by
Sara Humphreys

Series:
Dead in the City #2
Published by
Sourcebooks Casablanca
on July 1st 2014
Genres:
Paranormal/Urban Fantasy
Pages:
320
Format:
eBook



I received this book for free from in exchange for an honest review. This does not affect my opinion of the book or the content of my review.
This post contains affiliate links you can use to purchase the book. If you buy the book using that link, I will receive a small commission from the sale.
---
Shane Quesada, a four-century old vampire sentry, is known for cold, unemotional precision when hunting rogue vampires.

Maya Robertson is a youngling vampire who will not be controlled—and to prove it, she rejects Shane's protection—only to find herself in over her head with an alpha werewolf.

Soon, a war between the coven and the werewolf clan ignites, and Maya and Shane flee to Louisiana, where their passion for each other grows—as does Maya's power. When she finds herself at the center of the conflict, will she finally trust Shane with her life—and her heart?
---
Maya Robertson has been a vampire of only five years. She is a young vamp by immortal standards and like any other youngster, she has a problem keeping herself out of trouble. She does exactly what she is told not to do, she gets angry when she is told to behave by her maker and she likes to play with her food.
On the night of her turning, she was raped, beaten and left for dead in an alley. Since Olivia turned her, she has been plagued with nightmares of the night of her death. The constant feeling of powerlessness makes her seek out some control of her life. She often feeds from the type of men who would take advantage of a weaker female and then she toys with them. She is not happy when Olivia gives an order that they are not to hunt for awhile. Werewolves have come to town unannounced and uninvited and that can only mean trouble.
Of course, the first thing Maya wants to do is get a closer look at these werewolves. When she is almost attacked by one, it is 400-year-old Sentry, Shane Quesada, who steps in to take Maya by the hand to help the baby vampire grow up.
He knows that Maya's best defense against the dreams is to fight off her attacker in her dreamscape, and in reality, to be able to fight off the werewolves who are now seeking her out. He takes Maya away to train her in self-defense and weapons. He know that once Maya feels confident enough that she can take care of herself,  she will finally be able to move beyond the past which still haunts her.
THOUGHTS:
This is an enjoyable series and a quick read for anyone who likes paranormal romance. Understandably, Maya has issues with men when the story begins. We know from the first book that Maya likes to glamour and play with the human men she feeds from. We learn in the beginning of this story exactly why she does it. Still you do want to shake Maya in the beginning because she makes emotionally motivated decisions without thought. She is told to stay away from the werewolves, so of course she takes a new job at a club where they are hanging out. She is told not to trust them and to stay away from them, so of course she agrees to go to their hotel suite alone with the pack. *shake, shake, shake*
I liked Shane a lot until he starts to have the "I'm getting too obsessed with Maya to do my job" talk with himself, just after Maya starts to trust him, and we see her start to mature. Then it is our turn to start shaking Shane for being stupid.
This is the second story of the series and brings the second pair of Bloodmates to the series.  The supernatural world is already having a summit to discuss Olivia and Doug who are the first Bloodmates in forever.  The supe world is concerned about the fact that they can walk in the daylight, and have also created a child. Tensions are high as they await the birth of Olivia's child, and with the supernatural world up in arms about what their bond could mean to the future of the supernatural world, a second pair is going to ratchet that concern way up.
Overall it was an enjoyable story and a good addition to the Dead in the City series.
Received an ARC from the publisher in exchange for an honest review.
---
Favorite Scene:
"I knew you like to watch." Her voice, quiet and edged with bitterness, cut into the silence of the night. Maya spun around and stormy, dark blue eyes latched onto his. "Do you get off on that?"
"You are the one who challenged me to follow you." Perplexed by her obvious anger at his presence, Shane knit his brows together. He inched closer, his gaze wandering over her face, memorizing every curve. "Or did you forget?"
Maya's eyes widened with every inch of personal space that he invaded, yet she didn't retreat. "I remember telling you and everyone else that I'm tired of having my every move monitored." She placed her hands on her hips and met his challenging stare. "You're a sentry and supposedly some badass warrior, but you're spending the last hours of your night spying on me? What's your deal? Are you trying to get brownie points with Doug and Olivia? Do you get some kind of bonus for following me around and messing with my life?
"Hardly."
"Then what's your damage, dude?"
"Actually"—Shane tilted his head slightly to one side and folded his arms over his chest—"that was going to be my question for you."
"What?" Maya blinked and took a step back. "Me? What are you talking about?"
"Yes, you." Shane leaned closer and his voice dropped low. "Why do you insist on hunting but barely feed on your prey?" Maya said nothing and took another step backward, but Shane persisted. He dropped his hands and continued moving toward her, even though she moved farther away.
"You only hunt men, and from what I've observed over the past few months, your taste in human men is…Well, let's just say it's questionable. You don't just hunt, Maya. You court, seduce and lure them in much the way one would with a lover, and yet you clearly don't love them. In fact, I'd say it's quite the opposite."
"I like the hunt." Maya tilted her chin defiantly but gasped when she backed right into the trunk of a massive oak. "What's wrong with that?" she whispered through trembling lips. "Besides, what would a stodgy old vampire like you know about love?"
"Nothing." Shane place his hands against the tree on either side of Maya, caging her in. He leaned in so his face was just inches from hers. "I know little of love but I'm well schooled in hunting, whether it's to feed or in battle. It's not what you're doing that intrigues me, Maya, but why you're doing it."
"I-I'm hunting, like any other vampire does." Her voice lowered to a whisper, but the anger and defiance had been replaced by fear and uncertainty. "For the blood."
"No." Shane shook his head slowly. Brushing a lock of blond hair off her face, he ran his thumb along her jaw. Her skin was warm and smooth beneath his. Although vampires felt cool to the touch to humans, they felt warm to other vampires because their body temperatures were the same. Although Maya's flesh seemed hotter and more enticing than any Shane had encountered.
He tiled her chin, forcing her to look him in the eye, and to his surprise, she didn't resist. "If it were only about blood, youngling, then you would simply glamour a human, feed, and release him. No." Shane traced the line of her full lower lip with the edge of his thumb, and sadness tugged at whatever was left of his heart. "We both know there is much more at play here than the need for blood."
"Then spill it." Maya's features hardened, and her hands balled into fists at her sides. Dark blue eyes glittered up at him with fierce determination. "What is it that you think I'm after?"
Memories of Maya being dragged into the alley and the look of pure terror and helplessness in her eyes came roaring back—and in that instant he knew. He felt like a fool for not realizing it the moment he'd woken from the dreamscape. When the realization dawned, something deep inside him shattered into a million tiny pieces.
"Power," Shane whispered. His fangs burst free, and Maya let out a gasp of pleasure. "Control." He placed a gentle kiss at the corner of her mouth. "Domination."
Related Posts