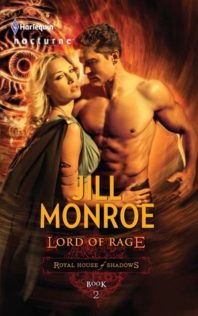 Lord of Rage (Royal House of Shadows, #2)
by
Jill Monroe

Series:
Royal House of Shadows #2
Published by
Harlequin
on September 20th 2011
Genres:
Paranormal/Urban Fantasy
Pages:
282
Format:
eBook



I received this book for free from in exchange for an honest review. This does not affect my opinion of the book or the content of my review.
This post contains affiliate links you can use to purchase the book. If you buy the book using that link, I will receive a small commission from the sale.
---
Princess Breena had been dreaming of her warrior lover when she was ripped from her Elden castle and thrown into a strange, dangerous realm. Lost and alone, she prayed for survival and vengeance for her stolen kingdom. She found both in a woodland cottage…in a dark bear of a man.

The golden-haired beauty had eaten his food and slept in his bed when Osborn found her. Though he wanted to awaken his virgin princess to carnal pleasures, Breena wanted more—including his warrior skills. Skills the once-legendary mercenary had long buried. Now Osborn had a choice—risk his life or deny his princess her fairy-tale ending.
---
This is the second book in the Royal House of Shadow Series.  Each of the four books in the series will be written by a different author.   The books each feature the four children of the King and Queen of Elden who are murdered by the Blood Sorcerer and their kingdom stolen.  Before they die, they bespell their children with one spell to protect them and one filling them with a lust for vengeance.  Each child is also gift with a magic timepiece.
The Queen's spell has thrown Princess Breena into the far realm of the Ursa warriors, Beserkers who harness the power of the bear.  What Breena doesn't realize at first if this is where she will find her dream warrior who she has been meeting in lust-filled dreams.   Breena and Osborn recognize each other immediately, but Osborn knows she brings trouble and he and his young brothers are the last of their race.  He wants her gone in the morning, at least his brain does.  His heart and his body have other ideas.
As a pampered princess, all Breena trained for was dancing and being married off by her father for a lucrative allegiance.  If Breena can't get Osborn to fight for her and her kingdom, she wants him to train her to fight, and Osborn has some interesting ideas of how she can pay him back.
This was a quick read and very enjoyable story.   I was concerned at first about Osborn.  He was harboring lots of guilt and self doubt as the only survivor the night his people were attacked.  He felt unworthy of Breena and every time he started giving in to his desires for her, he stopped and seemed to be angry with Breena.  Blaming her for his desires.   He did get over it and finally realized that even though she was "meant for someone better than him," he was going to fight to keep her for himself. 
There wasn't too much action to the story.  It is certainly not necessary to have a lot of action to make a good story, but considering this is supposed to be an adventure to reclaim a kingdom, in this case there should have been a little more.  There wasn't much to the time with Breena and Osborn than the training Breena did with Osborn, and their dance around their feelings for each other.  It was a good story, but not much of an adventure.   
The one thing I don't yet understand is that in Book 1, Nicholai was unaware he was kept prisoner for 20 years.  This time issue was of course necessary since the youngest sibling of the story was only about 4 when the castle was taken.  We need to age him into his 20s for his story.  But Breena's story didn't make any indication of lost time.  So will we find Breena and Osborn 20 years in the future when all the siblings come together to storm the castle or was she wandering the forest for 20 years before she finds Osborn??
---
Favorite Scene:
"Remember how we are together in my dreams?"  she asked, refusing to let him push her hand away.  "How perfect?"
He could make love to her in that fantasy world she created as they slept.  Yes.  He could caress every part of her body.  Brand her with his touch.  Drive into her as his body demanded.  And he could hold her.
Yet no matter how amazing their coupling would be in the dream, Osborn knew he would wonder and crave the real thing until he was mad.
"Those dreams were lies," he told her, his teeth clenched.
"Aren't you even curious?"
Hell, yes, he was curious.  Curious if she'd meet his gaze when he joined his body with hers.  Ached to learn the feel of her softness as she welcomed him into her.  Dying to know—
"Lies," he said again.  Just to stay sane.
Her hand dropped and her expression turned sad.  "If it makes you feel any better, sometimes those lies I shared with you were the only thing I really looked forward to."  Breena turned on her heel and walked away from him.
The blood pounded in his head.  Those dreams were the only thing that brought anything even approaching happiness into his life.  Until he found her sleeping in his bed.
Related Posts