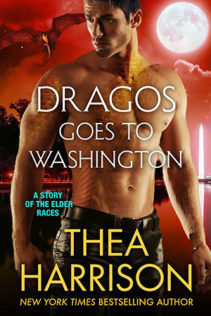 Dragos Goes to Washington (Elder Races, #8.5)
by
Thea Harrison

Series:
Elder Races #8.5
Published by
Self-Published
on October 12th 2015
Genres:
Paranormal/Urban Fantasy
Pages:
129
Format:
eBook


I received this book for free from in exchange for an honest review. This does not affect my opinion of the book or the content of my review.
This post contains affiliate links you can use to purchase the book. If you buy the book using that link, I will receive a small commission from the sale.
---
[box style="rounded" border="full"]If you love the Elder Races series like I do, you know we can't get enough of the First Family of the Wyr Demesne, Dragos, Pia and Liam. These novellas are a special treat for fans of the series.[/box]
There have been some changes between Dragos and Pia's relationship since Dragos sustained a head injury several months ago, including the fact that Dragos has once again entered a mating frenzy, which has made him more overprotective, over-possessive and intensely aggressive to any males who get too close. In this novella, they add even more intensity when Drago and Pia decide to try for another baby. Most Elder Races have trouble conceiving but a Wyr attempting to impregnate his mate hops up another rung on the crazy ladder. Now add political drama to the already craziness in their lives and you have one interesting story.
The heads of each Elder Race have been called to a conference with the President, Vice President and major political leaders. There is concern over the recent aggression and deaths associated with the Elder Races including the recent murder of 97 people in the house of a Nightkind Councilor. Not everyone believes that the Elder Races can be trusted and several, including the Vice President and her husband, are part of a movement looking to control them.
The dragon isn't one to normally worry about playing nice, that's why he bought Pia with him since she has a way with people.  Dragos is already stressed about all the males around his mate, and the fact that Pia hasn't been feeling quite herself this trip is putting him on edge. When a body is found in his Washington residence, he has had quite enough with playing by human rules. It's time to show the humans what happens when you pull the tail of a millenia old dragon.
THOUGHTS:
If you are a fan of Thea Harrison's Elder Races series and who isn't, these novellas are a must-read. Who can get enough of Dragos, Pia and Liam?
I loved it back in 2012 when she gave us Lord's Fall which once again focused on Dragos and Pia. It is unusual in a paranormal romance series to have characters from prior novels show up as more than a secondary character in any future novels. It was an usual decision in Book 4 of a series to go back to the original couple and given them a whole new novel.
In providing us with the second set of novellas which just focuses on our main family, Thea gives us the best of both worlds. She will continue the main plot on with a new hero and heroine in the December release, Shadow's End, and yet she still tosses us these little treats so we can still sit down with a little bonus time at home with the Cuelebres.
As the new mating frenzy continues, there is plenty of sexy, naked time which you would expect from Dragos and Pia and an entertaining story with a set up towards the next novella which comes out in November.
Received an ARC from the author in exchange for an honest review.
---
Favorite Scene:
Pia did end up dancing twice, once with President Johnson, and a second time with Ferion, while both times Dragos held himself in a clench and managed not to bite anybody's head off.
Not even Johnson's relative age helped. Despite being a politician in his sixties, Johnson wasn't an old, ugly fucker. He was still a handsome, fit son of a bitch, and as he whirled Pia around the dance floor, she threw back her had and laughed more than once.
And watching her waltz with Ferion felt like someone just out of eyesight was raking talons down a blackboard. His hands tightened into fists as he imagined grinding the handsome Elf into the polished floor.
"Dragos, is that a flame I see coming out of your nostrils?" Niniane asked.
As he had been obsessing over Pia's dance, the little queen had maneuvered to stand directly in front of him, her head tilted sideways as she squinted at him.
He sucked in a breath, swallowing down the fire, and growled, "I don't know what you're talking about."
"It was too. That was a tiny little flame." She pointed an accusing finger at his nose. "What are you trying to do, create a general panic and destroy everything everybody is trying to achieve here?"
"Of course not," he snapped. "I was holding myself in check, goddammit."
She considered him for a moment then said telepathically, I actually believe you think you are. Tiago said you and Pia were in a mating phase.
We are. Goddammit, of course Tiago with his sensitive sense of smell would pick up on that. Dragos might just buy some KO Odorless Odor Eliminator and join the Right to Privacy movement himself.
"Well, just so you know," Niniane said aloud, patting his arm, "I'm pretty sure I overhead Ferion and Pia setting up an assignation for tomorrow at noon, for somewhere called the Paradise Motel."
That snapped his gaze away from the dancing couple. He glowered at Niniane. "What the fuck are you talking about? Pia would never set up an assignation with Ferion."
"I know, right?" Niniane let out a peal of laughter. "Even smart men can be such dumbasses." When he glared at her, she sobered somewhat and told him, "Stuff that mating nonsense down deep somewhere before you do something stupid. I mean, Dragos…Pia and Ferion? Come on."
"You never used to talk to me that way when you lived in New York," he said, his eyes narrowed.
"I never used to do a lot of things before I became Queen," She said matter-of-factly.  She gave him a small charming smile. "Besides, you like me, and I'm not telling you anything your brain isn't already telling your hormones. You'll deal with it."
"Dictorial little shit," he muttered. "I don't see you dancing with anybody."
Her smile faded, and she looked sidelong at Tiago, who stood with his arms crossed, talking with Bayne.
"Yeah, well I can call out irrational behavior, but I can't necessarily stop it, can I?" she muttered in reply.
Related Posts