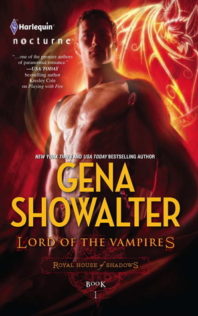 Lord of the Vampires (Royal House of Shadows, #1)
by
Gena Showalter

Series:
Royal House of Shadows #1
Published by
Harlequin
on August 23rd 2011
Genres:
Paranormal/Urban Fantasy
Pages:
281
Format:
Paperback



I received this book for free from in exchange for an honest review. This does not affect my opinion of the book or the content of my review.
This post contains affiliate links you can use to purchase the book. If you buy the book using that link, I will receive a small commission from the sale.
---
Once upon a time…the Blood Sorcerer vanquished the kingdom of Elden. To save their children, the queen scattered them to safety and the king filled them with a need for vengeance. Only a magical timepiece connects the four royal heirs…and time is running out.

Nicolai the Vampire is renowned for his virility, but in a cruel twist of fate "The Dark Seducer" has become a sex slave in the kingdom of Delfina—stripped of his precious timepiece and his memory. All that remains is a primal need for freedom, revenge—and the only woman who can help him.

When the wanton vampire summons Jane Parker, she is helpless to obey. She's drawn to his dark sexuality and into his magical realm. But for this human, all is not a fairy tale. For saving Nicolai could mean losing the only man she's ever craved…
---
WOW – What a way to start a series!!
This is the first book in the Royal House of Shadow Series.  Each of the four books in the series will be written by a different author.   The books each feature the four children of the King and Queen of Elden who are murdered by the Blood Sorcerer and their kingdom stolen.  Before they die, they bespell their children with one spell to protect them and one filling them with a lust for vengeance.  Each child is also gift with a magic timepiece.
This first story is written by Gena Showalter and features the eldest child and heir to the throne of Elden, Nicolai.   Nicolai is a vampire and a sorcerer, gifted with abilities from each of his parents.    During the attack on the castle, Nicolai is magically sent away and ends up at a sex slave market (talk about out of the frying pan and into the fire).  He is purchased by Princess Odette and Princess Laila, the ugly and evil daughters of the Queen of Hearts.  Although they take his memories and most of his powers, Nicolai manages to "visit" a human, Jane Parker, in her dreams and sends her a magic book to bring her to Delfina to rescue him from his prison.
Although I am a fan of Gena Showalter's Alien Huntress series, I was a little reluctant to pick this book up.   Vampires with magic timepieces…really??  I finally picked this up and before I knew it I found myself 100 pages into the story.  This story grabbed me and I couldn't put it down.  I was mesmerized by Jane and Nicolai's immediate attraction to each other; intrigued by Nicolai's unfolding memories; and breathlessly on the run with Nicolai and Jane.  Although I knew there would be no completion at the end of this story (as it is the first of four of a series), I still wanted to see them storm the castle at the end.  I will be marking my calendar for the rest of the books in this series.
Received advance copy from NetGalley.com, courtesy of Harlequin.
---
Favorite Line:
"It hadn't helped that in bathing him, she'd had to run her hands all over him.  As dirty as he'd been–cough, cough–she'd had to bathe him a lot."
Related Posts