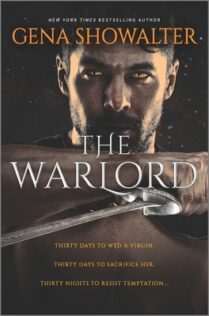 The Warlord (Rise of the Warlords, #1)
by
Gena Showalter

Series:
Rise of the Warlords #1
Published by
HQN Books
on April 20, 2021
Genres:
Paranormal/Urban Fantasy
Pages:
413
Format:
Audiobook
Narrator:
Max Bellmore
Source:
Audible



This post contains affiliate links you can use to purchase the book. If you buy the book using that link, I will receive a small commission from the sale.
Taliyah Skyhawk and Alaroc 'Roc' Phaethon's story.
He plans to wed his virgin bride—and sacrifice her to his god. A duty he has never hesitated to to. Until now.
For centuries, Taliyah Skyhawk has prepared to become Harpy General, leader of the deadliest female army in existence. One of the requirements? Remain a virgin. But, for a chance to save her people, she must wed the fearless leader of the Astra Planeta, Alaroc Phaethon.
The time has come for Roc to sacrifice another virgin bride to his god. There has never been a woman alluring enough to tempt him from his path. No warrioress powerful enough to overcome his incredible strength. No enchantress desirable enough to make him burn beyond reason. Until now.
With the clock ticking, war between husband and wife ignites. Except Taliyah never expected the merciless king to challenge the future she once envisioned. She certainly never anticipated the thrill of their battles turning into games… The problem is, only one spouse can survive.
---
Can a book really have too much sex? Yes.  Yes, it can.
It is time for Alaroc "Roc" Phaethon, leader of the Astra Planeta to once again choose a bride to sacrifice to his god, Chaos. Every 500 years, Roc must sacrifice a bride in order to win a blessing for his men to win every battle. If he does not, his men are cursed to lose every battle for the next 500 years. Roc has never failed to sacrifice his bride.
This time fate has brought him to Harpina and he has asked for the fiercest harpie to stand up as his bride. Taliyah Skyhawk is only one star away from being able to challenge for the position of Harpie General. When she finds out that her people have been attacked and defeated by a group of warlords, Taliyah returns to her home and accepts the challenge when Roc asks for the blood thirstiest Harpie. When she learns that Roc intends to sacrifice his new bride in the next 30 days, Taliyah isn't afraid. Thirty days is plenty of time to figure out how to make herself a widow and mount his head, or maybe other pretty impressive parts of him, on her wall.
Problem is that thirty days is plenty of time for them to realize how much they enjoy their battles of will and each fight draws a passion that they can't resist. Not only that, but Roc ultimately realizes that this time his bride is his gravita, the one woman made for him. The woman he waited centuries to find and start a family with and he would have to sacrifice her. He needs to kill her to earn his ascension and finally find peace but what good is peace if he kills his gravita.  Chaos warned him that Taliyah was different but Roc was so certain it wouldn't make a difference and that he would absolutely sacrifice her when the time came.  Now Roc is scrambling for a way to stop Taliyah's death and his time has just run out…
I had some issues with this plot but the one thing I loved is Taliyah.   I haven't read any of the Lord of the Underworld stories so I don't know if Taliyah is standard Gena Showalter heroine, but she was brilliant.  She was  funny, irreverent, intelligent  and a fighter to the end.  Even when Taliyah realizes that she might not be able to defeat Roc, she still kept pushing and pushing and fighting. She just didn't back down. Even after they fall for each other and try to figure out a way around the sacrifice, she says, you might have to sacrifice me but I am probably going to fight you. I don't think I can lie there quietly and wait to be stabbed.  Taliyah doesn't just use weapons to fight him. She uses her wit to slash at him endlessly and Roc finds he loves the fight.
If Taliyah was such a great character, why didn't I like the story? The first thing that bothered me for the whole story was the sacrifice. Roc would marry his bride, and barely interact with her.  He had no interest in her and then 30 days after the wedding ceremony, he sacrificed her to his god for good luck. What kind of sacrifice is this? He killed a woman he didn't care anything about. He could have sacrificed a goat or a dog for as much as these women meant to him. That bothered me for most of the story until Chaos finally says, those women didn't mean anything to you so it wasn't much of a sacrifice, was it? Thank you!
So why was there "too much sex." Taliyah wanted to be Harpie General, the leader of her people, but the Harpie General needs to be a virgin. Roc's sacrificed bride didn't need to be a virgin but he received a special bonus gift if she remains a virgin.  Not a problem since he didn't interact with them and he has concubines. So for a story where the bride needed to be a virgin, they began doing everything but Tab A into Slot B from the get-go. Not to be prudish, but my feeling is that a virgin refers as much to sexual innocence than just the Tab A/Slot B part.   I don't think there was a chapter after they met where his fingers weren't jammed up there and they were getting each other off. For goodness sakes, I started fast forwarding through the sex scenes because I just wanted to know how they were going to get out of killing Taliyah.   I believe I even exclaimed, "Again?" more than once.  Once again for her to achieve the status of General and for his sacrifice, she was supposed to be a virgin, not a "virgin."   I think this story would have benefitted more from building anticipation for the audience.  Maybe have Taliyah seduce Roc and then leave him wanting, and the next time Roc works Taliyah into a frenzy and leaves her wanting. Everything between them was a power play, so why not the sex too.   Then when they finally do the deed, we are like, "Yes! Finally!", not "Oh god, again?"   This audiobook was 12 hours long and we could have easily knocked 4 hours off if we took out all the extra sex scenes. We could have even had some time to build up more of the secondary characters for future stories.
Taliyah was a great character. Roc was flat.   The overall story idea was nonsensical since Roc never actually sacrificed anything until he fell for Taliyah so he was an idiot if he didn't realize that millennia after millennia.
Related Posts