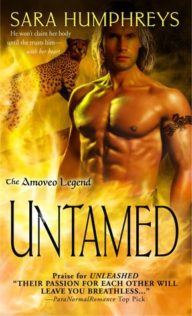 Untamed (The Amoveo Legend, #3)
by
Sara Humphreys

Series:
The Amoveo Legend #3
Published by
Sourcebooks Casablanca
on November 6th 2012
Genres:
Paranormal/Urban Fantasy
Pages:
300
Format:
eBook



I received this book for free from in exchange for an honest review. This does not affect my opinion of the book or the content of my review.
This post contains affiliate links you can use to purchase the book. If you buy the book using that link, I will receive a small commission from the sale.
---
The Amoveo are an ancient race who've lived secretly among humans for thousands of years. They are beautiful and incredibly strong but their race is extremely fragile–each has until the age of 30 to find their soul mate, before their bodies start to die a slow, painful death.

Layla Nickelsen has spent her life running from a mate she didn't choose, until William Fleury finally confronts her. Normally stoic and unemotional, William finds himself befuddled by Layla: his growing feelings for her and his driving need to protect her. And Layla has to admit that William might be everything she's always wanted after all.
---
William Fleury is one uptight shifter. He was not nicknamed the "iceman" for nothing. So how does he end up with a mate who is such a free-spirited, fly-by-the-seat-of-her-pants kind of girl?
Layla Nickelsen knew she was half human/half Amoveo and she feared the day that some neanderthal Amoveo would come to her door, beating his chest and screeching that she was his mate, and thinking he was going to be dragging her off by her hair to do as he says. Oh, hell no!! Especially, not after her mother went insane after mating with her father who abandoned them, and then both of them abandoning her to live in foster home after foster home because she was so different from the other normal kids. When William comes knocking on her door, she knows what he is looking for and she is not interested in his good looks and how sexy he looks out of those expensive suits, no man should look so yummy in a pair of jeans and a t-shirt…no, no, no, not interested, at all!!
The more time William spends with Layla, the more he appreciates her quirky outlook on life and her love for her adoptive family. He will do anything to convince the panicky Layla how perfect they could be together, and when trouble comes to the farm, he will do anything to protect her from those purists among this people who want to destroy the half-breed abominations.
THOUGHTS:
I am loving this series more and more with each new novel. I am impressed and amazed when an author can me love a character that I previously had no interest in.
William has been an important secondary character throughout the previous two novels, but he was so uptight and he coldness in the first novel, made him appear not as a purist but definitely not thrilled about the idea of finding a mate in a half-breed. I wasn't 100 percent sure he was trustworthy. I kept waiting for him to turn out to be the bad guy. So after the first two books my interest in a novel about William was meh!
We find out that William met his mate during the second half of Untouched which answers the question of what was up with him and why was he acting so weird. Layla gets him out of the business suits and loosens him up which makes him a more likeable and relatable character. William is also very forthcoming with his feelings toward Layla and very understanding about her reluctance to embrace him as a lifelong, predestined mate. He is very patient and tries to win her affections. It was very enjoyable on his part.
We can understand Layla's reluctance to go all in with the whole mating thing, between her mother's issues and her foster brother's parents' issues, which is why they are all hiding from the full blooded Amoveo. The only thing that irks me is that she agrees to take time to get to know William before rejecting him, especially since William is not attempting to drag her off by the hair, but she's only giving if a 50 percent try. If you agree to give the guy a chance and he is really being nice, then really give him a chance. I was bothered by her constantly putting the brakes on her own actions, and it kept derailing the really nice romance going on.
Can't wait to see who is up next. I am wondering if it is Dante's sister, who is another full blood Amoveo (a bear) who is not thrilled about the half breeds.
---
Favorite Scene:
As they piled the groceries into the backseat, he looked across the way and watched Layla. The wind blew her curls off her face, and he noticed how young she looked.
Her skin was free of lines. Based on her complexion, he doubted that she spent much time in the sun. He imagined she'd burn easily. She was a natural beauty and didn't wear a speck of makeup. She didn't need it. Thick, dark red lashes framed those huge green eyes in a strikingly beautiful way.
Layla shoved the last package into place and leveled her gaze to William. He held it. She pushed her windblown hair back self-consciously. "What are you looking at?" she asked with a short laugh.
"You, I'm looking at you, Layla." She stilled as his penetrating stare wandered slowly over ever visible inch of her. William concentrated on keeping his eyes from shifting; he didn't want to do anything to spook her or send that defensive wall back up. He took his time, committing every freckle to memory. Finally, after several minutes, his dark eyes locked with hers once again. "You are exquisite," he said softly.
Was it possible to have an orgasm simply by having a man look at you? No. Not just look. Devour. He was devouring her with his eyes, and it was, without a doubt, the biggest turn on of her life. His fierce gaze locked onto hers with a piercing intensity that impacted every inch of her being.
For most of her life she'd worked hard at being invisible, and flying under the radar. She loved being behind the camera and taking pictures of the beautiful and unusual, but she never wanted to be either. Layla avoided male attention like the plague, so as a result, her high school boyfriend and a couple of lovers over the years were the sum total of her adventures with men.
However, when William looked at her, it turned her on more than anyone ever had. No one had ever looked at her so intimately. It was as if he stripped her bare, saw straight to her very soul, and cut through all of her bullshit, which unnerved and fascinated her.
Her heart hammered in her chest as she held his powerful stare and nibbled on her lower lip. Those dark brown, almost black eyes, looked back at her unwaveringly. His skin was fair, not as fair as hers, but more people weren't. Long strands of his unusual whitish-blond and brown hair blew free from the confines of his ponytail and danced around that insanely handsome face.
He didn't move, didn't flinch or try to brush them back, but kept his attention fully focused on her. His massive frame looked poised and ready to pounce on her at any moment. She was grateful that there was a Jeep between them, because if he'd been within reach, she probably would've tangled her fingers in that long hair.
Related Posts