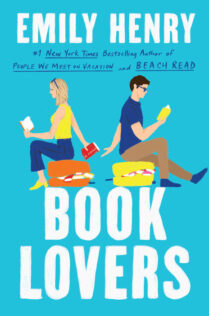 Book Lovers
by
Emily Henry

Published by
Berkley
on May 3, 2022
Genres:
Contemporary
Pages:
384
Format:
Paperback
Source:
Publisher



I received this book for free from Publisher in exchange for an honest review. This does not affect my opinion of the book or the content of my review.
This post contains affiliate links you can use to purchase the book. If you buy the book using that link, I will receive a small commission from the sale.
One summer. Two rivals. A plot twist they didn't see coming....
Nora Stephens' life is books—she's read them all—and she is not that type of heroine. Not the plucky one, not the laidback dream girl, and especially not the sweetheart. In fact, the only people Nora is a heroine for are her clients, for whom she lands enormous deals as a cutthroat literary agent, and her beloved little sister Libby.
Which is why she agrees to go to Sunshine Falls, North Carolina for the month of August when Libby begs her for a sisters' trip away—with visions of a small-town transformation for Nora, who she's convinced needs to become the heroine in her own story. But instead of picnics in meadows, or run-ins with a handsome country doctor or bulging-forearmed bartender, Nora keeps bumping into Charlie Lastra, a bookish brooding editor from back in the city. It would be a meet-cute if not for the fact that they've met many times and it's never been cute.
If Nora knows she's not an ideal heroine, Charlie knows he's nobody's hero, but as they are thrown together again and again—in a series of coincidences no editor worth their salt would allow—what they discover might just unravel the carefully crafted stories they've written about themselves.
---
Book Lovers is a story for everyone who loves a big city romance…or small town romance…or a good sister bonding story…or enemies-to-lovers story…or for anyone who simply loves  a good book.
Nora Stephens centers her life around caring for her younger sister.   Nora is a literary agent known in the business as the Shark.    She does this so she can get her clients their best deal from the publishers, but mostly because she is good at it and makes money to take care of her sister and her sister's family any way she can.   What Nora would rather do is be a book editor but that would mean starting at the bottom and there's no way she could afford her NYC apartment and taking care of Libby and her kids.
Nora meets with Charlie Lastra, a notable editor at Wharton Books to discuss her client's latest manuscript, something a little more commercially viable than some of her other works.  Charlie hates the story of the tony town of Sunshine Falls, North Carolina and passes on the project.    It isn't his refusal that irks Nora as much as his rudeness. And isn't she even happier when Once in a Lifetime sells over a million copies and the movie release is soon to open. Take that Charlie Lastra.
While her clients are blossoming, Nora is concerned about the sudden distance between her and her Libby.   When her sister suggest a a month long vacation in the real Sunshine Falls, Nora hopes they can use that time to somehow reconnect.    Libby wants to live out all the small town tropes that she loves to much.  And while pregnant Libby might not be able to check off No. 5 and fall in love with a local.  She has high hopes for Nora finding love, or at least enjoy a little overnight fun with a hot local farmer.
Upon arrival, it quickly becomes obvious that Nora's author has never been to the actual town of Sunshine Falls.   There is no apothecary.  There is no Old Man Whitaker. The shops are run down. The General Store is more a pawn shop.  Nora fears her sister's disappointment in the literary letdown but she forgets it immediately when she sees none other than Charlie Lastra standing in line at the coffee shop.
Turns out Charlie's dislike of Once in a Lifetime has more to do with the location than the literary quality of the story.   Charlie is not a fan of his home town but like it or not, he has returned to help his sick father and his mom's struggling books store.
One of the items on Libby's list of small town tropes is to save a local business so she ropes Nora into her scheme to recreate the Blue Moon Ball from Once in a Lifetime  to bring in support for the book store.
Meanwhile Nora's favorite client has forwarded another manuscript, this one featuring a cold-blooded NYC agent called the Shark, a heartless woman who is only focused on her own success and who doesn't care who she has to step on to get it.   Nora is shocked and appalled to see herself converted into a literary character and even more shocked by how much Charlie wants to edit this story.  Nora fears Charlie's blunt honesty is a bit too blunt for her shy, gentle author and they agree to a compromise and work together
Spending all this time with Charlie might just check the box on Libby's list where Nora falls in love with a local but Nora is a city girl through and through. Leaving the city means leaving her sister. Is romance enough for Nora to rip out her city roots and give up her own dreams and desires?
I saved this story for several months to be my coveted beach read on this year's beach vacation.   This was such an amazing story.  Of course I loved the romance which builds from working relationship to true love between Nora and Charlie, but I also enjoyed the time with Nora and Libby.    We get life in the small town of Sunshine Falls, but we spend a time of time reminiscing about Nora growing up and her mother's love of NYC and why Nora loves it so much as well.    As we neared the end, I still couldn't figure out how the author was going to reconcile Nora's love of city life with Charlie's need to be in Sunshine Falls for his family and if their growing attachment would be enough to solve their long-distance issue.
There really is a lot of story here.  We really got to know Charlie, Nora, Libby and their mom.   This story really does have a lot going on to make many romance readers very happy.   This is the second Emily Henry story that I enjoyed immensely with its wonderful characters and the story telling.   I am definitely grabbing a copy of whatever she writes next.
---
Favorite Scene:
So many great scenes between Nora and Charlie and Nora and her sister, Libby. It was hard to pick one.  Here, Nora is upset that her author is writing about a power driven, heartless agent and while it is good, it is hitting too close to home and then she bumps into her NYC nemesis in this tiny town.
Charlie catches my forearms before I can tumble all the way down, steadying me as the words "What the hell?" fly out of him.
After the pain and shock comes recognition, followed swiftly by confusion.
"Nora Stephens." My name sounds like a swear.
He gapes at me; I gape back.
I blurt, "I'm on vacation!"
His confusion deepens.
"I just…I'm not stalking you."
His eyebrows furrow. "Okay?"
"I'm not."
He releases my forearms. "More convincing every time you say it."
"My sister wanted to take a trip here," I say, "because she loves Once in a Lifetime."
Something flutters behind his eyes. He snorts.
I cross my arms. "One has to wonder why you'd be here."
"Oh," he says dryly, "I'm stalking you." At my eye bulge, he says, "I'm from here, Stephens."
I gawk at him in shock for so long that he waves a hand in front of my face. "Hello? Are you broken?"
"You…are from…here? Like here here?"
"I wasn't born on the bar of this unfortunate establishment," he says, lip curled, "if that's what you mean, but yes, nearby."
It's not computing. Partly because he's dressed like he just stepped out of a Tom Ford spread in GQ, and partly because I'm not convinced this place isn't a movie set that production abandoned halfway through construction. "Charlie Lastra is from Sunshine Falls."
His gaze narrows. "Did my nose go directly into your brain?"
"You are from Sunshine Falls, North Carolina," I say. "A place with one gas station and a restaurant called Poppa Squat."
"Yes."
My brain skips over several more relevant questions to: "Is Poppa Squat a person?"
Charlie laughs, a surprised sound so rough I feel it as a scrape against my rib cage. "No?"
"What, then," I say, "is a Poppa Squat?"
The corner of his mouth ticks downward. "I don't know–a state of mind?"
"And what's wrong with the Greek salad here?"
"You tried to order a salad?" he says. "Did the townspeople circle you with pitchforks?"
"Not an answer?"
"It's shredded iceberg lettuce with nothing else on it," he says. "Except when the cook is drunk and covers the whole thing in cubed ham."
"Why?" I ask.
"I imagine he's unhappy at home," Charlie replies, deadpan. "Might have something to do with the kinds of thwarted dreams that lead a person to working here."
"Not why does the cook drink," I say. "Why would anyone cover a salad in cubed ham?"
"If I knew the answer to that, Stephens," he says, "I'd have ascended to a higher plane."
At this point, he notices something on the ground and ducks sideways, picking it up. "This yours?" He hands me my phone. "Wow," he says, reading my reaction. "What did this phone do to you?"
"It's not the phone so much as the sociopath super-bitch who lives inside it."
Charlie says, "Most people just call her Siri."
I shove my phone back to him, Dusty's pages still pulled up. The furrow in his brow re-forms, and immediately, I think, What am I doing?
I reach for the phone, but he spins away from me, the crease beneath his full bottom lip deepening as he reads. He swipes down the screen impossibly fast, his pout shifting into a smirk.
Why did I hand this over to him? Is the culprit here the martini, the recent head injury, or sheer desperation?
"It's good," Charley says finally, pressing my phone into my hand.
"That's all you have to say?" I demand. "Nothing else you care to comment on?"
"Fine, it's exceptional," he says.
"It's humiliating," I parry.
He glances toward the bar, then meets my eyes again. "Look, Stephens. This is the end of a particularly shitty day, inside a particularly shitty restaurant. If we're going to have this conversation, can I at least get a Coors?"
"You don't strike me as a Coors guy," I say.
"I'm not," he says, "but I find the merciless mockery from the bartender here dampens my enjoyment of a Manhattan."
I look toward the sexy TV bartender. "Another enemy of yours?"
His eyes darken, his mouth doing that grimace-twitch. "Is that what we are? Do you send all your enemies Bigfoot erotica, or just the special ones?"
"Oh no," I say, feigning pity. "Did I hurt your feelings, Charlie?"
"You seem pretty pleased with yourself," he says, "for a woman who just found out she was the inspiration for Cruella de Vil."
I scowl at him. Charlie rolls his eyes. "Come on. I'll buy you a martini. Or a puppy coat."
Related Posts