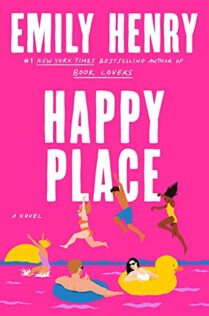 Happy Place
by
Emily Henry

Published by
Berkley
on April 25, 2023
Pages:
400
Format:
eBook
Source:
Netgalley



I received this book for free from Netgalley in exchange for an honest review. This does not affect my opinion of the book or the content of my review.
This post contains affiliate links you can use to purchase the book. If you buy the book using that link, I will receive a small commission from the sale.
A couple who broke up months ago make a pact to pretend to still be together for their annual weeklong vacation with their best friends in this glittering and wise new novel from #1 New York Times bestselling author Emily Henry.
Harriet and Wyn have been the perfect couple since they met in college—they go together like salt and pepper, honey and tea, lobster and rolls. Except, now—for reasons they're still not discussing—they don't.
They broke up six months ago. And still haven't told their best friends.
Which is how they find themselves sharing the largest bedroom at the Maine cottage that has been their friend group's yearly getaway for the last decade. Their annual respite from the world, where for one vibrant, blue week they leave behind their daily lives; have copious amounts of cheese, wine, and seafood; and soak up the salty coastal air with the people who understand them most.
Only this year, Harriet and Wyn are lying through their teeth while trying not to notice how desperately they still want each other. Because the cottage is for sale and this is the last week they'll all have together in this place. They can't stand to break their friends' hearts, and so they'll play their parts. Harriet will be the driven surgical resident who never starts a fight, and Wyn will be the laid-back charmer who never lets the cracks show. It's a flawless plan (if you look at it from a great distance and through a pair of sunscreen-smeared sunglasses). After years of being in love, how hard can it be to fake it for one week…in front of those who know you best?
---
The story was enjoyable but the whole premise made me so sad.
I was so excited to see a new Emily Henry book pop up on Netgalley a few months ago and I had to have it.   I read the story plot, I really did, but I still wanted to read the new Emily Henry book since I enjoyed the last two.    This is my warning that Beach House is not a laugh-out-loud comedy and you better have your box of tissues handy.
Harriet met her best friends in college, Sabrina and Cleo, along with Perth and his best friend, Wyn. The five of them lived together, first during college and then in New York during graduate school. And while they tried to keep each other in the friend zone for the sake of all their friends, Wyn Connor and Harriet Kilpatrick have been drawn to each other since the moment they met.
The highlight of their year would be when they got to spend a week at Sabrina's father's gorgeous beach house in Maine for an amazing summer vacation. While these best friends spent many years together in close quarters, life eventually gets in the way of friendship and everyone was off to their new grown-up lives. Cleo and her girlfriend had moved off to an update New York farm while Sabrina and Perth were both practicing law in New York City.
Harriet has always known she wanted to be a brain surgeon and was doing a grueling residency in San Francisco. It is so grueling that Harriet was planning to skip this year's beach house vacation, or more to the point, Harriet was avoiding her best friends as she hasn't wanted to tell them that Wyn had cancelled their wedding and left her to moved back to Montana to take of his mother.
Harriet's desire to avoid her friends gets thwarted by a call from Sabrina telling her that her father's new wife is making him sell the beach house and this would be their last opportunity for their annual get together. Harriet knows she will have to come clean about her and Wyn's breakup but not knowing if she should tackle that right away and possibly ruin the week, and she should wait until the bitter end.   But that questions becomes moot when she walks in and find Wyn standing in the living room along with the announcement that marriage-phobic Sabrina has finally agreed to marry Perth at the end of this vacation.  All because Harriet and Wyn's continued commitment to each other proves that long lasting love is possible.
Now Wyn and Harriet have to pretend to be the perfect, happy couple while each faux-loving moment with Wyn crushes Harriet's heart a little bit more each time.
THOUGHTS:
Every time I picked this book up to read, I put it back down and I ended up picking up another story to read.   Even when I finally started it, I kept not wanting to pick it up again.
I don't mean to be contradictory when I tell you that Happy Place was a well-written story and when I was reading it, I was engrossed by the happenings and these characters. But is also a story that is going to be very busy stomping all over your emotions.
As many of us know, once adulting starts there is not as much time to spend with even our closest friends. There is work and house projects and kids and kid events. You try to make plans and someone undoubtedly cancels and everyone tries to reschedule but then it is months or years before you see them again.   In this story these characters bonded during those glory years of college when you get that first taste of adulthood without the bills and responsibility involved in adulting. They had plenty of time to simply have fun with these people they cared most about.   Since they finished their education, they have lost their close bond.
They are also losing the beach house which is the one last, strong connection they have to each other.  It's the one thing that is sure to draw them back from wherever life has tossed them  and they can spend one magical week together. They are now losing the place that makes them happy as well as feeling young and carefree once again.
Of course, the hardest hit to your emotions is the heartbreak of Harriet and Wyn. The story tosses us back and forth in time between their beginning and this last hurrah at the beach house. But whether we are in the past or the present, Wyn and Harriet have a tremendously strong bond so what happened to them?   I almost wanted to flip the end to find out what happened, what could have possibly broke up these two people who clearly still care very deeply about each other. I caught right from the start that Wyn, although classically handsome enough to catch any woman's eye, doesn't think much of himself and he also thinks Harriet is brilliant. So brilliant that she is out of his league. Add to that more of that grown up adulting pressure and a severe bout of depression, and we end up with a perfect romance that is unraveling at the seams.
Generally I shy away from stories that going to make me cry.   I read as escapism not to be dragged into someone's fictional depression but since I jumped in to this one, I can't deny that it was a compelling story with great characters that happily cha-cha'd all over my emotions.
---
Favorite Scene:
"They said you were a brunette."
My own snort-laugh surprises me. "I'm glad they spoke to highly of me."
"They did," he says, "but the only thing I can corroborate so far is whether you're a brunette. Which you're not."
"I'm definitely a brunette."
He tosses my bag into the back seat, then faces me again, his hips sinking against the door. His head tilts thoughtfully. "Your hair's almost black. In the moonlight it looks blue."
"Blue?" I say. "You think my hair is blue?"
"Not, like, Smurf blue," he says. "Blue black. You can't tell in pictures. You look different."
"It's true," I say. "In real life, I'm three-dimensional."
"The painting," he says thoughtfully. "That looks like you."
I instantly know which painting he must be referring to. The one of me and Sabrina strewn out like God and Adam: Cleo's old figure drawing final. It hung in Mattingly's art building for weeks, dozens of strangers passing it daily, and I never felt so naked then as I do now.
"Very discreet way of letting me know you've seen my boobs," I say.
"I in no way forgot you were naked in the painting," he clarifies. "I just forgot it might be weird to tell someone they look exactly the same as they do in a painting where they're not wearing clothes."
"This is going really well," I say.
He groans a drags a hand down his face. "I swear I'm normally better at this."
And normally, I do my best to put people at ease, but there's something rewarding about throwing him off-balance. Rewarding and charming.
"Better at what?" I say through laughter.
He rakes one hand through his hair. "First impressions."
"You should try sending a big-ass nude painting of yourself ahead when you're going to meet someone new," I say. "It's always worked for me."
"I'll take that into consideration," he says.
Related Posts