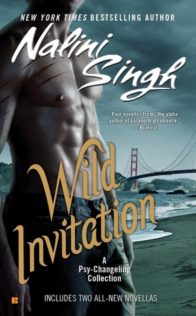 Wild Invitation (Psy-Changeling, #0.5, 4.5, 9.5, 10.5)
by
Nalini Singh

Series:
Psy-Changeling #0.5
,
Psy-Changeling #4.5
,
Psy-Changeling #9.5
,
Psy-Changeling #10.5
Published by
Berkley Sensation
on March 5th 2013
Genres:
Paranormal/Urban Fantasy
Pages:
339
Format:
eBook



I received this book for free from in exchange for an honest review. This does not affect my opinion of the book or the content of my review.
This post contains affiliate links you can use to purchase the book. If you buy the book using that link, I will receive a small commission from the sale.
---
In Beat of Temptation , innocent Tamsyn has always had a place in her heart for Nathan, a blooded DarkRiver sentinel. But is she ready for the fierce demands of the mating bond?

In Stroke of Enticement , a wary young teacher, skeptical about love, arouses the man—and the animal—in an aggressive leopard changeling who must prove his affections are true.

Plus 2 NEVER BEFORE PUBLISHED NOVELLAS

In Declaration of Courtship , Grace, a shy submissive wolf, finds herself pursued by the last man she ever would have imagined: a SnowDancer lieutenant said to be "mad, bad, and dangerous to know."

In Texture of Intimacy , SnowDancer healer Lara discovers the searing joys—and unexpected challenges—of being mated to quiet, powerful Walker, a man used to keeping his silence.
---
Beat of Temptation – Tamsyn and Nate are one of Dark River's closest couples, but it was not always that way. When the mating bond engaged between Nate and Tamsyn, Tammy was only 15 to Nate's 25. Nate had seen the damage that marrying too young had done to his mother, and he refused to trap Tamsyn into the lifelong bond until she was old enough and ready to commitment to him. So Nate has buried the bond deep within himself. Now 19, Tamsyn wants to begin her life with Nate but he is still uncertain. Has he buried the bond so deep that it will never return?
Stroke of Enticement – When Annie Kildaire was just a broken, lonely child, she wished for one thing: a friend to call her own. Now teaching at the school attended by most of the Dark River children, she appreciates the closeness of the pack and of the mated pairs. When Zach Quinn comes to pick up his misbehaving nephew, he is caught unaware by the instant bond between him and the shy Miss Kildaire. As a human, Annie doesn't feel the bond like Zach does, so he will do anything to show Annie that he will be her's forever.
Declaration of Courtship – Cooper is one of Snowdancer's top lieutenants, strong, dominant and a powerful leader, and when shy, submissive Grace walked into his section, he knew she was meant to be his. But Cooper needs to go very slowly with such a submissive as Grace so there is no confusion whether she is submitting to him for love or in obligation. Cooper will find the patience he needs because he won't accept anything less than Grace's love.
Texture of Intimacy – Snowdancer's healer Lara and Walker Lauren are now mated, but it will not be easy for a man who has spent his life hiding his emotions and woman who openly shares hers to learn to live together in harmony, but oh, it is so worth the extra effort.
THOUGHTS:
If you read Nalini Singh's psy-changeling series, there is no question that you will enjoy these mini-stories. If you don't follow, there is no question that you will be picking up Book #1 and starting from the beginning after you have finished.
Although The last two books are indicated as never before published, I swear that I have read Grace and Cooper's story before, but I also felt that way while I was reading Book #3 (Judd and Brenna's story).
Received an ARC from netgalley.com, courtesy of the publisher. Thank you.
---
Favorite Scene:
He forced himself to give Grace fifteen minutes to change and settle in, then stalked down to knock on her door.
This time, he attracted a few interested glances from passing packmates. It was late for a man to be going to a woman's room, and as Grace's boss had returned that afternoon, Cooper couldn't excuse it on the grounds of a systems emergency. He knew they were close to busted. Good. He needed people to know she was his, that he should be told if she was ever in any trouble.
The lack of secrecy would also give him room to court her as outrageously as he liked.
When the door opened to reveal her clad in pajama pants of pale blue fleece featuring fluffy white sheep, along with a soft black T-shirt that caressed her with the finesse of a lover, her hair tumbling over her shoulders in a dark cloud, he had to take a deep, deep breath to settle his instinctive response to thrust his hands into the luxuriant mass, tilt back her neck and bite.
She'd scared him.
He hated the feeling, but he also knew his scars weren't Grace's fault. She'd acted as any female wolf would to a man who'd dared take her for granted, could have no idea of the violent response she'd incited in him. And if he had his way, she never would. Cooper didn't want his nightmares to shadow the life he intended to build with her.
"Hello, Grace." He leaned against the doorjamb, doing nothing to hide his appraisal of her beautiful body. When her nipples pushed against the well-washed fabric of her tee as her breath hitched, he realized she wasn't wearing a bra, and self-control became one hell of a test. "I left my bag here the other day."
"What?" Pulse thudding in her throat, she swallowed. "Oh, yes, I put it right here." She went to get it, paused, turned back. "You did it on purpose."
Smile deepening, he let his gaze linger on her lips. "Did I?"
Chest rising and falling in an increasingly rapid rhythm, she swallowed. "You're being pushy." It was a husky accusation.
He shrugged, his wolf prowling to the surface of his mind. "It's who I am, you know that." His gentleness with her hadn't been feigned—he adored coaxing and petting Grace, but she needed to see and accept this side of him, too. He'd intended to ease her into it, but she'd changed his plans with her rebellion, aroused the primal core of his nature. "Your fault, you know."
Her hand clenched on the edge of the door. "Mine?"
"You did challenge me tonight." In her own way. "You know how wolf males react to a private challenge from a female."
Her cheeks colored that pretty color he wanted to lick up from ever inch of her skin. "It wasn't a challenge."
"Don't be liar now." A slow tease. "I got the message." He straightened from his leaning position to brace his hands on the top of the doorway, blocking her from the view of those in the corridor. This woman was his. He didn't want to share. Not tonight. "Invite me in, bad girl."
"If you got the message," she murmured, standing firm, "You know I'm a little mad at you."
Strong, sexy, beautiful woman. "I think I can coax you out of a little mad." Dropping one hand, letting her see it so she wouldn't startle, he ran a finger over her cheek. "All you need to do is open the door a fraction wider."
Grace shivered…and stepped back.
Related Posts