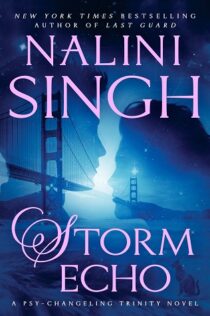 Storm Echo (Psy-Changeling Trinity, #6; Psy-Changeling, #21)
by
Nalini Singh

Published by
Berkley
on July 26, 2022
Genres:
Paranormal/Urban Fantasy
Pages:
384
Format:
eBook
Source:
Netgalley



I received this book for free from Netgalley in exchange for an honest review. This does not affect my opinion of the book or the content of my review.
This post contains affiliate links you can use to purchase the book. If you buy the book using that link, I will receive a small commission from the sale.
New York Times bestselling author Nalini Singh takes us into the hearts of two fractured people in a world on the brink of a psychic Armageddon . . .
Silence has fallen. The Psy are free to feel emotion. Free to love. But Silence was never a prison for Ivan Mercant. The biggest threat to his future lies dormant in his brain—a psychic monster that wants only to feed. And now, the brutal leash he's kept on that monster is slipping. He prepared for this day, for the end of Ivan Mercant . . . but that was before he met Lei.
As primal as she is human, this wild changeling brings color into his life, laughter to his soul. Then the dream shatters in a rain of blood, in silent bodies in the snow. Lei is gone. Vanished without a trace . . . until he meets strangely familiar eyes across a busy San Francisco street.
Soleil Bijoux Garcia is a healer who has lost everything. She exists in a world of desolate aloneness . . . till the day she finds herself face-to-face with a lethal stranger. The animal who is her other half knows this man, but her memories are tattered fragments. Sorrow and a need for vengeance are all that drive her. Her mission? To kill the alpha of the DarkRiver leopard pack.
But fate has other plans. Soon, a deadly soldier who believes himself a monster and a broken healer might be all that stand between life and death for the entire Psy race. . .
---
Nalini Singh does amazing worldbuilding but it is her wonderful characters that draw me back again and again.
Ivan Mercant's mother was a Jax addict. Not only did she take the drug while pregnant but she sometimes gave some to young Ivan.  After her death from an overdose, there was a name he only heard his mother say once and young Ivan demanded that child services contact the Mercants.   He unflinchingly presented himself to the indomitable Ena Mercant as her kin.  Even Ena could see that Ivan's upbringing would be an issue but she personally worked with Ivan to overcome so much. Ivan works hard to prove himself worthy of the name Mercant but Ivan also believes that because of the Jax given to him in the womb, he has a malevolence hiding in his brain, a power that can take over other psy minds.  He knows that some day he will need to be destroyed for everyone's safety.
Soleil Bijoux Garcia ("Lei") is a shifter, a member of an almost extinct changeling family.  Yet even though their numbers are dwindling, they still tossed her aside. But it is Lei's nature to care for others and no matter how badly she is wounded on the inside, she can't stop herself from helping a wounded psy, no matter how dangerous he might be.   Lei's family goes missing and she believes them dead.  She also believes she knows who is to blame, and she has traveled to San Francisco to kill Lucas Davenport, the alpha of the most powerful cat shifter clan.
Ivan believes himself be a spider, but it is Lei who catches him in her web.   Ivan has become obsessed with the changeling who soothes his soul since their first meeting and can't get her out of his mind.   Ivan being a patient predator of his own, sits and waits for Lei to appear again. Lei's gentle kindness, heals a wound in Ivan he didn't know he had but when she suddenly disappears from his life, he isn't certain if something happened or if his internal violence has finally scared her off.
When they accidently meet again, and Lei looks into his eyes and sees a stranger, Ivan finally knows that something bad happened to Lei and it is not fear of him that tore her away. Now Ivan will not leave her side until he knows she is safe and he knows whether they can have a future together after all. But even as Ivan finds his hope, he knows it is only a matter of time before he loses control of the spider he has caged in his brain and he will need to be locked away for Lei's safety as well as the entire psy race.
I need to start out by saying how much I loved Ivan and Lei.  I loved how young Ivan stood up to his grandmother, a very powerful woman and psy, and demanded that she acknowledge him and accept him into her house.  Lei, like all the healers, is a gentle soul who captivates Ivan from the beginning with no fear of him.   Nalini Singh writes such unforgettable characters and I am so happy for their HEA.  If this is your first Psy-Changeling story or you are just returning to the series, you will love this book.
Now the part that hurts me to say.   It hurts to disparage any of my favorite authors, but if you are a fan of the series like I am, this book has too many of the same plot points as the last few books. For example, Ivan and Lei fall in love but suddenly Lei loses her memory and we need them to fall in love again. We had this same idea in Silver Silence when Silver needs an operation which reengages her Silence and Valentin needs to work twice as hard to make a truly silent psy fall in love.  There is also the same "I am a ticking time bomb ready to explode but turns out it's the one ability that will save the pay-net" plot point like in Wolf Rain, Alpha Night and Last Guard.   Each story is so enjoyable from both a paranormal and a character driven standing but as part of a series, we have hit a rut in the story telling and while we are mostly moving the story forward, the ideas are becoming a bit cookie cutter.  (It hurt so much to say that out loud.)
I will agree that due to the nature of the Psy-Changeling series, this is going to be an ongoing idea of the failing psy-net. The last book that wasn't focused on the psy-net in the last few years was Ocean Light.  Which was also the last story to feature a human main character.  Remember both human and changeling connections are needed to heal the failing psy-net but there have been no humans included since Ocean Light, and that was a romance with a changeling and therefore, no help to the net.   I understand us humans are boring compared to changelings and psy, but I wasn't the one to make that rule.
As an individual story, Storm Echo was amazing.  As part of the series, Nalini needs to break out of this rut.
---
Favorite Scene:
"I want a reed that usually grows near waterways. I think I hear a stream."
Ten minutes later, Ivan was looking carefully for that reed when flecks of water hit the side of his face. He glanced up, saw she was intent on her own search, and realized she must've flicked the water on him by accident somehow.
Wiping off the small droplots, he returned to his search.
More water hitting the side of his face.
He turned…to see her looking innocently at a stone she'd picked up from the stream. "Isn't this pretty?" she said, holding it to the light.
Ivan didn't say anything, but he watched her out of the corner of his eye as he pretended to return to his search. She put the stone down, seemed to be looking for the reed again…then glanced over with a grin and flicked him again.
He snapped his head toward her and leaped.
Giving a laughing scream, she abandoned her basket and ran, her hair streaming behind her and the skirts of her dress a dazzling flag of color through the trees. He was highly trained and extremely fit, and he took the obstacles in this path with ease–but she was a changeling, this was her natural ground.
It ended up an even match, until the two of them stood on opposite sides of a tree, each moving left and right as they attempted to outsmart one another. He jumped to the other side. But she'd already done the opposite and they were back in their same positions.
Her grin was wild and not at all human or Psy. It was changeling. Primal and full of delight. And he realized this was play. She was playing with him. He'd never believed he knew how to play, though he could fake it, but this felt as natural as his skin and his breath.
This time when he jumped, she was laughing too hard to avoid him, and he could've grabbed her…but he paused only inches from her, a sudden awkwardness between them as they stared at one another. A pulse beat in the hollow of her throat, a rapid little butterfly that echoed his own erratic heartbeat.
Heat made her skin glow, and he wanted badly to touch, wanted badly to have that right. But the frozen moment went on too long, until she looked down and brushed off her skirts. "I should get home."
Clouds blotted out his private horizon, but he walked back with her and picked up her basket. "Will you come tomorrow?" he asked, even though all he wanted to do was grab hold of her and make her stay.
Not rational, that wasn't rational. It would also scare her.
A look from below her lashes as she accepted the basket. "Evening picnic?" It was a husky question. "It'll be dark, but I can borrow a string of charged solar lights from my friend. And you can try my mushroom tart."
He nodded. He'd have said yes to anything she suggested. "What shall I bring?"
"Just yourself, cutie." That tilt of the head again, her smile secretive. "I'll see you tomorrow." A quicksilver movement that caught him by surprise, her lips brushing his jaw in a fleeting kiss before she was gone in a waft of the most delicate perfume, a wild creature he couldn't hold.
Shaken, he raised a hand to the place she'd touched, hovered over it. He didn't know what was happening to him, how she'd walked right inside his defenses and made a place for herself…but it was done and he wasn't sorry. What he had to do now was figure out how to make her stay even after she knew all he'd done and all he was.
Related Posts