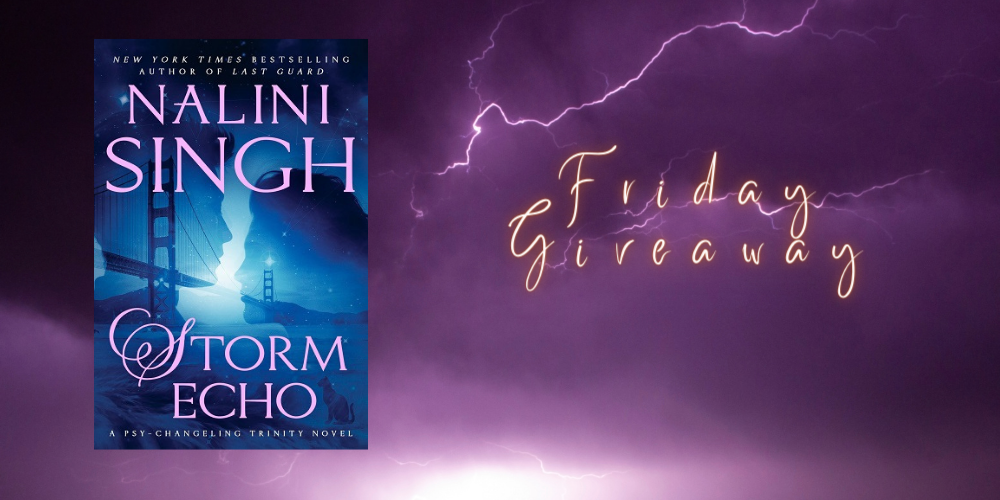 Happy Friday!
Last week I promised you a surprise.  I have a hardcover copy of Storm Echo for this week's giveaway.   Yay!    And if you aren't a fan, then oops, I lied.  No surprise for you this week.
I have stopped complaining about my boot.  I am still wearing it but the other day I drove past a woman on crutches who was missing part of her leg.  Sometimes we just need that smack in the back of the head to remind us no matter how hard life is, someone has it harder.  My stupid boot will hopefully go away soon, I got to focus on reading and catching up on reviews and I also got to go to the beach before I got booted so life is good and no more complaining.   🙂
I am off to do more reading and writing.   Summer is rushing by so everyone take some time to read outdoors and have a great week.
This giveaway is a hardcover book and is only to U.S. residents only.   Giveaway ends Thursday, August 4th.
Just leave a comment to be entered.
Silence has fallen. The Psy are free to feel emotion. Free to love. But Silence was never a prison for Ivan Mercant. The biggest threat to his future lies dormant in his brain—a psychic monster that wants only to feed. And now, the brutal leash he's kept on that monster is slipping. He prepared for this day, for the end of Ivan Mercant . . . but that was before he met Lei.

As primal as she is human, this wild changeling brings color into his life, laughter to his soul. Then the dream shatters in a rain of blood, in silent bodies in the snow. Lei is gone. Vanished without a trace . . . until he meets strangely familiar eyes across a busy San Francisco street.

Soleil Bijoux Garcia is a healer who has lost everything. She exists in a world of desolate aloneness . . . till the day she finds herself face-to-face with a lethal stranger. The animal who is her other half knows this man, but her memories are tattered fragments. Sorrow and a need for vengeance are all that drive her. Her mission? To kill the alpha of the DarkRiver leopard pack.

But fate has other plans. Soon, a deadly soldier who believes himself a monster and a broken healer might be all that stand between life and death for the entire Psy race.