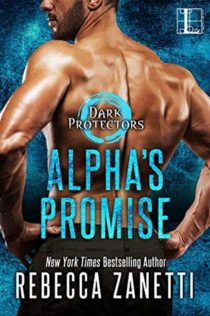 Alpha's Promise (Dark Protectors)
by
Rebecca Zanetti

Series:
Dark Protectors #10
Published by
Lyrical Press
on June 25, 2019
Genres:
Paranormal/Urban Fantasy
Pages:
345
Format:
eBook



I received this book for free from in exchange for an honest review. This does not affect my opinion of the book or the content of my review.
This post contains affiliate links you can use to purchase the book. If you buy the book using that link, I will receive a small commission from the sale.
To hell and back . . . Though he has vampire, demon, and Viking blood rushing through his veins, Ivar Kjeidsen's soul-crushing trip to hell broke him in ways he can barely fathom. One vow keeps the deadly immortal standing: To rescue the vampire brother who had sacrificed freedom for him. To do that, Ivar needs the help of a brilliant physicist with wary brown eyes, fierce brilliance, and skin that's way too soft.

Dr. Promise Williams understands the underpinnings of the universe but has never figured out the human beings inhabiting it. Her function is to think—and not feel—until she's touched by a vampire who's nowhere near human. The primal hunger in his eyes awakens feelings in her that defy calculation. As she shows him the way to step between worlds, he brands her with a pleasure that could last more than a lifetime . . .
---
Another great story by Rebecca Zanetti.
Ivar was a pretty complex character Dark Protector series. He stepped in as one of the Seven to replace his brother who was killed in the war. He has a head for business and was in charge of securing funds, equipment and all of the secret headquarters, which have all been blown up. He is also a Viking, which explains the tall, blond Viking vibe he gives off. Like all the Seven, Ivar is a Vampire-Demon hybrid; and until a certain evil author had her way with him, he was one of the most level headed, controlled hybrid in the group. Since level-headed doesn't make for an interesting enough character, in the last book Ivar was tossed through dimensional portals from one hell dimension to another for a hundred years D.P.T. (dimensional porthole time). He is now severely scarred from burns and his inner demon is at the forefront, leaving him just a little bit crazy-angry all the time. But among his dimensional jumps, he stumbled upon one of their missing brethren who was tasked with keeping Uram imprisoned and whose "bubble" has become a nightmare world. Ivar has sworn to find his way back and exchange himself so that his brother in arms, Quade, can return and have a turn at a normal life. He just needs to know more about controlling those portals.
We learned from Mercy, in Demon's Mercy, that the Fae can control their teleporting better than the demons, but even they can't just jump to an unknown world.
Ivar and the rest of the seven had been looking for scientists who can explain the fundamentals of dimensions and figure out their problem. One of those scientists is Dr. Promise Williams, who caught Ivar's eye before his portal jumps. Now he has no interest in Promise as a woman, or so he tells himself, he just wants her mind. His first attempt to simply kidnap the doctor was not his best decision.  Thankfully his brothers are acting more level headed and bring in Promise under the guise of an application for a grant for her work. That might have worked if she didn't see her attempted kidnapper among the group. Sooo, we are back to kidnapping the good doctor after the Kurjan's once again attack their hideout.  They really do suck at hiding the hideouts.
Promise takes the news well that vampires, demons, shifters, etc. share her world. In fact, Promise tries to convince Ivar that they should mate so that she can become immortal and have centuries for producing scientific findings and Ivar agreed with her. I liked the fact that they both believed that they were dispassionate in their desire to mate, but they truly were anything but.
Promise is a great addition to the group and brings a lot in her brilliant understanding of science and dimensions that will help stabilize these prison dimensions that the boys accidentally created and hopefully will keep the world from being destroyed.
We also get more side story about Hope and Drake and their growing relationship.
I am not certain whose story will be next but I am looking forward to Benny. He is such a character. I know he has to be a vampire-demon hybrid but I keep forgetting that. He is so laid-back I keep thinking he is a bear shifter.
We will have to wait and see what comes next for the Seven.
---
Favorite Scene:
Ivar with Mercy, Logan's fae mate from Demon's Mercy.
"Thought you were making lunch."
"I started the kitchen on fire. Again." She increased her pace to his.
"What are you doing?" he asked.
Mercy's dark red hair bobbed behind her in a ponytail, and her small white tennis shoes easily found purchase as she matched his pace to run up alongside him. "You looked like you were bent on destruction. Thought you might need backup."
He didn't want to smile. He didn't want to feel any amusement, but a slight amount slid through him anyway.  The idea that the small stockbroker could back him up was cute; it warmed something inside him.  "You're the younger sister I never, ever ever ever, wanted."
She grinned, her one blue eye and one green eye lighting up. "I get that a lot."
He took in her stride to make sure he wasn't overtaxing her; if anything, she looked fine. Fairies must be good runners. Figured. They probably had to run away from blown-up buildings often. "You okay?' he asked.
"No, but I don't want to discuss it yet. Not until Logan has a spare moment to talk," she murmured. "What's up with you?"
"I think I just scared Promise," he admitted, jumping over a pothole.
Mercy nodded. "Did ya get all grrr?"
Ivar's eyebrows lifted. "Huh?"
Mercy ran around a downed batch of pine tree branches and returned to his side. "You know, I'm all immortal and fanged and dominant. Grrrr. I will take you back to my cave and have my way with you. Grrrr. This is how I kiss when I really want to."
"Grrr?" Ivar asked.
"Yep." Mercy spit out a piece of a leaf.
His shoulders hunched, slowing his pace. So he straightened them. "Yes. I believe that's an accurate description."
"Oh, don't go back to being a tightass," she muttered, plucking a pine needle out of her hair. "You're a vampire-demon hybrid who has survived torture most of us can't even imagine. To survive, you sucked deep for that animal that lives in all of you, and he isn't going anywhere now. Either she gets it or she doesn't. You can't think of mating her unless she can accept and deal with all of you." Mercy rubbed her nose. "And you shouldn't have to hold yourself back and be somebody you're not. Even if the real you isn't exactly politically correct. Or at all."
Ivar increased his pace, not surprised when the fairy easily did the same. Her legs had to move twice as fast as his to keep up, but pleasure bloomed across her pixie-like face. "Where's you mate, anyway?" he asked.
"He and Garrett are teleconferencing with the Realm," she said, her arms pumping. "Bo–ring."
Ivar smiled. "No kidding." He used to enjoy that kind of work, but now he'd rather run or hit something.
Related Posts