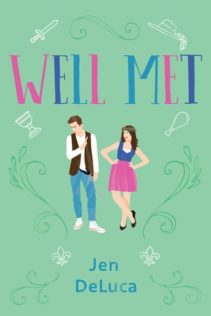 Well Met
by
Jen DeLuca

Published by
Berkley Books
on September 3, 2019
Genres:
Contemporary
Pages:
336
Format:
eBook



I received this book for free from in exchange for an honest review. This does not affect my opinion of the book or the content of my review.
This post contains affiliate links you can use to purchase the book. If you buy the book using that link, I will receive a small commission from the sale.
All's faire in love and war for two sworn enemies who indulge in a harmless flirtation in a laugh-out-loud rom-com from debut author Jen DeLuca.

Emily knew there would be strings attached when she relocated to the small town of Willow Creek, Maryland, for the summer to help her sister recover from an accident, but who could anticipate getting roped into volunteering for the local Renaissance Faire alongside her teenaged niece? Or that the irritating and inscrutable schoolteacher in charge of the volunteers would be so annoying that she finds it impossible to stop thinking about him?

The faire is Simon's family legacy and from the start he makes clear he doesn't have time for Emily's lighthearted approach to life, her oddball Shakespeare conspiracy theories, or her endless suggestions for new acts to shake things up. Yet on the faire grounds he becomes a different person, flirting freely with Emily when she's in her revealing wench's costume. But is this attraction real, or just part of the characters they're portraying?

This summer was only ever supposed to be a pit stop on the way to somewhere else for Emily, but soon she can't seem to shake the fantasy of establishing something more with Simon or a permanent home of her own in Willow Creek.
---
Well Met is a fun time at the Faire.
Emily has come to the little town of Willow Creek to take care of her sister and her niece while her sister recovers from a car accident. Her niece is very excited to be part of the Renaissance Faire which the school puts on each summer for fund raising. Unfortunately for Emily, that means a parent or guardian also needs to volunteer to keep on eye on the minor. Emily decides to make the best of it but no matter what she does or says, it doesn't seem to be good enough to please Simon, who is the organizer of the event. She didn't fill in her volunteer form correctly. He doesn't think she put enough effort into her Faire name. She isn't putting enough effort into her character. Emily is having fun and making friends and it all would be a great time without Faire killjoy Simon around.
Simon's brother started the Faire and after his death three years ago, Simon has taken over the reigns in his brother's memory, but Simon is convinced the only way to put on the Faire each year is the same way his brother did and he won't hear any suggestions from Emily about things to improve the experience.
After weeks of preparation, the Faire finally opens and most surprisingly to Emily is the fact that, Emma the tavern wench (Emily) finds that flirting with the pirate Captain Blackthorne (Simon) to be very simulating indeed. If only Emily could stand to spend time with Simon out of costume.  Yet as their stage personalities spend more time together, Emily starts imagining what it would be like if only they could keep this chemistry going outside of Faire weekends.
While this story and the Faire is set for the Renaissance, it has a definite Pride and Prejudice feel between Simon and Emily. It is told in first person, so we never get complete insight into Simon, but Emily's first meeting with Simon where he complains that she doesn't fill in her volunteer form correctly and that she isn't taking the whole thing seriously, sets up Emily's antagonism to Simon, and she sees all future interactions with Simon as his attacks against her because he must not like her.  We eventually learn that Simon (like Darcy in P&P) has been mooning over Emily unaware that she disliked him so much.  He only stays away when he thinks she is falling for Mitch, the gym teacher, who flirts with all the women and who is our stand in for Mr. Wickham so to speak but without the bad intentions.
Part of Emily's problem is that her long-time boyfriend, who she dropped out of college to support while he was in law school, dumped her once he got a job in a prestigious law firm since a college-dropout, waitress girlfriend made him look bad. Her break up was why she was free to move to Maryland and help her sister, but it also kept whispering dark thoughts to Emily about her worthiness and you just wanted to shake her after awhile because she never allowed herself to just enjoy the good things coming her way.  There was always a whisper of doubt questioning whether or not she would be pushed aside once again.
I enjoyed the telling of this story and I also enjoyed the backdrop of the Faire. If you have ever attended a Renaissance Faire, it made me appreciate more the hard work the actors put into the event as well as how much fun it must be to truly be a part of it.
This is a first novel for author Jen Deluca and it was a very enjoyable story.
---
Favorite Scene:
"Finish your story!"
I traded an opened beer to a patron for a five-dollar bill and smiled my thanks before dropping it into the till. There isn't much to tell." I turned my back to the bar and leaned my elbows on it. The stretch to my back felt good. "The wee Lady Guenevere was sent to fetch me to the handfasting ceremony, where I was promptly wed to a pirate." I narrowed my eyes at her, showing just what I thought of the pirate in question.
"Now, that's an exaggeration." I jumped at the voice behind me and whirled. Simon. No. The accent, the swagger, the cheerful expression. Captain Blackthorne had entered our tavern.
"Captain." I bobbed a quick in-character curtsy, and out of the corner of my eye I saw Stacey do the same. But a I reached my full height again I raised my eyebrows at him. "How do I exaggerate, milord?"
"We are not wed, we are simply pledged. For a year and a day, remember?" He nodded toward the golden cord, which I found in my basket that morning. I wore it wrapped around my bodice like a belt and the ends dangled down among my skirts.
"Yes, of course." But I wasn't letting him off that easy. "And what is the difference?" It was so easy to slide into the bantery conversation with Simon-as-pirate, more than it ever was to talk to him when he was himself. I was even enjoying myself.
"The difference?" His smile widened; I'd said something either very, very wrong or very very right, and he couldn't wait to take advantage of it. "Well, the difference is…" He shrugged, but the wicked grin remained intact. "I'm not sure I can say. This is a family-friendly Faire, after all."
I crossed my arms over my chest. Usually this would all but hide my inadequate cleavage, but in this outfit it highlighted it instead. I thought about dropping my arms, but screw it. Let him look. "This is a tavern," I reminded him. "Nothing family-friendly here."
To my horror, he took the dare. "Well, then…" He leaned his elbows on the bar, encroaching on my space. Patrons entered the tavern around us, and thankfully, Stacey and Jamie were able to catch them because neither Simon nor I was paying attention. For me, the world had narrowed to this black-clad man in front of me, and the impossible colors that sparkled in this eyes. "If we were wed, when night fell I would take you back to my ship, give the men a week of shore leave, and show you my appreciation very thoroughly, and in private.  As it is, we are only pledged, and so I will show my appreciation thus." He reached across the bar for my hand, and for some reason I gave it. Never breaking his gave from mine, he bent over my hand and his mouth lingered this time, much longer than it had when we had been performing in front of the crowd. This kiss on the back of my hand was intimate, and his eyes promised even more.
This was all fake. I knew that. He wasn't a pirate. There was no ship to take me back to. He was a high school English teacher in a costume, and I was the snarky thorn in his side. He was probably doing all of this to make me uncomfortable so I would tell him to knock it off. Then he could later reprimand me for breaking character. Instead fire pooled low in my belly and my mind filled with the image of us in the moonlight on the deck of a pirate ship. The creaking of the wood, the breeze off the water. His hand touching my face, the warmth of his kin against mine.
"Emma?" Stacy's voice startled me. and with a blink I was back in the tavern. Which was full of patrons and a concerned looking fellow wench. Shit.
Related Posts