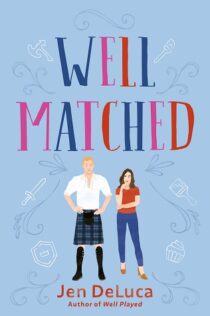 Well Matched (Well Met, #3)
by
Jen DeLuca

Published by
Berkley
on October 19, 2021
Genres:
Contemporary
Pages:
336
Format:
eBook
Source:
Netgalley



I received this book for free from Netgalley in exchange for an honest review. This does not affect my opinion of the book or the content of my review.
This post contains affiliate links you can use to purchase the book. If you buy the book using that link, I will receive a small commission from the sale.
Single mother April Parker has lived in Willow Creek for twelve years with a wall around her heart. On the verge of being an empty nester, she's decided to move on from her quaint little town, and asks her friend Mitch for his help with some home improvement projects to get her house ready to sell.
Mitch Malone is known for being the life of every party, but mostly for the attire he wears to the local Renaissance Faire -- a kilt (and not much else) that shows off his muscled form to perfection. While he agrees to help April, he needs a favor too: she'll pretend to be his girlfriend at an upcoming family dinner, so that he can avoid the lectures about settling down and having a more "serious" career than high school coach and gym teacher. April reluctantly agrees, but when dinner turns into a weekend trip, it becomes hard to tell what's real and what's been just for show. But when the weekend ends, so must their fake relationship.
As summer begins, Faire returns to Willow Creek, and April volunteers for the first time. When Mitch's family shows up unexpectedly, April pretends to be Mitch's girlfriend again... something that doesn't feel so fake anymore. Despite their obvious connection, April insists they've just been putting on an act. But when there's the chance for something real, she has to decide whether to change her plans -- and open her heart -- for the kilt-wearing hunk who might just be the love of her life.
An accidentally in-love rom-com filled with Renaissance Faire flower crowns, kilts, corsets, and sword fights.
Ever since April Parker moved to the tiny town of Willow Creek she has been planning her escape.   Small towns were never April's thing.  This was something she did so her daughter would have a childhood to remember.  April  is desperate to return to the big city.    As Caitlin preps for her summer at the Ren Faire and her upcoming college plans, April is prepping her house to put on the market.  Leaving Willow Creek won't be a hardship since April wasn't much of a joiner and hasn't spent much time getting to know her neighbors.  Which is a good thing since as a single mom, April was always busy working to earning money to take care of them both.   And maybe it has only been since her sister, Emily came to live with her and met and married the High School English teacher, Simon, that April has made any attempt to meet and actually talk to some of the people in town, and even going so far as to join not one but two book clubs.  So there!
But meeting people includes the High School Coach, Mitch Malone, a man who is always looking for good time and one who prowls the bars each weekend in hopes of finding a private party.  Mitch is also well known about town for playing the Hot Scot at the Ren Faire each year.   Since Mitch has dated (read: slept with) most of the pretty, young single women in Town, April is shocked when Mitch asks April to attend a special family dinner celebrating his grandmother's 90th birthday.
Mitch is pretty happy with his life.  He loves coaching the kids, attending the Faire and alright, yes, cavorting with pretty women.   The problem is that in a family of super-duper overachievers, no one understands how Mitch can be happy with simply being a gym teacher.  Mitch hopes that bringing a gorgeous, intelligent woman like April as his girlfriend and showing that he is in a grown-up relationship, his family might finally stop harassing him if only for one dinner.
Being with Mitch in private was…pretty easy but it turns out that being with Mitch in public suddenly got April noticed and everyone, including the women in her book club, wanted to know all the details about what was happening between April and the hot gym teacher.   April liked living in the background now late night visits to her house by a decade younger gorgeous man was making April the talk of the town.  When April wants Mitch to hide his truck in her garage and sneak in the house without anyone noticing, Mitch begins to feel like he is suddenly April's dirty little secret and after a lifetime of being a disappointment to his family, he isn't going to allow April to treat him like an embarrassment.
After spending so much time with Mitch, April suddenly isn't sure she is ready to leave Town but has she her desire for privacy amidst the small town nosy bodies ruined her  chances with Mitch.
Thoughts:
Mitch is a stand out character in all these books. He is loud and vivacious, warm and friendly, sexy and flirty. In real life, men and women would flock to him and would just want to hang out with him. In the story, Mitch is very laid back. April doesn't ask him for help trying to fix her house up. When she states what her next project needs to be, Mitch just shows up to help, asking nothing more then some beer and maybe dinner.
Knowing what a nice guy he is and how happy he is with his life, it is hard to watch him take the verbal abuse from his family who think less of him for his job as a gym teacher and it is nice that April is there to defend him. This makes it all the harder after getting close in their weeks fixing up April's house, she is confronted by the neighbors who see the younger, hot coach coming and going from her house. April is embarrassed to be the topic of discussion among the neighbors but it comes off as being ashamed of being seen with Mitch. You could hear his little heart break that someone he admired and who he believed thought well of him, suddenly treats him like a dirty secret. Awwww.
We got to know both characters well in Well Met so it was an easy transition to pick up with them in Well Matched. I am looking forward to reading the next chapter, Well Traveled.
---
Favorite Scene:
"I wish…" He sighed. "I wish I could have helped."
"What are you talking about?" I shook my head. "You saved my ass toni
ght."
Mitch shrugged. "No, I mean back then. When he left. I think about you going through all that alone and I…" A thundercloud passed over his face and he shook his head, his gaze going to the countertop.
"Back then?" I thought about those days, some eighteen years ago, when I'd tried to hold on to my marriage with both hands before realizing that what I was trying to preserve didn't even exist anymore. The helplessness I'd felt. "It's okay." I reached across the island. I couldn't quite reach him, but I laid my hand flat on the counter between us. "You're here now, right?"
He reached across the counter too, laying his hand over mine. "Yeah." My hand disappeared, warm and safe under his, and there was that feeling again, that I was protected. Also the feeling of wanting to climb him like a tree, which was only encouraged by the vodka swirling through my bloodstream.
I forced my swimmy brain back on tropic. "Besides, I wasn't alone back then. My parents helped me get back on my feet, and Emily was a kick-ass babysitter when she was a kid." That made me do some quick math in my head. "Wait. You would have been what, twelve? How would you have helped out, exactly?" The thought of Mitch being a tween while I was divorced with an infant splashed a little cold water on the memory of that hotel room. For a minute there I'd forgotten about the cradle-robbing aspect of our relationship.
"Hey, you never know. My lawn-moving skills back then were life changing."
Related Posts