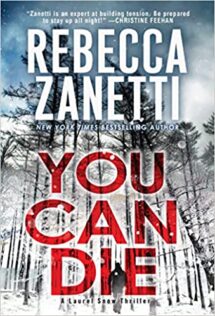 You Can Die (Laurel Snow #3)
by
Rebecca Zanetti

Series:
Laurel Snow #3
Published by
Zebra
on July 25, 2023
Genres:
Crime Drama
Pages:
400
Format:
eBook
Source:
Netgalley



I received this book for free from Netgalley in exchange for an honest review. This does not affect my opinion of the book or the content of my review.
This post contains affiliate links you can use to purchase the book. If you buy the book using that link, I will receive a small commission from the sale.
Set against the atmospheric snowy backdrop of rural Pacific Northwest, New York Times bestselling author Rebecca Zanetti's thrilling suspense series follows FBI Special Agent Laurel Snow as she strives to navigate her complicated family life when the father Laurel never knew turns up dead as the latest victim in a series of murders targeting men in the area. But solving his murder and the rest of the killings might be harder than she antcipates if her sociopathic half-sister has any say in the matter. The Blacklist meets The Profiler meets Justified in this fast, page-turning thriller that will have readers guessing until the very end!
It's an especially deadly winter in the Pacific Northwest, as rising star FBI profiler Laurel Snow hunts down a serial killer with a chillingly bitter M.O., in New York Times bestselling author Rebecca Zanetti's edgy thriller . . .
Men are dying in the Pacific Northwest, their bodies found near churches, charities, and counseling centers--each with valentine candy hearts shoved down their throats. They're good men with families and community ties--or so they seem until Laurel Snow and her team begin to investigate. Then the case takes a shockingly personal turn when the father she's never met, a former pastor, turns up among the dead.
Now, besides solving her father's murder, Laurel is on the hunt to discover the truth of his past. Complicating things is Laurel's troubled half-sister, Abigail, a brilliant sociopath determined to prove that they've both inherited their father's malignant narcissism.
Assisting Laurel is Washington Fish and Wildlife Captain Huck Rivers, a dangerous loner whose reliance on gut instinct puts him at odds with Laurel's coolly analytic approach. But the choice may be moot when the killer hones in on Huck's own dark secrets--putting him and Laurel squarely in the crosshairs.
---
I was holding out judgment on this series but now I am all in…
In this latest novel, the overworked Seattle FBI office and specifically Special Agent in Charge Wayne Norris brings in FBI Agent Laurel Snow to investigate the body of a man found with Valentine candy hearts stuffed down his throat.  One body does not make a serial killer but the oddity of the death made him want more of an expert on scene.  At first the scene appears to look like an easy case of a jilted lover, except the dead man's ex-wife is none other than Laurel's new assistant, Kate.  As much as Kate hates her cheating ex-husband, she wouldn't kill him if simply because that would hurt Kate's three daughters.  You would think finding more victims would get Kate off the hook since it is obvious that there is so much more going on, but SAC Norris seems to be focused on Kate.    With most of her team unavailable, Laurel will need the help once again of Fish & Wildlife Officer, Captain Huck Rivers.
Laurel's investigation bring her to the door of both the law firm of Marshall & Cutting and a very slippery councilman who keep ducking Laurel's questions.
The most shocking phone call Laurel receives is from the missing pastor of the Genesis Valley Community Church, Zeke Caine, Laurel's father.  The man who assaulted her mother and left her pregnant.  When Zeke Caine becomes the next victim of the  Broken Heart Killer,  Norris is wondering whether Laurel needs to be replaced as lead investigator or might actually now be a suspect. Laurel begins to wonder if her sociopathic sister might have something to do with this particular murder and if the similarities in this murder to the other she is investigating is simply a cover up.  This suggestion doesn't fly well with SAC Norris as it seems his new girlfriend is one Dr. Abigail Caine.
Laurel has too many suspects and not enough motive and she is running out of time before another man becomes the next victim and this time it might be Huck Rivers.
THOUGHTS:
There was many things I liked about the Laurel Snow series right from the start. I liked the characters, not just Laurel and Huck but all the secondary characters as well, Kate Vuittron and her daughters, the older but not entirely washed up Agent Walter Smudgeon even the new tech guru Nester. The one thing I disliked and still dislike in this series is the sister, Abigail, and not just because she is a dangerous narcissist but mostly because she is annoying and unnecessary in the ongoing investigations. She is supposed to be the evil super-genius and dark counterpart to Laurel's brilliant, bright super genius. But she is still more an annoyance than an intriguing character.  Put her in prison and Laurel can go visit her for insights such as Clarice Starling visited Hannibal Lecter.
Related Posts