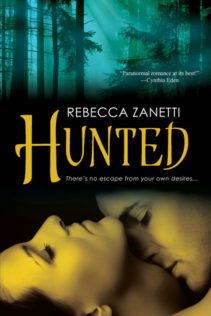 Hunted (Dark Protectors, #3)
by
Rebecca Zanetti

Series:
Dark Protectors #3
Published by
Brava
on May 1st 2012
Genres:
Paranormal/Urban Fantasy
Pages:
333
Format:
eBook



I received this book for free from in exchange for an honest review. This does not affect my opinion of the book or the content of my review.
This post contains affiliate links you can use to purchase the book. If you buy the book using that link, I will receive a small commission from the sale.
---
Ready Or Not…Moira Dunne is a witch–the quantum physics kind. Time and space are her playthings. Which might explain why her one-night stand from a hundred years ago has turned up to "claim" her–and request her family's assistance with the war he's brewing. But the more she learns about Connlan Kayrs, the more she comes to think this is normal behavior for him.

There's Nowhere To Hide…When Conn and Moira tumbled on the moonlit grass, Conn hadn't meant to mark her as his mate for all time. She was only twenty! But it wasn't easy to wait for her. It was even harder to forget her. So when he finally returns for his wicked-hot witch, he's ready to let the sparks flying. Even if he burns up in flames.
---
Moira Dunne is the seventh daughter of the seventh daughter which gives her the potential to be a very powerful witch. Powerful enough to eventually take a place on the witches' Counsel of Nine. But when she is marked as a mate by vampire Connlan Kayrs after a night of passion, her family requested that she have the century needed to properly train her in the arts of magic.
Even though the Realm is already fighting the Kurjans (evil vampires) and the demons and need all the allies they can get, the century is up and Conn has come to claim his mate, even if taking her out of Ireland starts a war with the witches.
Moira is now a member of the counsel's secret service, and she does not intend to leave Ireland right now. Someone has been kidnapping member's of the Nine and she needs to find them. She also fears her uncontrollable attraction for Conn, since he didn't seem to have any problem leaving her alone for a century.
Their future has an even larger problem–someone is working hard to influence the Counsel to leave the Realm and team up with the demons. If the counsel agrees to leave the Realm, Moira will be torn between duty to her people and her loyalty to Conn.
This is another exciting addition to the Dark Protectors series, and brings in the fun element of witches to our current group of supernaturals.
I love the way that Rebecca brings in the idea of science to explain magic through quantum physics, and manipulating matter on a subatomic level. Makes you think "Hmmm…ok, maybe that could work."
She has already used science to explain the differences between human and vampires on a chromosomal level. This is major part of continuing plot line of the dangerous Virus-27 which the evil Kurjans have invented in order to destroy the chromosomes which seals the mating bond between the vampires and their "gifted" females. The virus was created so that the Kurjans can destroy the bond and take the gifted females for their own mates.
She also continues to tease us as we try to find a cure for those already infected with the virus, including shifter Katie who cannot shift since being infected, and who is becoming increasing agitated over her predicament. This is leading us up to the next book which features Katie and Jordon.
We also meet some interesting new characters, including Moira's sister, Brenna. I am hoping we will see more of her in future books.
Anyone who hasn't tried the Dark Protectors series, you will have time to catch up with the series before Hunted is released in April.
Make sure to check out our interview with Rebecca Zanetti for more information on this great series, as well as our reviews on the first two books: Fated and Claimed.
---
Favorite Scene:
He exhaled, taking a step forward into her space again. Sage and power swirled around her in the scent of male. "I'm done waiting, Moira." One large hand smoothed through her curls, clenching to tangle at the nape of her neck and tugging back.
Her neck stretched and her hands reached out for balance, grabbing the shirt covering his broad chest. She opened her mouth to protest.
His descended.
Firm lips slid against hers. Heat seared her, shooting down from her mouth to her core. She swayed toward him, opening her mouth to allow entrance. Like the soldier he was, he dove in, all purpose, all blazing fire, his lips capturing hers as his tongue took control. The brand on her lips began to burn with desperate need.
He growled low, grasping her waist and tugging her flat against him. His mouth devoured hers, his tongue claiming every inch, the hand on her hip clenching with restrained power.
Her knees weakened. Her heart pounded desire for him lit her on fire. Need spiraled deep into her womb. She craved.
Releasing her, he lifted his head, his fingers spreading out to cup her scalp. Desire shot silver through the green of his eyes. A muscle ticked in his jaw. "Let's go to your cottage, Moira."
She sucked in a breath, her eyes widening on him. Was there anything more intriguing to a woman than a strong man who wanted her? Memories of what his man could do with his hands, with his mouth, flushed through her mind until her body ached. She ran her hands down his flat stomach to curl around his leather belt. They'd had one night. It wasn't like she'd practiced sex this last century. "Not a good idea, Conn."
"Why not?"
Because she didn't know what to do. "I don't want you." She lowered her chin.
"Liar." His eyes softened in what had better not be understanding.
Then he cut his gaze behind her, a frown settling between his masculine brows.
"What?" She released his belt, an odd tingling running over her neck. The air changed. Her skin heated. Matter shifted and energy zapped. Oxygen swirled. A passage opened. "Conn—"
Invisible claws dug into her flesh and ripped her away from him.
Related Posts