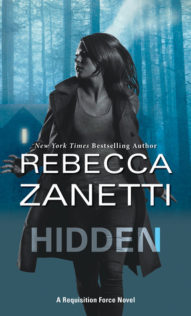 Hidden (Deep Ops, #1)
by
Rebecca Zanetti

Series:
Deep Ops #1
Published by
Zebra
on September 25th 2018
Genres:
Crime Drama
,
Military
Pages:
400
Format:
eBook



I received this book for free from in exchange for an honest review. This does not affect my opinion of the book or the content of my review.
This post contains affiliate links you can use to purchase the book. If you buy the book using that link, I will receive a small commission from the sale.
Hide. That's all Pippa can do to escape the terror chasing her. But now that she's off the grid in a safe house, she finds plenty of interesting things to watch through the window. Like her new neighbor, with his startling green eyes, killer smile, and sexy bad-boy tattoo . . .

Run. Malcolm West is fleeing the hell he unleashed in his last assignment as an undercover cop. A backwoods bungalow sounds like the perfect place to start over. Until he discovers he's been set up . . .

Fight. Someone's gone to a lot of trouble to bring them together. No matter how much he resents that, and his own driving needs, Malcolm will have to dig deep and let loose the banished killer inside himself, or Pippa's fears could come true faster than the flip of a bolt in a lock . . .
---
Another great series by Rebecca Zanetti. I loved all the characters introduced and can't wait to see how the next stories unfold.
What makes this series stand out from Rebecca's other action series, is that the people of Requisition Force are cobbled together from misfits from FBI, Police, Homeland, etc. Each of them has either quit their jobs or have been put on personal leave and most have issues. I mean, even the dog has issues.   It is going to be some fun while it all unfolds.
In Hidden, it is not just dumb luck that ex-undercover officer Malcolm West found the perfect house away from everything. Angus Force is putting together a team whose main goal is to catch a serial killer who is supposed to already be dead, and also to solve  cases none of the other bureaus will investigate.  Right now, Angus wants Mal keeping an eye on his next door neighbor. Pippa Smith isn't a shut in nor is she part of the witness protection program, but she doesn't go out much and if she does she avoids being noticed at all costs.
Pippa Smith escaped from a cult about seven years ago, but the cult leader was fixated on her. He has been looking for her ever since.   He believes he is part of great plan given to him from God for bringing hellfire down on the unworthy–or he is a real crackpot.   It doesn't matter because whatever the reason, he is clever, charismatic and very, very dangerous.  And he had intended Pippa to be his wife and stand by his side in his glory.
Requisition Force knows about the cult, but they aren't sure if Pippa has been sent out as a scout to begin preparations for their terrorist attack so they want Max to get close to her and use his undercover skills to infultrate the cult.
Mal left the force when the pressure of undercover work became too much and his last mission went sour. Now he will be burning the candle at both ends between Pippa and the cult. Can he keep both of his roles separate or will the whole thing blow up in his face before he can get the information that he needs?
I am looking forward to getting more of the back story on each of these very interesting characters and seeing where it all goes.
---
Favorite Scene:
Wolfe kept going through the archway to the kitchen. "Where's the booze?" he asked.
"Bottom shelf of the pantry," Mal said wearily, sitting in the matching flowered chair. His head hurt, his hip ached, and his damaged leg felt like it was on fire. "The FBI guys did a good job of keeping the press away."
Force opened his yes. "Did you see your girl? How she kept herself angled away from any cameras?"
"Yeah," Mal said energy popping through his exhausted body like a shaken-up soda ready to explode. "I also noticed that she stayed in the Pippa Smith identity the entire time. Didn't slip up once."
Wolfe strode in with three glasses–full glasses–of Jack Daniel's in his hands.
"Wait–" Force started to sit up, but before he could get far, the dog had leaped up and swiped one of the glasses between sharp teeth. "Damn it, Roscoe."
Roscoe set down the glass almost gently and slurped up half the contents in one big gulp.
Wolfe looked down at the rapidly drinking dog. "What the hell?"
Force shook his head. "He likes whiskey. As a dog, it should totally destroy his liver. But I've had him checked out several times at the vet's after he's snuck into the booze, and it doesn't."
Roscoe emptied the tumbler and sat, looking at the remining glasses in Wolfe's hands with big eyes. He whined, the sound mournful. "No more, Roscoe."
The dog cut Force a truly dirty look, then lumbered over to the corner and lay down.
"Huh." Wolfe handed a glass to Malcolm and one to Force. "Is that why he's retired?"
"One of the many reasons." Force took the glass, looking at the liquid as if he knew better but, at the moment, didn't give a shit.
Wolf returned to the kitchen for another glass and this time brought the bottle with him.
The dog perked up.
"No," Force snapped.
The dog sighed and lowered his head onto his paws. But his gaze remained on the bottle.
Malcolm knew how he felt.
—————–
Force set down his glass. "Roscoe, let's go."
The dog bounded up and moved for the door. At the last second, he spun around and tackled the bottle to the ground. Sucking the neck of the bottle into his mouth, he sat up and tipped his head back with the bottle in the air. The remaining liquid quickly disappeared down his throat.
Mal watched him, frozen. "Wow."
The dog returned the bottle to the table, setting it upright. His tail wagged happily.
Wolfe nodded. "That's impressive."
Force snarled at his dog. "Roscoe, I'm going to send you back to rehab if you do that again."
Related Posts