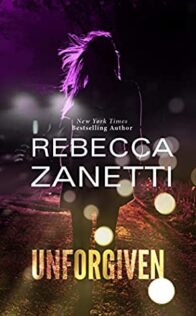 Unforgiven (Deep Ops #5)
by
Rebecca Zanetti
Series:
Deep Ops #5
Published by
Lyrical Press
on June 7, 2022
Genres:
Action
,
Contemporary
,
Crime Drama
Pages:
344
Format:
eBook
Source:
Netgalley



I received this book for free from Netgalley in exchange for an honest review. This does not affect my opinion of the book or the content of my review.
This post contains affiliate links you can use to purchase the book. If you buy the book using that link, I will receive a small commission from the sale.
Run: Gemma Falls never expected to use her game theory expertise to outrun a killer. But for years, that skill is all that kept her one step ahead of a deadly stalker. When Gemma gets the chance to teach at D.C. University, she hopes she and her young daughter have found a safe harbor. The only flaw is the arrogant philosophy professor who's always underfoot giving unwanted advice—in his sexy British accent . . .
Hide:Jethro Hanson has blood on his hands. He's working within ivy-covered university halls now, but he knows that his work with the Deep Ops team and the deadly acts he once committed for the sake of Queen and country place him beyond forgiveness—until he meets Gemma . . .
Seek: Soon, the passion between them stuns them both. But when Jethro discovers a threat is fast overtaking her, he must choose between the redemption he seeks—and releasing the ever-present killer inside . . .
---
This story has everything: action, excitement, romance and a freakin' adorable kid. You just want to pinch her cheeks.
Jethro Hanson is a professor of philosophy, a former MI6 agent and more recently, a consultant for Angus Force's HDD department of misfits. ((I love them) One of his last assignments for MI6 was capturing his own brother Fletcher, a former MI6 agent as well with a side hustle as a contract killer. It might have been overlooked by the powers that be if not for the fact that he enjoyed his side hustle so very much Now Fletcher has escaped prison and has followed Jethro to DC, mixing his business with pleasure but whether Fletcher wants to simple kill Jethro or does he have some complex plan for payback, is the question.
Gemma Falls is running from her ex-fiance, an upstanding doctor and a physical abuser. From almost the first moment of their engagement, he began isolating her and beating on her. When she found out she was pregnant, she knew the time had come that she had to run.
The violence comes from so many angles in this story, so much so that the suspense was intense. Fletcher is close by and brutally killing (for personal reasons? contract hits?) and he's trying to implicate Jethro as the killer. Is his plan to land Jethro in prison as payback? Is he going to kill Jethro? What happens when Fletcher realizes how much Gemma and her daughter have come to mean to Jethro?
When Fletcher sends a picture of Gemma and Trudy to her ex-fiance, Gemma realizes the safety she felt with Jethro and his team is simply an illusion she wanted so much to believe in. But can Jethro convince her to trust in them and not take off running again in the middle of the night?
I am so excited for more Deep Ops stories. I love this group of characters. We met Jethro before when he was brought in to help profile the surgeon. He seemed a hit standoffish but we learn this is as much his solidly calm personality mixed with intense MI6 training. He does try to keep the team out of his business with Fletcher so they won't get targeted, but since this tactic didn't work so well for Angus, I don't know why Jethro thought this team would sit back and allow him to face the danger alone.
A man with such strong control on his temper is just what Genna needs after the physical abuse from her ex-fiance, a man who can protect her but never turn that violence on her.
More, more, more Deep Ops, please!
---
Favorite Scene:
New characters:   Ian and Oliver – hot, former MI6 twins! I love how all the big, burly men didn't know what to do with tiny Trudy but while they recover they guard her (read: hang out with) and watch kid shows.
Gemma finished dressing in black slacks, thick socks, and a wonderfully warm yellow sweater before heading out to face the day. Jethro had left the bed before she'd awakened, much latter than usual. They didn't have to be to the university for the staff meeting until eleven, so perhaps she'd figured they should just sleep late. Right now, after the superb sex and excellent night's rest, she could easily see the wisdom in that plan.
She walked out to find Trudy in the center of the sofa, covered in her green blanket. Ian sat on her left and Oliver on her right, both covered in blankets, their legs stretched out on ottomans.
"Morning," Ian said, reaching over to dump yellow star marshmallows from his bowl into Trudy's.
Trudy grinned. "Hi, Mama." She dutifully plucked the purple half-moons out of her bowl and put them into Ian's.
"Cool," Ian said, munching on his cereal.
Gemma's heart just turned over. "Don't you all want milk in your cereal?"
Oliver shook his head and handed over his yellow stars. "Then we couldn't trade. It'd be messy." The mottled bruises along his jaw had turned a brighter yellow than the day before.
Life had gotten bizarre.
Gemma glanced at her watch. "Trudy? How about we go get dressed for the day?"
"Okay." Trudy puffed up her cheeks. "Today is reading day so we get this week's goodies tomorrow." She patted Oliver's hand. "It's every week and different yummies each week. I'll bring mine home tomorrow to give you some. It's good candy."
Gemma winced. "You're staying here today, honey. I already called Barb and said you wouldn't be in this week." As her daughter scrunched up her face to protest, she held out a hand. "Barb said she'd leave this week's candy and goodie bag in my office for you, and you can earn it today by reading to me and eat it tomorrow when your friends eat theirs at school." A routine was crucial for them all.
Trudy grinned and snuggled back down between the twins. "Cool. I'll share."
"You bet you'll share," Ian said, his gaze on the television. "I like candy."
Related Posts