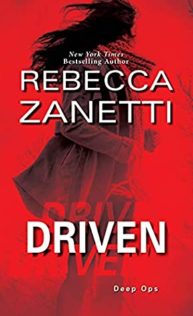 Driven (Deep Ops, #4)
by
Rebecca Zanetti

Series:
Deep Ops #4
Published by
Zebra
on January 26, 2021
Genres:
Crime Drama
Pages:
400
Format:
Audiobook



I received this book for free from in exchange for an honest review. This does not affect my opinion of the book or the content of my review.
This post contains affiliate links you can use to purchase the book. If you buy the book using that link, I will receive a small commission from the sale.

Unswerving:
Angus Force is determined to hunt down the serial killer he'd once shot dead--or so he thought. But an anonymous source reports that Lassiter is alive. Force hasn't slept since, knowing it's only a matter of time before "the Surgeon" strikes again. And soon, a body is found, bearing Lassiter's same maniacal MO. It's just the beginning of a murderous trail blazing through DC and Virginia, right to Force's backyard...

Unstoppable:
Nari Zhang is the shrink for the ragtag Deep Ops Unit, though she isn't Force's shrink--which is a very good thing. Because once they're thrown together on the case, their attraction is explosive and irresistible. They'll just have to fight that much harder to keep the heat between them from flaming out of control. But things are about to become far more challenging, and deadly, than they could have imagined...

Unhinged:
Once the killer catches a glimpse of Nari, she becomes his new obsession. She is now the focus point--for both Force and Lassiter--in a dangerous dance for survival...
---
Angus and Nari are my next favorite investigative team after Eve and Roarke.
Angus Force was the best profiler at the FBI once upon a time but losing his sister to a depraved serial killer pushed him over the edge.   A serial killer that Angus killed when he finally located him. A night where Angus was shot and seriously wounded himself.   Five years had passed, Angus may have been forced out of the FBI and crawled deep into a bottle of whiskey, but he is certain that Henry Wayne Lassiter isn't really dead.   Homeland Security wants Angus to stop poking into the Lassiter case and the night Angus killed him.  Angus bargained for one year working under the HDD jurisdiction, and a team to back him up, to prove Lassiter is still alive and take him down once again.   The problem is that one year goes rather fast when your team is busy breaking up cults, the Irish mob, and stopping mass bombings. And now that one year is up and Angus Force hasn't produced a living Henry Lassiter, so the HDD is closing down the Deep Ops team.
Why, once the team is shut down, do bodies suddenly start turning up which look like the work of Lassiter.  Except the victims aren't the leggy blonds that Lassiter prefers.   No, the bodies all have a strong resemblance to the women on Angus's team. While it looks like the work of Henry Lassiter, something isn't adding up.   So is it Lassiter or is Angus looking at a copycat and one who knows way too much about both the original murders and the people on Angus's team.
Angus wants to keep the people he has come to trust and respect as far away from this as possible, but after several attempts are made by someone to kill Angus,  Angus has to face the reality that he needs help to figure out who is trying to kill him and to catch this killer before he finishes killing substitutes and starts grabbing Angus's team.
Angus is running out of time since not only has someone made a grab for Nari but the police are starting to wonder if this is simply a case of a former FBI agent trying to recreate his own success. Now instead of working with the Police, they are trying to put together enough evidence to arrest Angus for multiple murders, and if that happens, there will be no one to protect Nari when the killer tries again.
Angus and Nari's story is one I have wanted from the beginning not only because there was always something quietly buzzing between these two but because I wanted to know if Angus was right about the night he killed Lassiter.  I worried because sometimes the book you most desperately want ends up being a disappointment.   I have to say that Driven gets five stars across the board. For romance, Nari and Angus sizzle as a couple.  Storywise, the action just kept going.   And as far as a crime drama, the various investigations into who is after Angus? Who is after Nari? Is Lassiter alive or dead? Is there a copycat and where would they even start looking? Is there someone feeding information about Angus and his team to a killer? It was so hard to sleep with all of these questions whirling around my brain. I really started looking at each character and wondering if Lassiter got plastic surgery, could this be him? Maybe this person is the copycat killer, they know enough about the case and Angus. Would this person betray Angus and feed information to a serial killer?  I was absolutely sucked into this story and I was stressing about what was going to happen next.
I love this series. I love all the characters, especially all their flaws. Their flaws gives them depth and dimension.   Stories with a bunch of super soldiers gets boring.   Each of these characters have been damaged in some way because of the work they do and yet they push on and get the job done.  This makes them so interesting, so relatable and so real.   This is truly my second favorite investigative group.  Sorry,  I have too much invested in the J.D. Robb In Death series after 51 books, but like the In Death series, the Deep Ops series uses the combined efforts of a group of individuals who each bring some special skill to bring down the criminal.  This book won't be published until January 2021, which gives you plenty to time to start the series, but at this point, there is no indication if there will be any more books in the series since the main characters have all found their HEA.
If Rebecca Zanetti or Kensington publishing find this review, all I can say to them is that I would absolutely buy more books featuring these characters whether they are told by new characters entering the series or if they are simply told by shifting between the characters we have already met depending on who would be the main focus of an investigation.   However you would want to do it.   I really do not want to give up these characters.  They are way too good to be put on the shelf and left there.
---
Favorite Scene:
"I'll take the sofa."
"No. We'll share the bed. Give me a break." She climbed out, and he turned his head to give her privacy. Mostly. "We need to be at the top of our game, so let's be adults." Within seconds she had disappeared inside the cabin, with Roscoe on her heels.
He sighed. Why couldn't they just get drunk and fuck?
The forest quieted around him with a sense of foreboding, as if the universe was holding its breath. Now he was getting maudlin. Enough of this shit. He stepped out of the hot tub and replaced the lid, letting the chilly air wash over him. Grabbing a towel, he headed inside, where the lights had been extinguished. The fire had died down, its burning embers barely showing Nari's form in the bed.
He grabbed boxers from his bag and moved into the bathroom to get ready for bed.
Once done, he moved to the bed, then stopped short. Roscoe lay in the middle, his head on a pillow, snoring softly.
"You have got to be kidding me." Angus yanked back the covers, needing to use some force with the dog's weight on the blankets. "Get your butt to the sofa or the floor."
Roscoe kept snoring.
Angus sat. "I know that's not how you sound. Move. Now."
The dog opened one eye but didn't move. What a faker.
Nari turned on her side toward the dog. "Let him sleep with us. Please?"
Oh, for Pete's sake. "Fine. But the end of the bed. Period." Angus was not going to wake up with a dog in his face. "Move, Roscoe."
The dog whined.
"Oh," Nari crooned, reaching out to pet his head.
If dogs could smile, this one did. He also stretched out all four legs toward Angus, pushing him away.
That was it. "Roscoe? You want to go outside and scout the entire night?" Angus snapped.
The dog sighed and stood, walking on Angus's pillow before settling at the bottom of the bed on Nari's side. He cuddled up, putting his butt toward Angus.
"Were you this nuts before you got blown up?" Angus muttered, flipping the pillow over to the side without paw prints. He honestly couldn't remember. Or maybe his team of misfits had just brought out this side of the canine.
Roscoe farted in response.
Nari giggled, sounding young and light.
Angus smiled, and some of the pressure eased in his chest. "Because the two of you have bonded so well, he's your constant companion until we find this guy. Period."
"I'd love that," she whispered. "Night, Angus."
"Good night," he said, listening to the world outside. Nothing seemed out of place, and even though the dog was a lunatic, his instincts were excellent and his training second to none. If a threat was near, Roscoe would hear it long before Angus did.
So he let himself drift with the fire warming his cabin and the woman and dog sleeping peacefully.
Related Posts